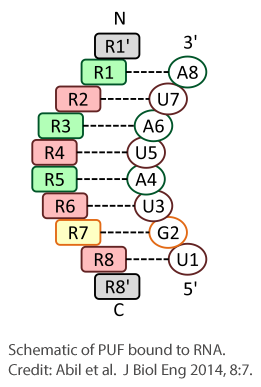 With the meteoric rise of CRISPR technology, the ability to direct enzymes – from nucleases to transcription factors – to specific sequences of DNA has become commonplace. This ability has opened up a world of possibilities in the engineering of complex gene networks. A comparable system for targeting specific sequences of RNA is highly desirable for extending the complexity of genetic circuits, allowing for tighter spatio-temporal control of gene expression within a cell. Thanks to the work of Huimin Zhao and colleagues, we now have just the tool…designer PUF proteins!
A newly available PUF Assembly Kit makes it possible to devise RNA binding proteins to hit any target of interest. The new tool was developed and implemented by applying the Golden Gate cloning method to human proteins known as Pumilio/fem-3 mRNA binding factors (PUF). In a single step, researchers can now assemble designer PUF domains for RNA specificity engineering.
"The RNA binding domain is interesting because by changing certain amino acids you can change the specificity," explained Zhanar Abil of the University of Illinois at Urbana-Champaign.