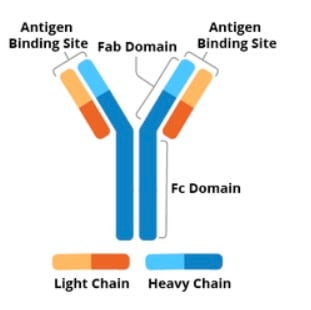 You may have heard the term antibody tossed around in the news or in the lab. But what exactly is an antibody, and how is a component of the immune system useful as a research reagent? Let's find out!
What is an antibody?
Antibodies, also known as immunoglobulins, are ~150 kDa, Y-shaped proteins that are both a natural part of the immune system and a tool that can be used for a variety of research applications. Within the immune system, antibodies are produced by B cells. They bind to proteins on the surface of extracellular pathogens such as parasites or microbes, or to proteins expressed on the surface of cells that have been infected with a microbe, to trigger immune cascades that clear these infections. Anything that generates an antibody response in the immune system is referred to as an antigen.
The ability of antibodies to bind proteins is useful for research applications as well because they allow scientists to target specific proteins they're interested in. Once a protein is targeted with an antibody, you can visualize the protein via fluorescence or chemiluminescence, precipitate the protein out of solution, or isolate cells expressing this protein. Read on to learn more about antibodies and how to use them in the lab!