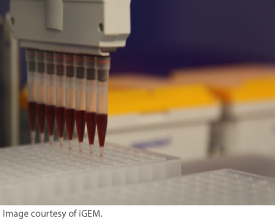 The field of synthetic biology has seen tremendous growth in recent years. At Addgene, synthetic biology deposits have grown exponentially, from just 2 plasmids in 2005 to 439 plasmids deposited last year. To shed some light on this growing field, we asked our friends at iGEM to share their expertise and discuss the importance of standards in the field.
The following post was contributed by Kim de Mora, iGEM Fellow.
What is Synthetic Biology?
"What I cannot create, I do not understand." – Richard Feynman
This Feynman quote perfectly embodies the aims of synthetic biology in a single sentence. During the history of humanity, some of the most complex devices we have constructed are nuclear submarines, the space shuttle, the international space station and the Internet. But in all our existence, we have yet to design, engineer and build a cell from the ground up. A single bacterial cell is orders of magnitude more complex that the aforementioned feats of mechanical, aeronautical, electrical and computer engineering. These devices could be built because the underlying physical model of how the world works is understood by scientists and applied by engineers to practical ends.