Say hello to the new Addgene blog! Same URL, same great articles to help you with your experiments, but a new look.
We started the blog in 2013 to connect with the scientific community, share scientific discoveries and developments, and provide tips and tricks for new and seasoned molecular biologists alike. Now with over 600 articles, we needed a better way to organize and present the vast collection of material so that you can more easily find what you're looking for. Whether you're joining us for the first time or you've been reading the blog for years, welcome to our new and improved site!
Here are some of the exciting new features on the blog that will give you a better experience.
Looking for something? Use the navigation menu.
The new navigation menu showcases the five main topics of the blog:
You can use the dropdowns in the menu to further drill down into your specific area of interest. We also cover topics outside of these five areas and you can find what you need by field (ex: microbiology, neuroscience), or explore other areas such as scientific sharing or publishing, under the Other dropdown menu. You can also find information on using Addgene's website, the latest Addgene news, and awards that we offer there.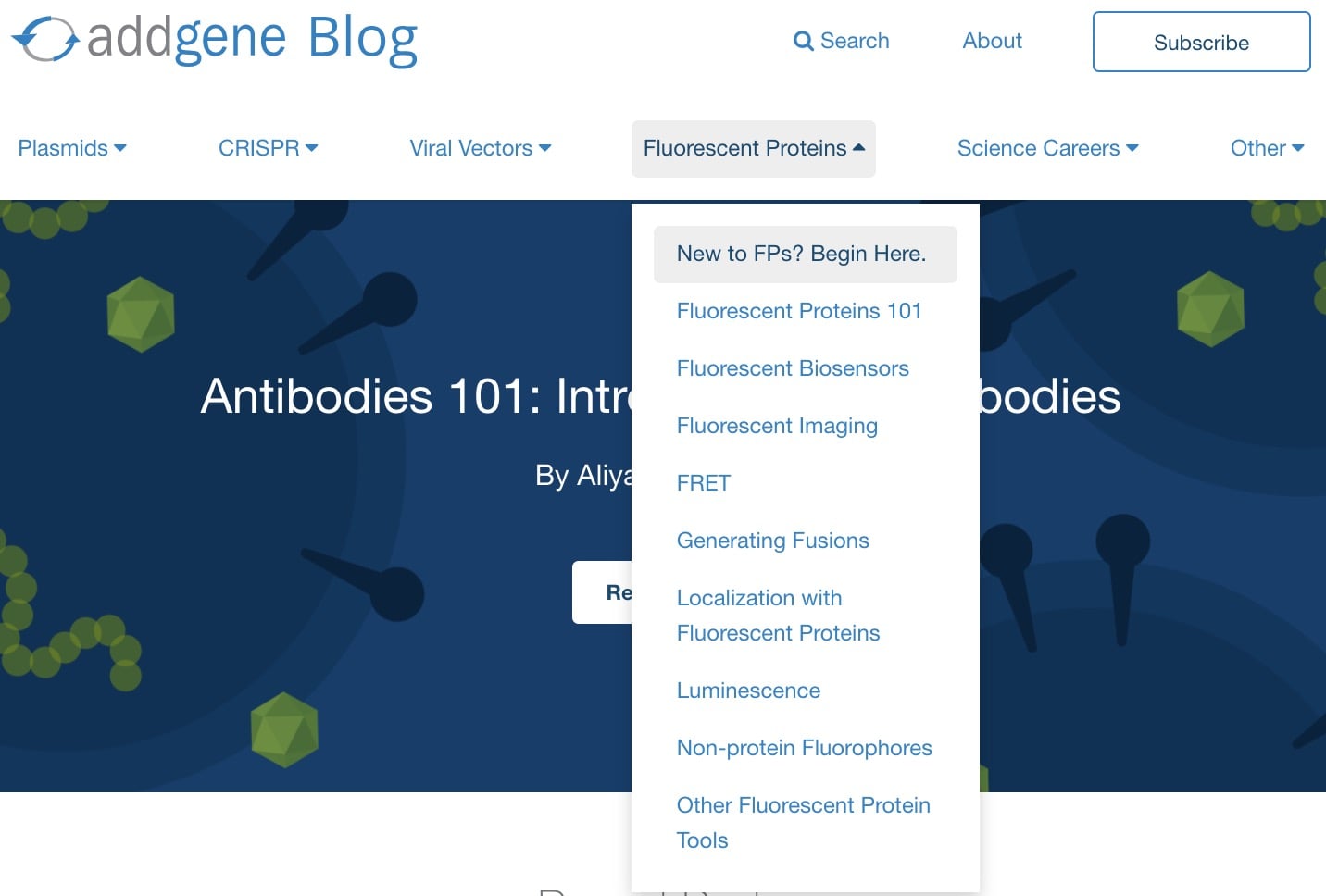 Each topic category contains a overview page to help you get aquatinted. Here, you'll see a summary of the main topic and more about each of the topics in the dropdown menu. These pages are a great place to start if you're new to the topic.
Or, try the search bar
Now, you can search for the articles you want to find without even leaving the Addgene blog! Just click on the search bar at the top of the screen and type in what you're looking for. After you search, you'll see the blog articles come up as well as their topic category.
New author pages to find articles from your favorite bloggers
Like a blog post from a certain author and looking for more from them? Check out the new author pages, where you can read more about the Addgenie behind the blog post and find more of their work. Articles from guest bloggers will have the author information at the top and bottom of their article.
We hope you'll join the conversation! Let us know if there's a topic you'd like to see, protocol tips that would help scientists, or a scientist we should interview. Get in touch by emailing us at blog@addgene.org or tell us in the comments below. We'll track down the story, get the inside scoop, and keep you up-to-date.
Be the first to know about new articles on the Addgene blog by subscribing to instant alerts below.
Topics: Addgene News, Other