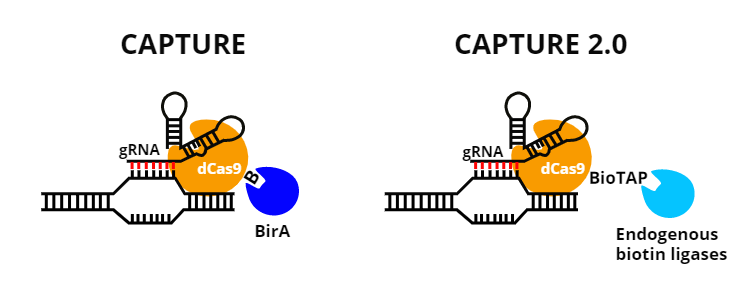 Originally published Dec 7, 2017 and updated Jul 2, 2020.
Promoters may be the star of gene regulation, but enhancers and chromatin looping play important supporting roles. Enhancers are cis regulatory DNA sequences that, when bound by transcription factors, can increase a gene's transcription. Sometimes enhancers are located thousands of base pairs away from the gene they regulate, but are brought in proximity by the looping of chromatin, the complex of DNA and proteins that forms chromosomes.
These long range DNA interactions are often detected with chromosome conformation capture (3C) based methods, such as 5C or Hi-C (Han et al., 2018). Think of 3C methods as taking a snapshot of chromatin looping with the photo "developed" by analyzing DNA sequencing data. While "pictures" generated with current 3C methods provide useful information about chromatin interactions, they are grainy so it's hard to make out the details. To increase the resolution, the Xu lab created a dCas9-based CAPTURE (CRISPR Affinity Purification in situ of Regulatory Elements) method. The original CAPTURE method was published in 2017 and addressed many of the drawbacks of 3C methods, but could only detect chromatin interactions at one location in the genome at a time (Liu et al., 2017). Recently the Xu lab developed CAPTURE 2.0, an updated version of CAPTURE that detects chromatin interactions at hundreds of loci at once (Liu et al., 2020).