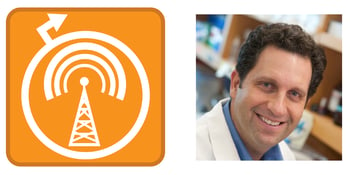 Darrell Kotton is the director of the Center for Regenerative Medicine at Boston University Medical School. Darrell's research focuses on the lungs, and, among other projects, using stem cells to develop in vitro models for lung disease. Darrell strives to promote open source biology in his own lab, at the Center for Regenerative Medicine, and within the biomedical research community. Along these lines, Darrell recently joined the Addgene Board of Directors where he hopes to help keep us focused on our core mission to promote scientific sharing. Listen to learn more about Darrell, his research, and his focus on open science.
Listen to the interview with Darrell Kotton
Chapter 1: Introduction to Darrell Kotton and the Boston University Center for Regenerative Medicine. Darrell describes his career goals and what drives him as a praticing physician and stem cell researcher. Darrell's ultimate goal - to develop therapies to treat disease in the lung.
Chapter 2: Balancing research with medical practice as an MD/PhD. Darrel does 20% clinical work 80% research and was originally focused on becoming an MD but later got obsessed with research.
Chapter 3: How all basic research ends up being translational. Ex: the discovery of GFP.
Chapter 4: Goals of the Center for Regenerative Meidince - Understanding and developing means to treat disease through tissue repair, stem cells, gene therapy, and tissue engineering. How the multidisciplinary nature of the Center for Regenerative Medicine accelerates research.
Chapter 5: Research currently under way in the Kotton Lab. One of Darrell's favorite projects - differentiating surfactant producing cells that can be used to better understand the biology of certain lung diseases.
Chapter 6: Near-term possibilities for using engineered cells in therapy. The lungs are difficult, but other tissues like the retina have cell-based therapies underway.
Chapter 7: Generating entire lungs using a decellurized scaffold as a base. Darrell hopes that further advancement of this technique will someday allow us to make organs using iPS cells derived from patients.
Chapter 8: The importance of a mix of research approaches. Why researchers should have a mix of high-risk, high-reward and low-risk but reliable projects.
Chapter 9: Using stem cells as in-vitro models of disease. How Darrell is using stem cells from patients to study various lung diseases.
Chapter 10: How Darrel defines Open Science and how he practices and promotes open science in the lab - sharing reagents, cell lines, data, and knowledge without exclusivity.
Chapter 11: The Stem Cell Bank (CReM Bank) at the Center for Regenerative Medicine and how it's used.
Chapter 12: Darrell's goals as a member of the Addgene board of directors - increasing open source sharing and helping us stick to our core mission.
Chapter 13: Outro - remember to step back and ask, "Why did I start doing this in the first place?"
---
Many thanks to our guest, Darrell Kotton.

Dr. Kotton is the David C. Seldin Professor in the Department of Medicine and in the Department of Pathology and Laboratory Medicine. He attends in the Medical Intensive Care Unit, the Pulmonary Consultation Service, the Alpha-1 Center, and the Pulmonary outpatient clinic, all at Boston Medical Center. In addition he conducts basic stem cell research as an NIH-funded Principle Investigator in the Kotton Laboratory and is the founding Director of the Center for Regenerative Medicine of Boston University and Boston Medical Center.
Special thanks to our sound engineer/producer, Eddy Page!

Edward B. Page is a Digital Media Production Specialist at Addgene. He is the audio engineer and producer for the Addgene Podcast.
Additional Resources from Addgene
Topics: Stem Cells, Other