Every few months we highlight a subset of the new plasmids and viral preps in the repository through our hot plasmids articles. These articles provide brief summaries of recent plasmid deposits and we hope they'll make it easier for you to find and use the plasmids you need.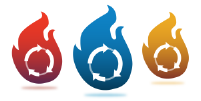 Here's what you'll find in this post:
Mapping antibody escape in SARS-CoV-2 by mutational scanning
As multiple antibody-based vaccines are deployed around the world to combat severe acute respiratory syndrome coronavirus 2 (SARS-CoV-2), the virus may acquire mutations to escape these therapeutics. Jesse Bloom's lab at the Fred Hutchinson Cancer Research Center developed a pooled plasmid library encompassing all possible amino acid mutations of the receptor binding domain (RBD) of the viral spike protein.
SARS-CoV-2 infects host cells through binding the human angiotensin converting enzyme 2 (ACE2) cell-surface receptor. The spike protein RBD responsible for binding ACE2 is the target of most anti-SARS-CoV-2 antibodies. In the library, each plasmid encodes the mutated spike protein and a barcode, and is designed so that the SARS-CoV-2 spike RBD is displayed on the yeast cell's surface. The Bloom lab used the library to identify RBD mutations which do not interfere with ACE2 binding, but impact recognition by specific anti-SARS-CoV-2 antibodies (Fig 1B). This approach can augment viral surveillance by enabling rapid assessment of antigenic drift.


Starr et al Cell. 2020. https://doi.org/10.1016/j.cell.2020.08.012
Starr et al Science. 2021. https://doi.org/10.1126/science.abf9302
---
Validated recombinant antibody toolbox for aminoacyl tRNA synthetases
By Kate Harten
Recombinant antibodies targeting fourteen aminoacyl tRNA synthetases (aaRS) have been created, characterized, and validated by the Gräslund lab. Recent findings suggest that aaRSs are involved in inflammation and autoimmune diseases, so these validated antibody tools could be used to study the role of aaRSs in these processes.
To create the antibody toolbox, they screened antibody candidates using a synthetic human scFV library and characterized them by ELISA, homogeneous time resolved fluorescence, and suspension bead assay (Figure 2). After finding no cross-reactivity, antibody candidates underwent affinity screening to select for slow off-rate binders. The best candidates were validated by IP-MS using HEK293 cell lysate where the antigens would be in their native conformation. Because many aaRSs exist within a multi-tRNA synthetase complex, the team investigated whether the generated antibodies could bind these aaRSs. They found the antibodies were able to immunoprecipitate the entire complex in three different cell lines. The Gräslund lab plans to continue their work by generating antibodies for additional aminoacyl tRNA synthetases.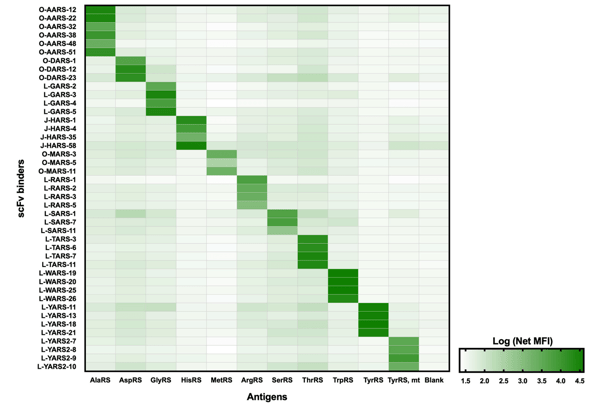 Figure 2: Specific binding of scFVs to cognate aaRS antigens as measured by suspension bead assay. Image from
Preger et al., 2020.
Preger et al., Journal of Biological Chemistry 2020. https://doi.org/10.1074/jbc.RA120.01289
---
Novel protein cage provides simple enzyme protection in yeast bioproduction pathways
Claudia Vickers' lab has created a novel nanocompartment for transporting proteins in yeast by using murine polyomavirus virus-like particles (MPyV VLPs ). This artificial nanoparticle can protect proteins from unfavorable interactions in the cell, improving biosynthetic pathway yields by stabilizing rate-limiting enzymes. In this method, the major capsid protein VP1 is co-expressed with a fusion protein containing VP2C and a protein of interest (POI). The VP2C fusion protein anchors to VP1, which self-assembles into a compartment encapsulating the protein of interest (Figure 3).

Figure 3: Schematic representation of the MPyV system. Image from Cheah et al., 2021.
After validating this method through monitoring GFP degradation, this protein compartment was used to optimize D-glucaric acid biosynthesis. This MPyV system encapsulated a rate-limiting enzyme in this pathway (myo-inositol oxygenase), providing enzyme protection while still allowing substrates and products to diffuse freely into or out of the protein compartment. Yeast with this encapsulated enzyme produced 20% more D-glucaric acid, suggesting that MPyV system can improve metabolic pathway yields by encapsulating a single enzyme. Compared with previous research, which required protein compartments to co-localize multiple enzymes in a reaction pathway, the MPyV system provides a simple, efficient method for protecting a single enzyme that drives biosynthetic pathways.


Cheah et al., bioRxiv 2021. https://doi.org/10.1101/2021.01.30.428974
---

The CRISPR corner
Here are a few highlights from recent CRISPR plasmids. To find all of the CRISPR plasmids available from Addgene, head over to our CRISPR Plasmids and Resources page.
---
New from the viral service
By Jason Nasse
We regularly add new viral aliquots from our plasmid collection to provide ready-to-use viral preps. Here are some of the new viral preps from recent months:
Topics: Hot Plasmids, Plasmids