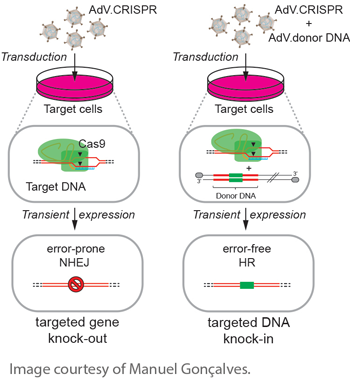 Researchers have shown that it is possible to deliver RNA-guided CRISPR/Cas9 nuclease complexes
using adenoviral vectors (AdVs),
to a wide range of human cells, including mesenchymal stem cells, and in a rather straightforward manner. These
adenoviral CRISPR/Cas9 genome editing
tools developed and demonstrated by Manuel Gonçalves and his colleagues at Leiden University Medical Center are now available at Addgene along with a description of their
experimental protocol
. The three plasmids which have been deposited to Addgene are:
pAdSh.PGK.Cas9
,
pAdSh.U6.gRNAS1
,
pAdSh.U6.gRNAGFP
.
"Although AdVs are being deployed for delivering zinc-finger nucleases into human cells, we think they are still underused in the emerging field of genome editing," Gonçalves said. "In contrast, AdVs are extensively being explored for genetic vaccination and oncolytic approaches. In genome editing, they are not used much, but we do think they have a very bright future."