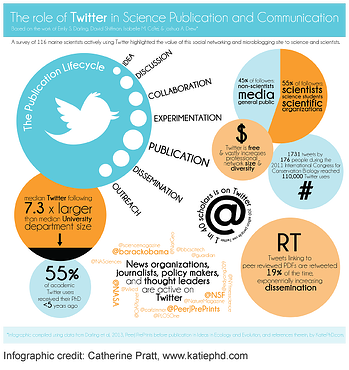 If your PI or peers are like most of the researchers I know, they probably aren't avid fans or active users of Twitter. But did you know a lot of scientists and others who care about science – science journalists and scientific organizations (including Addgene) - are on Twitter? It turns out Twitter can be a great way to expand your network well beyond the lab and engage in interesting conversations about science, or at least eavesdrop on them. As noted by an article prepared for Ideas in Ecology and Evolution,Twitter can provide access to a 'virtual' department of followers that almost always exceeds the size of traditional academic departments. (For more choice nuggets from this paper, take a closer look at the infographic that was created by Catherine Pratt on her website, katiephd.com.)
An engaging conversation in snippets of 140 characters or less, you might be asking yourself? Yes, exactly.
Follow me
One thing to consider is that there are lots of people on Twitter – 218 million according to the latest numbers. Sure, that's a lot less than Facebook, but the difference is that Facebook is mainly a place to connect with your friends and people you already know, some of whom you might not even like very much. Twitter gives you the chance to follow people you don't know yet, yes, celebrities, but also other scientists, journalists, thought leaders, and organizations you care about.
You can also do things on Twitter like ask a question and get thoughtful answers from people, including other scientists, even if you don't know them. For instance, one @theAGU science writer once asked her scientist followers "Why should scientists use Twitter/ what should researchers use Twitter for?" That question generated useful answers such as to "foster interdisciplinary research & generate ideas" and, from @kwinkunks, "Facebook: social network, LinkedIn: professional network, Twitter: awesome-people-you-may-never-meet network."
Twitter hashtags often make it possible to follow conferences or other events in real time, even if you aren't in the room. With Twitter, you can be among the first to know when news breaks on controversial topics like, say, #genepatents. You can share interesting papers or find out what others are reading. Have a chat with an expert or get word of the latest jobs from Nature. It has been argued pretty convincingly (if you ask me) that the internet, including Twitter, can sometimes make science itself better in surprising ways. Just read this article about the infamous case of #arseniclife.
Make an impact
Still not convinced? Tweets have been shown to predict highly cited articles within the first three days of article publication. Twitter conversations are beginning to figure directly into some measures of scientific impact, too.
If you'd like some more tips and tricks, let me point you to the presentation "How to Effectively Use Twitter for Science Communication," which was hosted by the American Association for the Advancement of Science last fall.
Whatever you do, don't forget your Twittiquette and be sure to follow us @Addgene!
Topics: Scientific Sharing, Science Communication