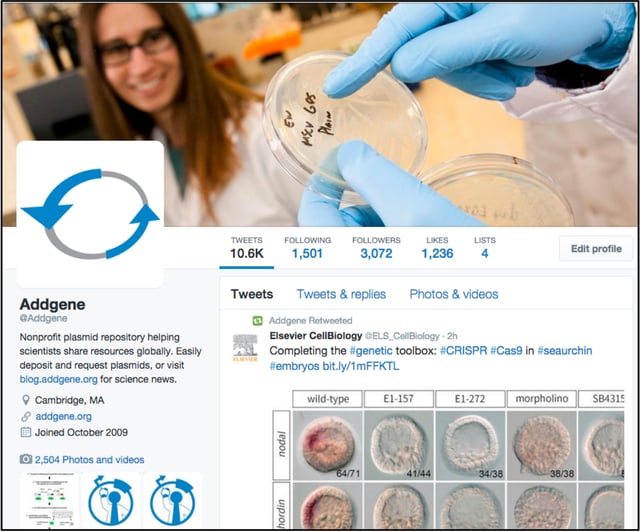 As Joanne Kamens has pointed out, there's surely no better place for scientists to meet and mingle with other scientists than at a conference. But in this increasingly wired world, more and more of our day-to-day personal interactions are taking place online. And if findings from network science apply to scientists, then building and maintaining an open social network is key when it comes to career success. In this enterprise, more scientists are finding online tools to be instrumental. At Addgene, we're all about helping develop a scientific community, so here are some tips to help you get more involved with your scientific network online.
As Holly Bik and Miriam Goldstein wrote in their PLoS Biology paper, "In the age of the internet, social media tools offer a powerful way for scientists to boost their professional profile and act as a public voice for science." In "An Introduction to Social Media For Scientists," Bik and Goldstein offer many tips on how to take advantage of mainstream social media. The article focuses on some of the popular social media tools available and the potential benefits that can be reaped from using these tools.
Most of you probably know at least a little something about Facebook and Twitter (for more on Twitter see our earlier post "Why Scientists Should Give Twitter a Try"). And those can be useful ways to stay connected with friends, family, and colleagues and, particularly in the case of Twitter, to follow the science news of the day. For professional purposes, LinkedIn is probably the best of the mainstream tools.
But, sometimes those noisy mainstream channels are little more than distractions. No worry, after a slow start, social networking tools aimed specifically at scientists and researchers have begun to take off. According to a Nature survey on online collaboration, more and more scientists are finding these sites useful for maintaining their profile and "professional presence."
5 popular online networking tools for scientists & academics:
ResearchGate's "mission is to connect researchers and make it easy for them to share and access scientific output, knowledge, and expertise." Based on the Nature survey, they seem to be leading the pack of research-oriented social networks.
Academia.edu calls itself "a platform for academics to share research papers." Academia.edu may be less popular than ResearchGate, but the company says it has more than 21 million people signed up.
Mendeley combines an online reference manager with tools for online sharing and collaboration.
ResearchID assigns researchers with a unique ID to make it easier to update personal profiles with new publications and to identify potential collaborators.
Twitter is a great place to engage with other scientists. A number of scientific fields, such as synthetic biology and genome engineering, have robust communities on Twitter - scientists tweeting and retweeting the newest publications, news, practical advice, and more. Just follow scientists in your field or relevant journals to stay up-to-date with minimal effort.
6 tips for using online scientific networks to your advantage
Choose the right tool. Explore the various social networking options. Consider your personal interests and goals and choose the one or maybe two networking sites that are the best match for you.

Make yourself known. Set up an online profile at your social networking site/s of choice that introduces your background, research interests, publications and expertise in a way that's approachable for colleagues, journalists and the general public.

Start building your network. Find people to connect with, whether you know them personally or not. Identify people with common interests and follow them or invite them to connect with you virtually. If you find yourself deluged with irrelevant information, don't hesitate to stop following someone or explore ways to organize or filter your connections.

Make a plan and set limits. Social networking requires engagement, but it's easy to find yourself wasting time. Set regular times to check your online networks and to connect with others online.

Consider your tone. The nature of online conversations may vary a lot from one network to another or among groups within a network. If you aren't sure about the tenor of the conversation at first, it's OK to lurk for while.

Bring your virtual network to life. Online social networks can be good places to identify people who you'd like to meet in person. Look for opportunities to do that at an upcoming conference, workshop, or speaking engagement.
We encourage you to explore. And, if you've got something to say about how these tools have been useful to you (or not), please feel free to share in the comments.


---
References
1. Bik HM, Goldstein MC. An introduction to social media for scientists. PLoS Biol. 2013;11(4):e1001535. doi: 10.1371/journal.pbio.1001535. Epub 2013 Apr 23.
2. Richard Van Noorden. Online collaboration: Scientists and the social network. (2014 August 15). Nature News.
More Scientific Networking Tools
Resources on the Addgene Blog
Resources on the Addgene Website
Topics: Science Careers, Networking