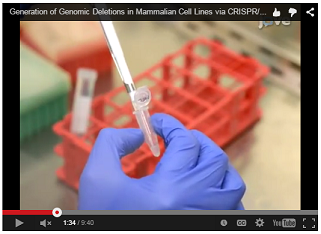 The following post was contributed by Daniel Bauer and Matthew Canver of Boston Children's Hospital and Harvard Medical School. Addgene is proud to present a video reprint of the CRISPR article "Generation of Genomic Deletions in Mammalian Cell Lines via CRISPR/Cas9" from the Journal of Visualized Experiments (JOVE). The video publication by Stuart Orkin and Daniel Bauer's labs details the use of CRISPR/Cas9 to create genomic deletions in mammalian cell lines. Below Bauer and Canver discuss the motivations behind this research.
Using CRISPR/Cas9 for Targeted Genomic Deletions
We were inspired to produce intrachromosomal deletions based on the experiments of Kim and colleagues using zinc finger nucleases to harness non-homologous end joining repair (NHEJ) [1]. Our initial work was with TALENs, in collaboration with the Porteus lab [2]. With the advent of CRISPR/Cas9, we began to explore the paired double-strand break (DSB) approach at a variety of loci. We were pleasantly surprised by the efficiency of the method. One observation was an inverse relationship between deletion size and frequency [3].