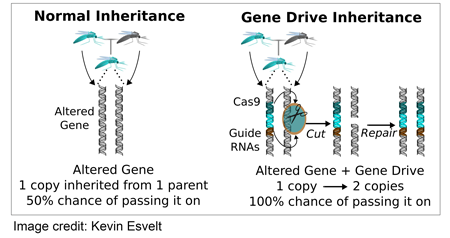 This post was contributed by Kevin Esvelt, a Wyss Technology Development Fellow at the Wyss Institute and Harvard Medical School.
Scientists making transgenic organisms with Cas9 should be aware of the potential hazards of creating "gene drives" capable of spreading through wild populations. Whereas most genomic changes impose a fitness cost and are eliminated by natural selection, gene drives distort inheritance in their favor and consequently can spread even when costly.
If even a single organism carrying a synthetic gene drive were to escape the laboratory, the drive could eventually spread through the entire wild population with unpredictable ecological effects. Because the consequences of such a mistake would necessarily extend far beyond the laboratory and seriously damage public trust in scientists, experiments involving potential gene drives should be conducted with extreme caution.