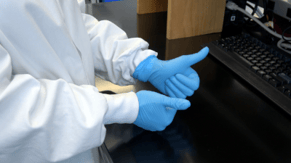 Addgene has distributed over 800,000 plasmids since 2004. In that time, our lab has gotten a lot experience in processes including automated vial filling, accurate tube-labeling, quick plate pouring, and much more. We didn't want to keep the knowledge we've gained along the way to ourselves so we decided to share some of our tips in our new series: Addgene Lab Tips!
In each short episode of this series, we'll highlight one tip that we've learned in the lab that will hopefully make your life a little easier. These can range from technical tips as in our episode on Barcoding, to basic lab etiquette that will keep the lab running like a well-oiled machine.
Lab tip #1: Glove trick
Putting on lab gloves can sometimes be annoying. To make it easier, try this quick trick. Just flip, and press!
Lab tip #2: Tube flick trick
When combining reagents in the lab, it is important to mix them thoroughly before use. For efficient mixing, add the various reagents to a single tube and simply flick the tube several times. This will help ensure ensure equal distribution.

Lab tip #3: Barcode everything
Use barcodes and scanners to keep track of reagents in your lab. With barcode tracking, you will always be able to locate materials quickly and easily. Learn more about using barcodes.
Check out our "Lab Tip" filter on the blog to keep up to date on the latest episode. Have some suggestions for future tips? Send your ideas to blog@addgene.org.
---
Additional Resources on the Addgene Blog
Additional Resources on Addgene.org
Topics: Addgene News, Using Addgene's Website