---

In this episode of the Addgene Podcast, Addgenie Kim de Mora sits down with Avital Bailen from the "OriginALS" iGEM team at Ben-Gurion University in Beer Sheva, Israel. Avital provides a brief description of the OriginALS iGEM project below and discusses more of what she hopes to learn from the iGEM competition in the podcast.
Before we dive into the interview, we'll briefly introduce you to Kim and iGem. By the end of this interview, we hope you'll have a good understanding of why iGEM is an important component of scientific training for many researchers and of how the goals of iGEM and Addgene intersect in concretely useful ways for iGEM participants.
The OriginALS iGEM Team
The "OriginALS" iGEM team will represent Ben-Gurion University of Beer Sheva, Israel in the upcoming iGEM competition. Each participating iGEM team is tasked with devising an innovative solution to an environmental, medical, or social problem using Synthetic Biology. The OriginALS team, comprised of ten undergraduate students from different faculties, has chosen to focus on a new approach to ALS treatment.
Amyotrophic Lateral Sclerosis (ALS) is a devastating disease which involves accelerated motor neuron degeneration. Only ten percent of ALS cases are familial, meaning that they appear in a certain family lineage. This means that only ten percent of ALS cases can be studied through genetic mapping, leaving ninety percent caused by unknown reasons.
The OriginALS project focuses on cells that support neurons, the glial cells, rather than the neurons themselves. In this way we aim to develop an approach which will prolong neuron survival and will be immediately applicable to all ALS cases. Additionally, our findings may, in the future, be applicable to other neurodegenerative diseases, such as Huntington's disease and Parkinson's disease.
Our team, OriginALS, has developed a two-pronged approach for this project using Synthetic Biology. We have created a system which allows specificity, in both its delivery method and its expression in the target cells.
In addition to our lab work, the OriginALS team is dedicated to promoting ALS research and awareness. On June 12, 2018 we will be hosting a scientific conference, concerning ALS, at Ben-Gurion University, including presentations from leading ALS researchers and a presentation of the OriginALS project. Click here to learn more!
For updates on the OriginALS project, check out our Facebook page @iGEMBGU.
Listen to the interview with Avital Bailen

Podcast Breakdown
Intro
Chapter 1 - Introduction to Kim de Mora and his role at iGEM. Description of the key components of iGEM projects including human practices.
Chapter 2 - Introduction to Avital Bailen and the OriginALS iGEM project.
Chapter 3 - How the OriginALS plan to tackle human practices including the ALS Next Generation Research Conference.
Chapter 4 - The intersection between Avital's goals at iGEM and Addgene's goals - promoting networking and collaboration between scientists.
Chapter 5 - Addgene resources the OriginALS would like to use as part of their project.
Chapter 6 - Addressing biosafety on the OriginALS
Chapter 7 - How iGEM has enabled Avital's professional development through networking, collaborations, and developing the OriginALS like a startup.
Outro
---
Many thanks to our guest, Avital Bailen!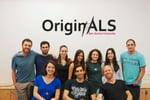 (top row left to right) Re'em Malul– Medical School, Sagi Angel- Biotechnology Engineering, Nitzan Keidar- Life Sciences, Liat Tsoran- Life Sciences, Mor Pasi- Biotechnology Engineering, Mor Sela- Chemistry, Einan Farhi- Life Sciences. (Bottom row, left to right) Avital Bailen- Life Sciences, Daniel Deitch- Biology & Psychology, Ori Tulchinksy- Medical School

Kim de Mora is a business development analyst at Addgene and was previously the director of development at the iGEM foundation.
Special thanks to our sound engineer/producer, Eddy Page!

Edward B. Page is a Digital Media Production Specialist at Addgene. He is the audio engineer and producer for the Addgene Podcast.
Additional Resources from the Addgene Blog
Resources at Addgene.org