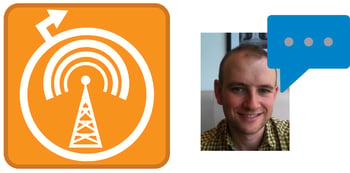 Today's episode of the Addgene Podcast features guest host and Addgene European Outreach Scientist, Benoit Giquel. Traveling from our offices just outside of London, it was a short journey for Benoit to interview Addgene Advisory Board Member and lead researcher at Imperial College London, Dr. Tom Ellis. Dr. Ellis does research in synthetic biology and bioengineering including a recent effort to construct a synthetic yeast chromosome. Listen to learn more about Dr. Ellis, synthetic biology, synthetic chromosomes, and obstacles to becoming an academic researcher.
Listen to the interview with Tom Ellis
Podcast breakdown
Intro: How Tom ended up in academia and his research goals. From grad school to a startup and back to academia.
Chapter 1: How working at a startup prepared Tom for an academic career. Career advice for anyone pursuing a career in academia. Learning how to build a lab and a research program and difficulties with work-life balance in Academia. Will it all pay off?
Chapter 2: The Centre for Synthetic Biology and Innovation - A shared space for bringing synthetic biology to the UK with foundational research, training, startups, and real applications of SynBio.
Chapter 3: Synthetic biology as the engineering of biology at the level of DNA using modular, standardized, disciplined, and open techniques.
Chapter 4: Research projects underway in the Ellis lab including yeast and E. coli engineering, microbial cooperation, and antibiotic production.
Chapter 5: The future of Synthetic Biology. Wide adoption of synthetic biology techniques in biology research as can already be seen with things like DNA synthesis, Golden Gate cloning, and CRISPR. The yeast synthetic genome project and constructing ever more complicated biological devices.
Chapter 6: - Making research go faster through Open Access.
Chapter 7/Outro: Tom's Involvement with iGEM and Addgene
---
Many thanks to our guest, Tom Ellis!

Dr. Ellis is a lead researcher at the Centre for Synthetic Biology and Innovation, Imperial College London and lectures synthetic biology for the Department of Bioengineering. He graduated from Oxford University and then obtained a PhD in Pharmacology from the University of Cambridge before spending time in biotech screening direct interactions between drugs and promoters of oncogenes. He returned to academic research in 2005 to investigate synthetic biology at Boston University, working in one of the founding groups of the field under the supervision of Prof Jim Collins and specialising in engineering gene regulation in yeast. Dr. Ellis is now one of the world's leading yeast researchers in the growing field of synthetic biology and is the UK lead of the yeast synthetic genome project. His team also investigates bacteria and extremophiles for biotechnology and has been directly involved in supervising many successful iGEM undergraduate projects.
Special thanks to our sound engineer/producer, Eddy Page!

Edward B. Page is a Digital Media Production Specialist at Addgene. He is the audio engineer and producer for the Addgene Podcast.
Additional Resources from the Addgene Blog
Resources at Addgene.org
Topics: Synthetic Biology, Podcast, Other