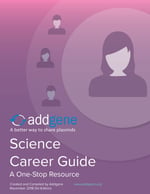 Career and skills development can happen anywhere, whether you realize it or not. In the lab, you could be managing a team, planning meetings, and finding the best way to organize your time. At a conference, you could be honing your science communications skills and networking. And on social media, you could be sharing your research or finding opportunities to bring science to the community.
We touch upon these topics frequently in the Addgene blog. In fact, we have so many blog posts about careers that we've compiled our top career blog posts into one comprehensive, downloadable guide: the Addgene Science Career Guide.
We also asked Addgenies what their favorite career tip is, or what has helped them the most. Take a look below!
In the lab
"Have two projects: one "safe" project that you know you can get a publication with and one "shoot for the moon" project that would be a big deal if it worked out."
- Melina Fan, Chief Scientific Officer
"Choose your PhD lab carefully. Don't base it solely on the project. Assess whether or not you are on the same page with the potential PI in terms of mentoring style and expectations. Make sure you will enjoy being in that lab and interacting with the lab members."
- Jennifer Tsang, Science Communications and Marketing Coordinator
Networking
"Many, perhaps most of the most interesting jobs are never advertised. You have to meet interesting people and maintain diverse relationships to have any possibility of getting those opportunities. Don't wait until you need a job to meet people and learn about what's out there."
- Joanne Kamens, Executive Director
Career exploration
"You can't wait for opportunities to fall in your lap. Sometimes, in order to do the thing you love, you have to create opportunities. If you find yourself asking, "Why doesn't this product/organization/position exist yet?", you are in the early stages of creating an opportunity. That's how Addgene was founded. That's how my position and my team at Addgene was created."
- Eric Perkins, Director of Science Product Management
"I knew very early on that I wanted to be an artist/designer. But there were a few teachers and 'guidance counselors' along the way who thought it was risky, "not a real job," and that I should pursue a real career. In art school, I came across Joseph Campbell, and read about his "follow your bliss' mantra and never forgot it. Usually when I see inspiring artists who are thinking about getting into the arts (or any career to be honest), I would tell them to follow your passion. Do what you love. Don't worry about the rest."
- Jason Snair, Product Designer
On the job search
"Always go for the job you want, even if you don't think you're qualified. The worst that can happen is they say no, which is infinitely better than misjudging your own abilities and missing out on an opportunity."
- Sophia Cheng, Senior Software Engineer
"Searching for a new job can be an imposing endeavor. Break the process down into steps and set aside time during the week to tackle each one. Get the toughest steps out of the way early if you can."
- Eddy Page, Digital Media Production Specialist
"My favorite career tip for landing a job is to write a good, customized letter to the place that you are applying."
- Melina Fan, Chief Scientific Officer
If there's a career topic that you'd like to see discussed on the Addgene blog, consider writing a guest post.
---
Additional resources on the Addgene blog
Resources on Addgene.org
Topics: Science Careers, Professional Development