We excited to announce the fourth edition of our popular eBook, Plasmids 101, is now available!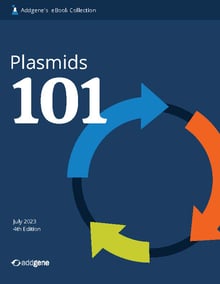 Plasmids 101 covers everything from plasmids parts and nomenclature to popular cloning techniques and troubleshooting tips. The fourth edition has been fully updated with twelve new sections, including our popular "Dimers and Multimers" post. It's also been re-organized and updated with a fresh new look.
We think this is a helpful and useful resource — but you don't have to take our word for it!
"When people want to learn about plasmids, they don't go to Wikipedia; they go to Addgene."
-Ryan Mehl, Professor, Oregon State University.
Topics: Plasmids 101, Plasmids, ebooks