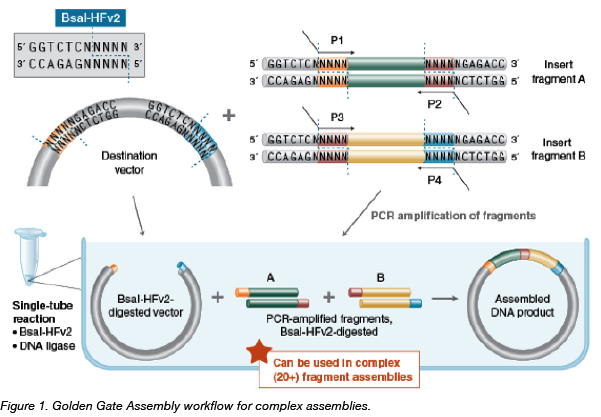 This post was contributed by guest bloggers Becky Kucera, M.Sc. and Eric Cantor, Ph.D. from New England Biolabs.
Golden gate assembly limitations
Embraced by the synthetic biology community, Golden Gate Assembly is commonly used to assemble 2–10 DNA fragments in a single "one-pot" reaction to form complex, multi-insert modular assemblies that enable biosynthetic pathway engineering and optimization. However, current best practices for assemblies of more than 10 modules often rely on two-step hierarchical approaches using different Type IIS restriction enzyme specificities at each step. Factors such as enzyme efficiency, stability, and buffer compatibility have placed practical limits on single- or two-step assemblies.