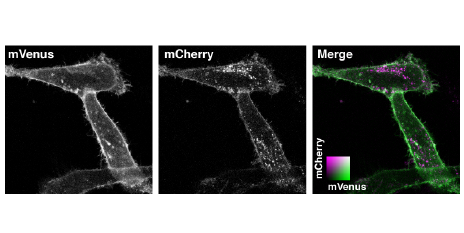 This post was contributed by guest blogger Joachim Goedart, an assistant professor at the Section of Molecular Cytology and van Leeuwenhoek Centre for Advanced Microscopy (University of Amsterdam).
GFP is the most popular, most widely used genetically encoded fluorescent probe. Several factors contribute to the popularity of GFP including (i) fast and complete maturation to functional, fluorescent protein in almost all organisms and cell types, (ii) no need to add a co-factor, (iii) easy visualization with standard filter sets on a fluorescence microscope, and finally (iv) good toleration in fusion proteins.
Since GFP is such a well-validated, all-round good performing probe, it is the first choice when selecting a genetically encoded fluorescent tag. There are, however, a number of limitations that you may run into if you choose to use it. Several of these limitations and possible solutions are discussed below.