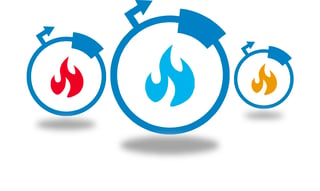 At Addgene we're continually impressed with the amazing plasmid technologies developed by our community of depositors. With over 40,000 plasmids avaliable in the repository, we can't give all of them attention they righlty deserve, but, in this post, we'll provide a small sampling of the many amazing new plasmid tools that have come through our doors in 2015. Do you have a favorite new plasmid tool from the past year? Let us know about it in the comments or shoot us an e-mail at blog@addgene.org and maybe we can write a blog post about it!
Split Cas9 system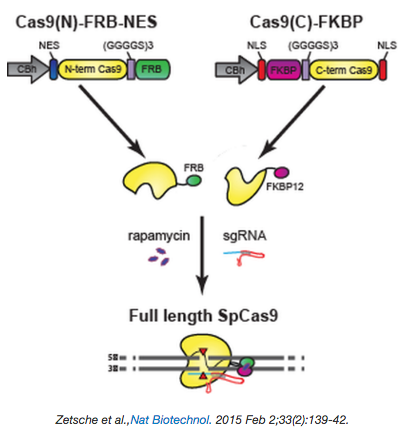 The Cas9 protein is composed of an n-terminal DNA recognition domain and a mostly c-terminal nuclease domain. Feng Zhang's group utilized the bi-lobed architecture of Cas9 to engineer a series of "split" cas9 molecules that cannot function in isolation but form a fully functional Cas9 upon dimerization.
Splitting wild-type Cas9 into n-terminal (Cas9(N)-2xNLS) and c-terminal (Cas9(C)-2xNLS) fragments facilitates target DNA cleavage upon co-expression and spontaneous self-assembly. In an effort to obtain even more precise temporal control of gene knockout or activation, the c-terminal cas9 fragment was fused with FK 506 binding protein 12 (Cas9(C)-FKBP-2xNLS) and the n-terminal cas9 fragment with FKBP rapamycin binding domain of mTor (Cas9(N)-FRB-NES) resulting in a rapamycin-inducible Cas9 for genome editing. Without rapamycin treatment, the Cas9(N)-FRB-NES fragment is actively shuttled out of the nucleus due to the nuclear export sequence. Treatment with rapamycin induces Cas9(N)-FRB-NES and Cas9(C)-FKBP-2xNLS dimerization and net influx into the nucleus, where the functional Cas9 molecule can cleave the target DNA. The inducible split cas9 approach can also be used for activation of specific genes using dCas9-VP64 activator fragments (dCas9(C)-FKBP-2xNLS-VP64 and dCas9(N)-FRB-NES). This system provides users greater temporal control over CRISPR/Cas9 mediated genome modification and gene expression.
The plasmids associated with this article can be obtained through Addgene:
Zetsche et al., Nat Biotechnol. 2015 Feb 2;33(2):139-42. doi: 10.1038/nbt.3149.
Light-inducible CRISPR-Cas9 system for endogenous gene activation
Optogenetics is a powerful tool that utilizes light to control and monitor individual living cells in order to understand how they work. Light activation allows scientists to spatially and temporally control which genes are turned on or off in a given area and the can do so in a very specific, precise manner. Previously, scientists have been successful in regulating gene transcription using DNA-guided optogenetic tools; however, targeting the necessary light-activated protein domains to the appropriate locus has been cumbersome.
To overcome many of the limitations intrinsic to DNA-guided systems such as TAL effectors or Zinc Finger Nucleases, the Gersbach lab has modified the RNA-guided CRISPR-Cas9 system to create a tool that is quick, versatile, and robust. Dubbed the LACE system for light-activated CRISPR-Cas9 effector, Polstein and Gersbach fused the light-inducible protein domains CibN and Cry2 to inactive dCas9 and VP64, respectively. CibN and Cry2 form a heterodimer in response to blue light, which will ultimately co-localize the VP64 transactivator with a dCas9 that has been targeted to a very specific site on the genome via the CRISPR system. The ease and flexibility of the LACE technology makes this system widely accessible for many potential applications.
SunTag system for single molecule imaging and inducible gene expression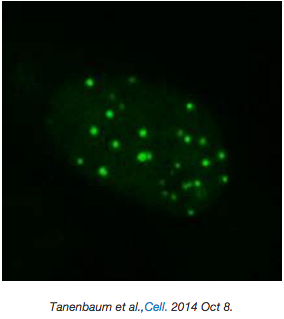 Brilliant technologies adopt basic biological concepts and employ them in creative and innovative ways. The principle of protein multimerization is seen in many important biological contexts, such as the enhancement of transcriptional activation via binding of multiple copies of a transcription factor to a promoter and localization of a protein via the presence of multiple copies of targeting sequences. Scientists have adopted and employed this concept in both imaging and inducible gene expression studies, which are evinced by the Tet system and visualization of single molecules via targeted fluorescent molecules. The Vale lab and the Weissman lab have teamed up and advanced technology in the fields of single molecule imaging and inducible gene expression by creating the SunTag system.
The SunTag system, named after the "stellar explosion SUperNova", is a synthetic scaffold that recruits up to 24 copies of a protein to a target polypeptide. Multimerization in the SunTag system occurs via antibody-peptide labeling; specifically, cognate peptide epitopes fused to the protein of interest are recognized and thus fluorescently labeled by scFv antibodies fused to sfGFP. This system amplifies the intensity of fluorescence signal and enables tracking of single molecules within living cells without affecting protein function, thereby creating a single-molecule reporter of intracellular processes. Multimerization via the SunTag system also shows strong upregulation of gene activation when fused to dCas9. In the dCas9-SunTag-VP64 system, dCas9 is fused to a scaffold containing epitopes recognized by scFV antibodies fused to VP64 transcriptional activation domains. This system enabled the specific recruitment of multiple copies of VP64 to the sgRNA-targeted gene, resulting in increased activation of endogenous transcription of the target gene.
The brilliant SunTag system plasmids are available through Addgene and are already very popular. Use these plasmids to increase the brilliance of your fluorescent signal and endogenous activation of your target gene!
Tanenbaum et al., Cell. 2014 Oct 8. pii: S0092-8674(14)01227-6.
Multi-bit genetic memory
One of the goals of synthetic biology is to engineer cells capable of recording permanent "memories" of molecular events. These memories would be recorded in the cell's DNA under the right conditions, and could initiate specified cellular processes or be observed at a later time via DNA sequencing or other readout. Cellular memory is accomplished by the use of sequence-specific enzymes (e.g. nucleases, recombinases) which irreversibly excise or invert a specific chunk of DNA. However, a limitation to this strategy is that each "bit" of information must be controlled independently; that is, the signal to record one bit of information must not act on any of the other bits in order to achieve accurate and reliable multi-bit memory.
To this end, Chris Voigt and colleagues at the MIT Synthetic Biology Center have deposited a set of 11 phage integrases which act irreversibly on their cognate attB/attP sites with no cross-talk. These pairs are closely related to the lambda phage integrase system which is the basis for Gateway cloning. The combination of all 11 att pairs in series with unique spacer sequences (pMemoryArray) gives a DNA sequence capable of recording 11 bits (1.375 bytes) of information. This leads to 2048 (211) possible combinations of states. Each of the integrases is supplied on its own expression plasmid or in various combinations, while the cognate att sites are supplied as individual reporter constructs or as the fully assembled pMemoryArray.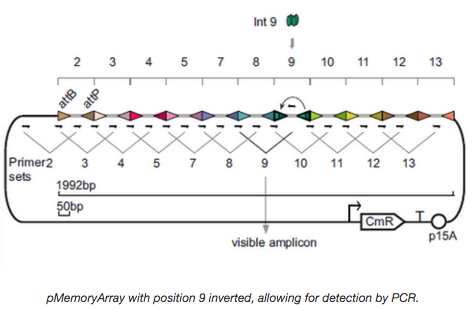 Yang et al.,

Nat Methods

2014 Dec;11(12):1261-6. doi: 10.1038/nmeth.3147.
Bioluminescent pH sensor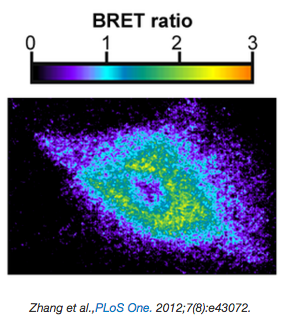 Understanding intracellular pH regulation is important as pH regulation has roles in many cellular functions, from endosomal trafficking to signaling pathways to the cell cycle. Good tools for measuring intracellular pH are required in order to determine the relationships between pH changes and cellular events.
To overcome the issues with fluorescent pH sensors, a set of luciferase-fluorophore pH fusion reporters, pRSETb-pHlash and pcDNA3.1+-pHlash, that use Bioluminescence Resonance Energy Transfer (BRET) were developed by the Johnson Lab .
Characteristics of the pHlash reporter protein include:
H+ specific response
cytoplasmic retention
insensitivity to other ions
In BRET, A mutant Renilla luciferase, catalyzes the oxidation of its substrate, luciferin, which releases energy as a photon. The photon energy is transferred to the acceptor fluorophore, a circularly permuted Venus. In the case of pHlash, the signal from the fluorophore is pH-dependent. Signal is simultaneously acquired from the the fluorescent and luminescent siganls and a ratio is calculated (the BRET ratio), which allows for compensation of varying fusion protein expression levels.
Zhang et al., PLoS One. 2012;7(8):e43072. doi: 10.1371/journal.pone.0043072.
Photoswitchable tools for spatial and temporal control of cell events
Three years ago, Brian Kuhlman's lab designed photoswitchable dimers by fusing the SsrA peptide with the light-sensitive LOV2 domain of Avena Sativa phototropin 1 (AsLOV2). In the dark, this peptide is caged by the asLOV2 domain and has reduced affinity for its binding target, SspB. In the light, the Jα helix of the asLOV2 domain unfolds allowing it to bind to SspB. This original Light Inducible Dimer (oLID) could be used to modulate biological processes, but it did not show large changes in binding affinity with light stimulation. Indeed oLID showed only a two-fold change in affinity for SspB1.
In order to create a more powerful LID, the authors recently used computational protein design, phage display and high throughput binding assays, to engineer photoswitchable dimers which show over a 50 fold change in binding affinity with light stimulation2. The Kuhlman lab created two improved Light Inducible Dimers (iLID), iLID nano and iLID micro, which differ from each other by their light/dark affinity range (130nM to 4.7µM for iLID nano and 800nM to 47µM for iLID micro; Figure 1). With this great affinity range, these LIDs have been shown to be useful tools for light-mediated subcellular localization in mammalian cell culture and reversible control of signalling pathways.
These LIDs are generalizable, versatile and powerful tools which allow you to easily and reversibly switch off and on your favourite signalling pathways (Figure 2). They are all available now at Addgene.
1 Lungu et al., Chem Biol. 2012 Apr 20;19(4):507-17. 10.1016/j.chembiol.2012.02.006.

2 Guntas et al., Proc Natl Acad Sci USA 2015 Jan 6; 112(1):112-7. doi: 10.1073/pnas.
CRISPR-Cas9 optogenetic tool for activating endogenous genes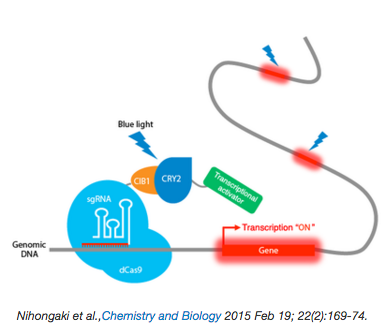 Moritoshi Sato's Lab has engineered CRISPR-Cas9 to create a photoactivatable transcription system. The tool allows scientists to use light to spatially and temporally control endogenous gene activation.
This system works by bringing together an anchor protein and activator protein to drive transcription. The anchor consists of dCas9 fused to CIB1 and is targeted to specific genes via user-defined guide RNAs. Upon stimulation with blue light, the complex recruits a CIB1 binding protein (a portion of CRY2) fused to the p65 activation domain, which activates transcription of downstream genes.
Nihongaki et al describe the targeted activation of endogenous genes and detail the time course of gene activation using this system in the article cited below. Scientists can obtain dCas9-trCIB1, CRY2PHR-p65, and other plasmids from this article through Addgene.
High efficiency cloning for enzyme screening
Dr. David Ackerley's lab at the University of Wellington, Victoria, has developed an adaptable bacterial expression vector which gives close to 100% cloning efficiency and gene expression. The pUCXKT vector ensures that all screened plasmids contain a gene variant* and is amenable to both high and low throughput screening applications. The system can be readily modified to use different antibiotic resistances, restriction enzymes and plasmid backbones.
pUCXKT contains a nonfunctional truncated version of the kanamycin resistance gene (missing the first two codons). Two stop codons are inserted between the truncated gene and the promoter to prevent leaky expression of this resistance. Unlike previous systems, pUCXKT does not result in a translational fusion of the antibiotic cassette to the gene of interest. The gene to be expressed is amplified using a gene-specific forward primer containing the desired restriction site (the MCS has several options) and a pUCX-specific reverse primer containing the missing codons from the antibiotic resistance cassette, a ribosome binding site, SacI restriction site and a linker region. The PCR product is then ligated into the MCS/SacI site in pUCXKT, removing the stop codons during backbone digestion and providing the missing codons for functional antibiotic resistance. Colonies with an insert in pUCXKT will therefore have resistance to both kanamycin and ampicillin (from the pUC19 backbone).
*False positives can occur in this system if a small contaminating PCR product formed from primer dimers and containing the missing codons from the antibiotic resistance gene is inserted. It is important that primers be designed to minimize the possibility of dimer formation.
---
Thank you for reading. You can find all of our Hot Plasmid articles on our website. We update the our Hot Plasmids articles every quarter so be sure to check in or subscribe to the blog to recieve the updates in our quarterly newsletter!
Resources on the Addgene Blog
Resources at Addgene
Topics: Other Plasmid Tools, Plasmids