As a student at Northeastern University, you are expected to spend at least one semester (the majority spend two to three) working in your chosen field. This cooperative education experience (co-op) is what has brought me, a second year bioengineering student, to Addgene. I am currently working on the QC/QA team as a DNA Sequencing Intern.
The application process
When I first saw the comprehensive job description for this co-op, I was immediately interested in applying. This had stood out to me because it gave me a full description of the tasks I would be responsible for, in comparison to the other positions listed with a much less specific overview. It was immediately clear that Addgene wanted to ensure applicants understood what the expectations were for the intended position. After submitting my application, I was contacted to participate in a brief fifteen minute interview. I remember leaving the interview hopeful to continue on in the process and I was excited when I received an email to invite me back to conduct a two hour long interview. I anxiously prepared for the call. The length of this interview was intimidating to me, as I had a hard time thinking about how I could fill this time. I was relieved to find out that the two hours were split up between several Addgene employees, who all made the daunting task feel more comfortable. The following Friday, I received the official offer. I was so happy to hear back, I accepted that day and was excited for the start of my co-op in January. This excitement did not come without worry, as I had never worked the traditional "9-5" job. Prior to this, the only work experience I had was in the food service industry, which followed a very different schedule. Fortunately, I was provided with a detailed training schedule that helped me transition easily.
Training and responsibilities
Through this training, I was gradually introduced to Addgene as a company and given more details on what my position entailed. The official training process was lined out to span the first three months of my six month employment. In the beginning, I spent a lot of time shadowing members of my team to learn what I was to do for my time at Addgene. This training prepared me for the independent work on the QC team. I was responsible for helping other scientists on the team ensure the deposits we received are what the depositing labs intended. With the use of applications like SnapGene and Geneious, I was able to determine if any discrepancies between what we sequenced in house and the submitted sequences were a concern to the plasmid function. The steps of the training process gave me enough time to become familiar with the different types of issues that were important to this function. With the welcoming environment on my team and at Addgene, I felt comfortable asking questions without fearing they would be disregarded - everyone was very approachable.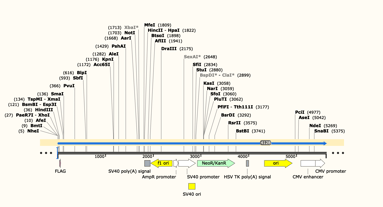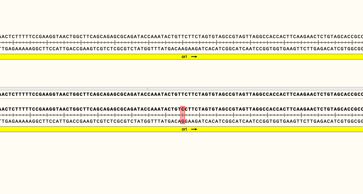 Fig. 1: Examples of DNA sequencing QC work
In addition to my responsibilities on the QC team, I was able to explore other parts of Addgene. This was done through the "Addgene 101" series, where each team gives a presentation on what they do and how it relates to other teams at the company. This provides new (and old) employees with information on how Addgene operates as a team and shows how they fit into the system. Specifically as a co-op, it is encouraged to explore different teams and work on projects there. At this point, I have seen several lab processes and am currently working on projects for the Science Communication function at Addgene.
Working a 9-5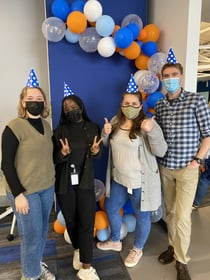 As it turned out, Addgene uses something called "core hours". Core hours consist of the time between 10 AM and 3 PM, when most meetings are scheduled to take place and employees are generally expected to be available. In addition to these core hours, we have flexible working hours. For Addgene that means that it is possible to work the remainder of the three hours (outside of the core hours) at a time that works for you. For example, if I needed to go to an appointment at 3 PM, I could make up the hours I had missed at another time. This made time for me to attend to other commitments, without feeling guilty about missing work. As long as my work was finished on time, there were no issues. Another example of helpful flexibility was the ability to work either remotely or in person. This was useful to me as some days it was not as easy to commute as others. I know some fear that remote work would feel isolating, but that has not been the case for me at Addgene. There is a clear effort to make sure people feel connected.
As I became accustomed to the routine, I realized that the "9-5" was not as scary as it seemed. The transition into a traditional work environment was aided by the efforts being put in by Addgene to ensure their employees are feeling comfortable.
Lucie Wilson is a rising junior and bioengineering student at Northwestern University. She is one of several students completing their co-op at Addgene. This is her second contribution to the Addgene blog.
---
More resources on the Addgene blog
A Guide to Getting Started in Undergrad Research
Tips for Writing a Good Cover Letter
7 Tips to Secure a STEAM Internship This Summer
Topics: Fun at Addgene, Early Career Researcher