This post was contributed by guest blogger Stephanie Hays, a researcher at the University of California Berkeley.
It's been half a year since the march for science on April 22, 2017. While experiments (and editors) can move slowly, news about possible broad changes to policies seems to break everyday. Many researchers and supporters of science marched to advocate for scientist participation in government, evidence to inform policies, a protected place to work, funding for science, and numerous other reasons. It is important to remember that we, scientists and non-scientists alike, need to stay active and involved if we wish to make positive change. Below I present perspectives on the March for Science from researchers all over North America. I hope that these perspectives, the optimism they encapsulate, and the solutions they promote help motivate you to spend a little time advocating for science and getting yourself out there for the next six months and beyond.
Disclaimer: The views represented below are those of the writers and do not necessarily represent the views of Addgene.
Boston, MA, USA 42.3601°N 71.0589°W – Alina Chan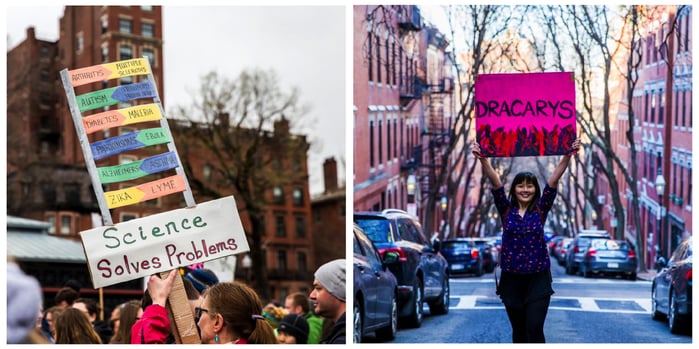 The job of scientists to observe how things work, test theories, and solve problems is supposed to be impartial. The best science happens when scientists have 1) the courage to make mistakes and 2) the integrity to recognize these mistakes quickly. However, many scientists operate in a hyper-competitive environment where getting hired hinges on performing near miracles. When evidence does not affirm our perception of how things are or should be, scientists are tempted to seek out alternative evidence and discard inconvenient findings. Yet, we cannot prosper in a world where our medicines, technologies, defense, and governing policies are developed primarily by wishful thinking. The March for Science is about fighting scientific partisanship, including more scientists in our leadership, and raising awareness regarding the pitfalls of accepting alternative facts. Because, similar to scientists, the legacy of each government and generation is in the veracity of its work.
Alina Chan is a postdoctoral researcher at Harvard Medical School working on human artificial chromosomes.
Montreal, QC, Canada 45.5017°N 73.5673°W – Vanessa Sung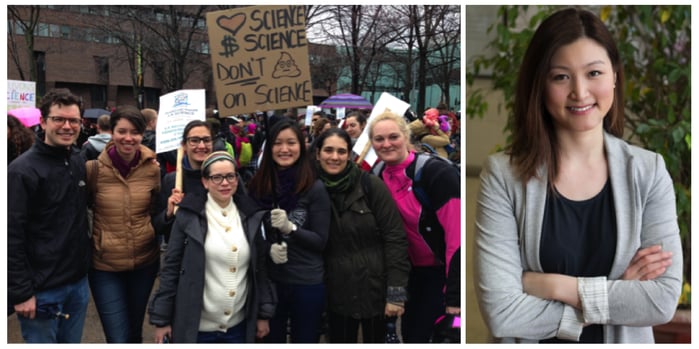 Hundreds of scientists and supporters in Montreal took to the streets on April 22 to join in the March for Science. Cold and overcast with intermittent rains, it was weather befitting of the ominous political climate in which American scientists find themselves today, and where Canadian scientists found themselves not too long ago.
From policies that "muzzle" government scientists to the de-funding of crucial environmental research programs, Canada has been here before. These attacks on science ultimately galvanized scientists to rally in Ottawa to protest the "death of evidence," and to speak out in unprecedented force during the 2015 federal election.
Even as we marched in solidarity with our American neighbours, the fight is far from over here at home. The work of promoting and defending the role of science in our democracies will require constant vigilance and actions beyond marches, as well as allies outside the scientific community.
Vanessa Sung is currently a PhD student studying breast cancer at the Goodman Cancer Research Centre at McGill University in Montreal, Canada. Outside the lab, she dabbles in science policy, public outreach, and restorative justice. Follow her on twitter @sung_vanessa.
Albany, NY, USA 42.6526°N 73.7562°W – Nicholas Thompson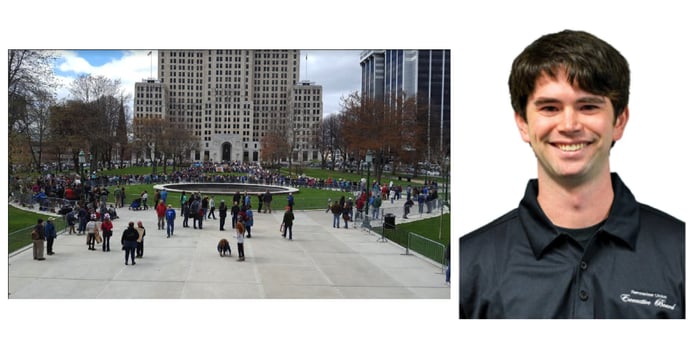 Over the last few years, there's been a disturbing trend in the number of high profile people denying science, from celebrities falsely claiming vaccines cause autism to politicians saying that climate change is a hoax. This has culminated in the current President holding and campaigning on many views that don't line up with the scientific consensus and calling for billions of dollars in cuts to important research funding.
So when I saw that there was going to be a march in support of science, I loved the idea and decided to go. At my local March for Science in Albany, NY, many tables were set up with various science demonstrations, and students could walk around and ask scientists questions about their work. Thousands of people showed up; some with some really great signs. The Congressman for Albany, Rep. Paul Tonko also came and spoke in support of science - he's one of the few members of Congress who holds an engineering degree. It was a great, positive event that I hope happens again.

Nicholas Thompson is a PhD Candidate studying Nuclear Science and Engineering at Rensselaer Polytechnic Institute. He also studies energy markets in his spare time. You can follow him on twitter at @thompn4.
New York City, NY, USA 40.7128°N 74.0059°W – Deanna McLafferty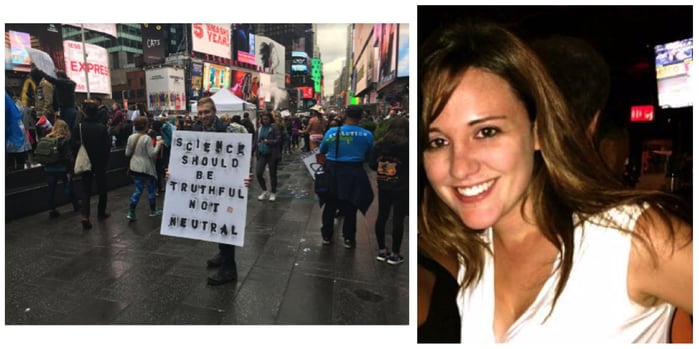 I'm a New Yorker, so it's not easy to convince me to spend a Saturday in the tourist-trap nightmare that is Times Square. But I made the sacrifice in April because devaluing science has alarming implications for our public policies—many of which impact reproductive rights and justice. Whether it's used to fight the myths that abortions cause breast cancer and infertility or to argue against unnecessary clinic regulations, evidence-based research is vital in combating misinformation and propaganda that limits access to full reproductive health care. And it's needed most in low-income and minority communities, where these issues hit hardest. According to the Guttmacher Institute, most women of reproductive age live in a state with at least two abortion restrictions that conflict with scientific evidence. We need representatives and policymakers who not only believe in the separation of church and state, but also the separation of fact and fiction. Our health depends on it.
Deanna McLafferty is an editorial assistant and activist.
Washington, DC, USA 38.9072°N 77.0369°W – Mark Lucera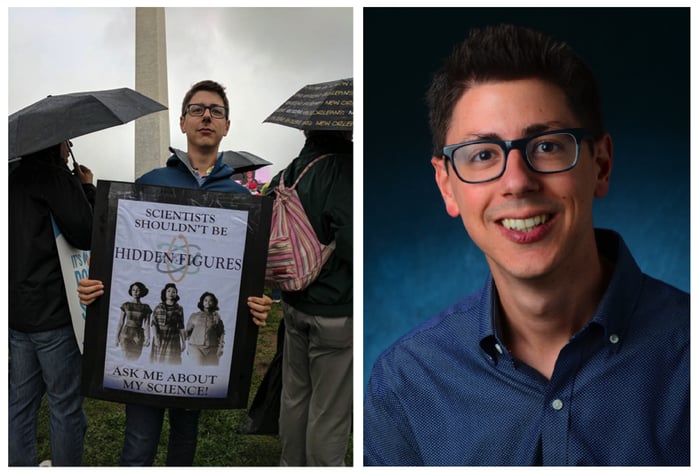 I am a passionate scientist. I care about my work because it's important to our health. Most people won't argue with that idea, but they might feel disconnected from the entire scientific process. I've spent a lot of time debating how to fix this. As scientists, we work tirelessly in the lab where the groundbreaking research happens, sometimes forgetting how to engage with friends, family, and the public about its importance. I think many of us grew to assume that the data might speak for itself but we're now in a rift where our integrity is questioned and cuts to life-saving research are being proposed. It's our responsibility to join the public conversation and to tell the stories behind our research. That's why I marched for science in D.C. "Scientists shouldn't be hidden figures. Ask me about my science!", read my sign. People asked, and we talked. That's a win.
Mark Lucera is a PhD trained scientist at the University of Colorado, Anschutz Medical Campus. He studies viruses including HIV and is interested in global health policy. He is also chair of the postdoctoral engagement committee and active member of the university's Postdoctoral Association. Follow him on twitter at @Mark_Lucera.
Ann Arbor, MI, USA 42.2808°N 83.7430°W – Alexandra Greenbaum

Science and evidence-based policy and legislation hit home hard in Michigan, where programs like the Great Lakes Restoration Initiative are at risk of major cuts and where towns like Flint are left for years with unsafe water. Many marchers held signs demanding the protection of our Great Lakes and our planet. And as we rallied on the University of Michigan campus speakers thoughtfully reminded us to use the same critical lens on our scientific community as we use for our science. "We must ask which perspectives and bodies are not present at the lab bench," Liu, a UM undergraduate, challenged us. I worried the march would be a simple, unquestioning celebration of science, at a time when scientists must rise up and become more politically engaged. I was proud to be a part of a community that recognizes doing science (and doing it ethically) runs hand in hand with policy.
Alexandra is a postdoctoral researcher in the University of Michigan Department of Astronomy. She studies how planets form around young stars and the instruments we use to study them. You can follow her at alexandrazgreenbaum.wordpress.com or on twitter @green__algae though she admits she doesn't tweet enough.
Nashville, TN, USA 36.1627°N 86.7816°W- Jennifer Stancill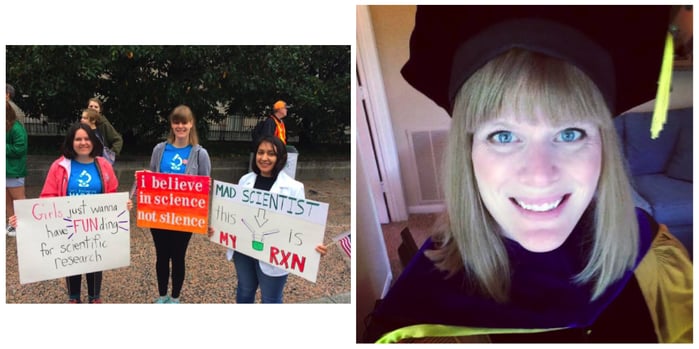 I am a research biologist by training, so of course I felt compelled to participate in one of the satellite Marches for Science (my local march was in Nashville, TN, USA). I had never participated in a protest before, so I had no idea what to expect. Admittedly, I was scared. I worried that, because we were speaking out against legislators and because the march had been so well-publicized, we might encounter hostile anti-science activists. However, I must say that I was supremely proud of Nashville that morning. Despite the rain, about 4,000 supporters of science showed up to march. We had full support of local law enforcement, and, although there was at least one person vocally protesting us, he was not threatening in any way. Participating in this march proved to me that the community of science supporters is much larger and stronger that I expected.
Jennifer Stancill, Ph.D., is currently a post-doctoral fellow at Vanderbilt University. She studies beta-cell function and failure in Type 2 Diabetes.
Birmingham, AL, USA 33.5207°N 86.8025°W - Jonathan Aguilar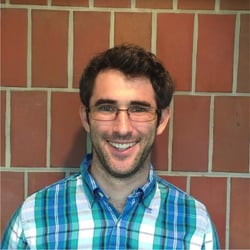 Galileo wrote, "now you would not hide behind these two fingers the ninety-nine cubits of Aristotle, nor would you mention my small error and at the same time pass over in silence his very large one" (http://oll.libertyfund.org/titles/galilei-dialogues-concerning-two-new-sciences). This is the approach policy makers take in abusing climate science skepticism to promote harmful policies that benefit polluting industries.

In March, three climate scientists and an economist testified before the House Science Committee about climate change. All the scientists – including global warming skeptics – insisted that more data and research funding are critical to averting a potential climate disaster. However, policy makers use these two fingers of skepticism to defend an agenda that halts current data collection, destroys existing data, and guts future funding.

I marched because science belongs to the taxpayers who fund it, and we deserve to know the truth about our world.
Jonathan Aguilar (@AggleDetector on Twitter) is a graduate student at Johns Hopkins University, where he is trying turn a few exoplanets into a successful PhD thesis. We use the same atmospheric physics to understand exoplanets that we use to understand the Earth!
Denver, CO, USA 39.7392°N 104.9903°W - Erin Golden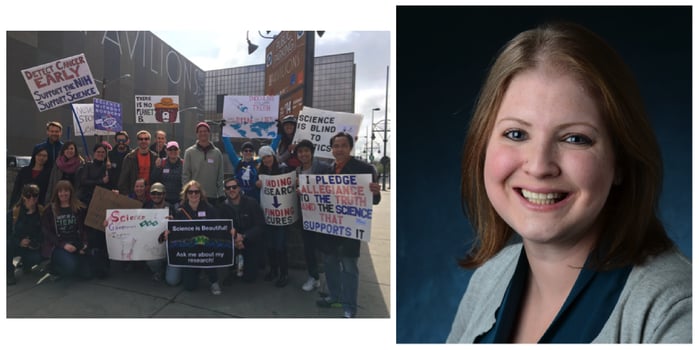 Hi, my name is Erin and I have spent the last 15 years training as an academic scientist. I've worked tirelessly to get the publications, grant funding, and teaching experience that it takes to complete your resume, without ever thinking that research scientist would be a career that could simply cease to exist. But then November hit and panic ensued as "alternative facts" became a part of our country's rhetoric and drastic cuts to the NIH budget were proposed. I spent a lot of time asking why. As scientists we spend years being taught to communicate in a very specific, technical manner, so much so that we often find it difficult to convey the excitement and importance of our research to family and friends outside of academia. But the fact is that we are citizens first and scientists second and that it is our duty to tell our science stories in a manner that encourages open discourse with our fellow community members. The March for Science was an important first step towards starting these conversations; it is our responsibility to continue the dialogue.
Erin Golden is currently a postdoctoral fellow at the University of Colorado Anschutz Medical Campus in Aurora, CO where she studies the development and regeneration of mammalian taste buds. Erin is also the President of Project Bridge Colorado, an advocacy initiative that seeks to bridge the communication gap between scientists and the public. Find out more at www.projbridge.com.
Walnut Creek, CA, USA 37.9101°N 122.0652°W – Steph Hays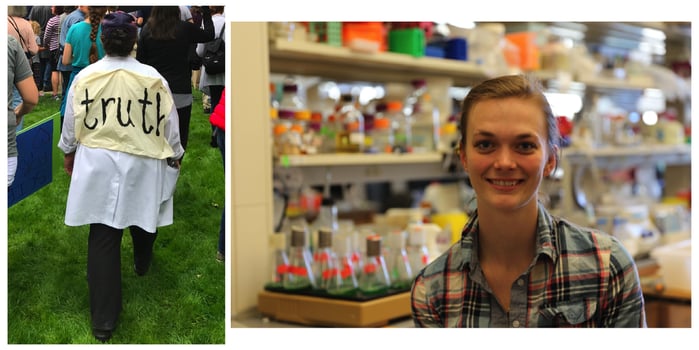 When I marched for science in May, I marched to advocate for the process we use to learn about the world. In a way, I marched for truth. I also, it turns out, marched with Truth. She was a woman in a lab coat.
The march opened with speeches but it is how the march ended that I loved - there were booths for children to learn little things about science. We need to keep encouraging people to look for evidence through education.
My only criticisms of what I saw are that we, as a society, need to:
1) use more citations for out data so our sources are readily available to people who want to join the dialog and
2) remember that science should not be partisan: everyone (of every political persuasion) must be humble in the face of evidence.
Stephanie Hays is moving from engineering synthetic microbial communities at Harvard University to studying an evolutionary arms race at University of California, Berkeley. She is a scientist with a passion for photosynthetic communities, microbial interactions, and science education. Photo cred Alina Chan.
Seattle, Washington, USA 47.6062°N 122.3321°W– Justin Sherman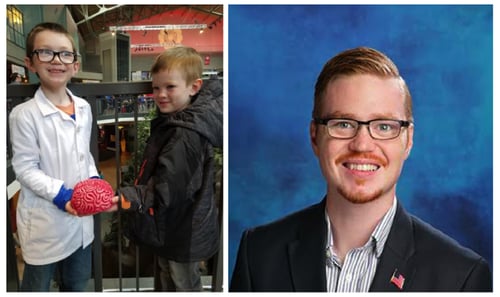 Prior to this year I had never taken part in any public activism. One of my favorite signs from the march read "You know things are serious when the introverts arrive." I couldn't watch the denial of facts or attempts to dismiss and defund science and stay silent. I was overwhelmingly happy to see so many others come out who feel the same. I was also incredibly impressed with how well organized the march was, as well as the friendly atmosphere that was created by the many thousands of science professionals and supporters. I'm raising some little scientists (as you can see in the picture) and this march proved to be the perfect opportunity to cement in my children's heads the importance of science and positively reinforce their scientific interests. Our marches across the world have had an impact already, gaining additional funding and the eyes of the world.
Justin Sherman is a Scientific Instrument Maker at Intellectual Ventures Laboratory.
Vancouver, BC Canada 49.2827°N 123.1207°W – Karissa Milbury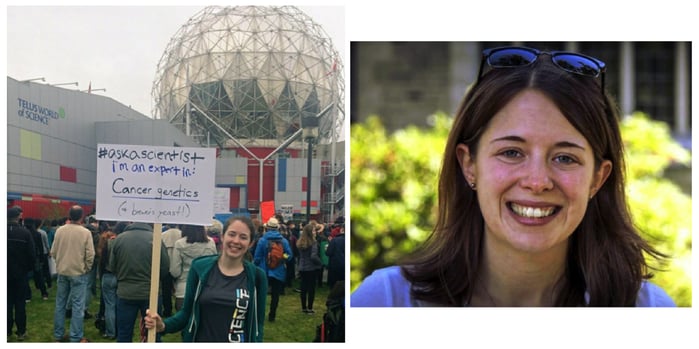 I attended the march in Vancouver, BC, although I wasn't sure I'd go until several hours before it started. It was great to see people supporting science, but I worried (and continue to worry) that most who participated will consider that marching in and of itself will be enough. IT WON'T! Promoting the incorporation of science in policy, demanding better funding, and helping others understand the value of science is an ongoing and difficult job. I urge other marchers to make this their first step, and continue this work by voting for candidates that respect science, learning to communicate their science to the public, talking to policy-makers, and broadly defending science in the public sphere as often as they can.
Karissa Milbury is currently a PhD candidate at the BC Cancer Agency and University of British Columbia in Vancouver, BC (Canada). She works in a lab that uses yeast cells to study how DNA damage promotes cancer. She is also a science communicator, UBC Public Scholar, and a member of the Vancouver SciCATs. Follow her on twitter @Point_Mutation, and @SciCATSyvr.
---
Additional Resources on the Addgene Blog
Topics: Other, Miscellaneous