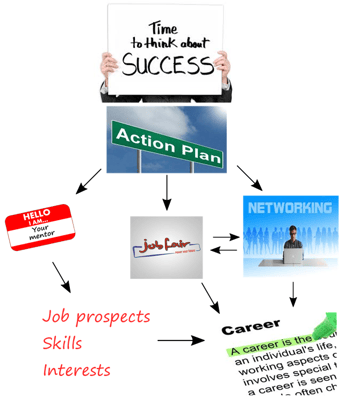 A recent survey of PhDs found that many researchers feel that they lack formal training in a variety of transferable skills. At Addgene we've set out to fill this gap by both highlighting that researchers do learn MANY transferable skills while working in the lab and by offering advice on areas where you might need some help. Today: Career Planning Resources.
The key to ensuring success during graduate school and beyond is to live in your lab, right? Wrong! While it is clearly a good idea to be diligent in your research, remember that you will not be a graduate student or postdoc forever, and you need to be thinking about what comes next. To that end, one of the most important things that you can do now is diversify. Read on for an overview of some of the resources you can use to better prepare for your career, and increase your chances of landing that next coveted job!
Professional development (or lack thereof)
One of the biggest challenges facing students today is that many graduate and post-doctoral programs lack any formal or mandatory professional development training. Further, even for those students and researchers who do take the initiative to develop themselves, resources are often scarce and difficult to identify. So what specifically should you do? What follows are just a few suggestions based on what I have found to be especially beneficial during my own graduate career – and in fact, some of the very things that were so critical to me landing my own position!
Conferences
One of the single most important things you can do to plan for your career is to expose yourself to other working professionals, and one way to do this is to attend conferences. Depending upon your discipline, there are different types of conferences that you might attend. Societies, such as the American Society for Cell Biology (ASCB) or the American Chemical Society (ACS) are just 2 examples of organizations that hold large, annual conferences. Gordon conferences offer more focused and discipline-specific experiences, and several Gordon conferences are held every year in different locations all over the world.
But simply attending the conference is usually not enough. How do you stand out from the hundreds of others that did the same thing? Make an effort to meet people. Attend smaller talks within the bigger conference, especially ones that are more career-focused. After these talks, introduce yourself to the speaker and offer your business card (yes, you should have a business card; it's a bit more informal, and a lot easier to hand out than a CV or resume). If you receive a card in return, make sure to follow up with a professional "thank you" via email. You've now made a connection, and connections are how you get jobs!
Job fairs
Speaking of jobs, it seems like an obviously important experience, but far too many students and young professionals will never attend a job fair! Similar to a conference, job fairs bring you face-to-face with working professionals, with the added benefit that most people at the fair will probably be willing to accept your CV or business card. Be warned, though – someone accepting your CV doesn't necessarily mean that you are a future employee of the company. It does, however, offer you an opportunity to make a personal connection; the importance of which will be elaborated on later. As for what job fairs to consider, some of the best options are the Naturejobs Career Expo and the ACS career fair, which are larger meetings offering resources for students seeking employment within industry or academia; although the ACS career fair is more industry-focused. For another industry-geared option, try the Biospace career events page. Biospace holds career events all over the country; sometimes several per month, giving you a plethora of opportunities to explore!
Again, attending one of these fairs is a great start, but you need to do more than just show up. Do your homework and know who is going to be there, so that you can tailor your CV accordingly. Make it stand out with key words and by putting your most relevant experience at the top. You may also consider visiting any of the employer's career pages to look for current job postings. You may then reference the connection you made at the job fair when you formally apply for the position. This post on Business Insider nicely summarizes good job fair practice.
Career pages, LinkedIn, and other online career resources
Once you've identified places you'd like to work, get online and take a look at the company or institution's career page, where you're likely to find current job openings. A good approach is to do this first for companies at which you've already made a personal connection. That way, once you've identified an appropriate job opening, you can send your contact an email with the relevant info and they just might personally hand your credentials to HR, greatly increasing your chances of getting a phone interview!
If you don't have a particular employer in mind, you may consider starting with indeed.com or monster.com, where you'll find a variety of listings. Post your CV and make it visible, which will sometimes result in a recruiter giving you a call. Many companies enlist the assistance of recruiters for identifying appropriate job candidates. If you do receive such a call, make sure to get that person's contact information and again, make a personal connection! Even if you don't get the specific position he or she originally called about, you can keep in touch and reach back out when you are looking to change positions in the future.
Anyone looking for work in today's job market should have a well-groomed LinkedIn page. Here you can search for jobs, post your CV, and, most importantly, manage your professional network. This is probably the easiest way of seeing who you know, where they are, and who they know all in one place! This information can be critical to a focused and effective job search. As with any online forum, there is an etiquette that you should follow, nicely summarized in this post on Forbes.com, and here on LinkedIn.com.
Mentors
You may have an adviser, but do you have a mentor? There is a difference. A mentor is someone who has gone where you hope to go, and who will invest in your success. If you are a graduate student or post-doc in a traditional training program, and you hope to make a career in academia, you are likely in good shape, as your own adviser will probably have a lot of relevant experience and information to offer. However, if you hope to have a career outside of academia, you may need to look a bit harder to find your mentor. This may be a connection you've made at a conference or job fair, or it may be someone at your institution's career center. Alternatively, it might even be a colleague. A mentor does not necessarily need to be someone a lot older than you are; try using ResearchGate to see where other graduate students and post-docs from your institution have gone, and try sending them a professional email asking for information, but not a job! This is good etiquette when contacting someone professionally that you do not know very well; always ask for information and establish a connection with that person before ever asking them for work. Addgene's very own Joanne Kamens, a strong advocate for career planning, has written a great blog on choosing good mentors for scientists.
Continuing professional development
Professional development should be life long, and doesn't end after you get your first new job. To set yourself up for success in the career you hope to have, you must think outside of the box (most likely your lab, in this case). It is important to realize that you have to take responsibility for your own professional development, not count on your institution, program, or adviser to do it for you. Expose yourself to working professionals by attending a conference (many graduate schools will even pay for you to attend!), exploring a job fair, and utilizing your local career development center, if one exists. Get online! Review company and institution career pages. Make yourself visible on LinkedIn and other popular job site webpages. Importantly, find a good mentor that can share relevant experience and resources with you to ease the way. Make connections, and nurture those relationships. Then when you are ready to apply for your dream job, you'll be in the best possible position to secure it!
---
Further Reading and Outside Resources
Additional Resources on the Addgene Blog
Resources at Addgene.org
Topics: Science Careers, Professional Development