All plasmids deposited at Addgene enhance scientific sharing worldwide but a select few are particularly special. Over 1000 of our 60,000+ deposited plasmids have been requested more than 100 times each, thereby achieving the coveted "blue flame" status. We're proud to honor the creativity, passion, and dedication to sharing epitomized by the creators of these plasmids with the first annual Blue Flame Awards.
What's in a flame?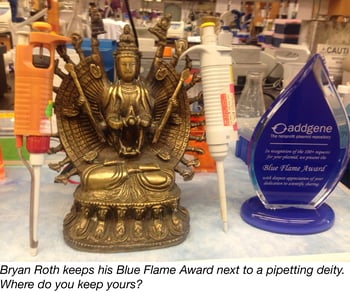 We're always pleased when scientists around the world choose to share their plasmids through our repository since we know biological resource centers, including Addgene, positively affect scientific research. As Maria Castro of University of Michigan says, "Addgene has transformed the way in which we share plasmids and other molecular tools with the scientific community worldwide, making it easier, cost effective and faster; this has helped accelerate scientific discoveries."
Occasionally, a plasmid tool is so influential that it is requested from Addgene many times as the technology disseminates throughout the research community. These popular plasmids are categorized into a 3-level system on our website:

A yellow flame indicates that a plasmid has been requested 20+ times

A red flame means a plasmid has been requested 50+ times

A blue flame means a plasmid has been requested 100+ times
Since we so sincerely appreciate our depositor's dedication to scientific sharing, we wanted to celebrate our depositing PI's who have the most highly requested plasmids. Currently, there are roughbly 400 depositors worldwide who have one or more blue flame plasmids, with more added to the list weekly. The Blue Flame Award, first distributed this year, serves to congratulate researchers who have at least one plasmid deposited at Addgene that has been distributed more than 100 times. We hope these desktop trophies will serve as badges of honor for our powerhouse depositors who have generously shared their reagents freely with the research community.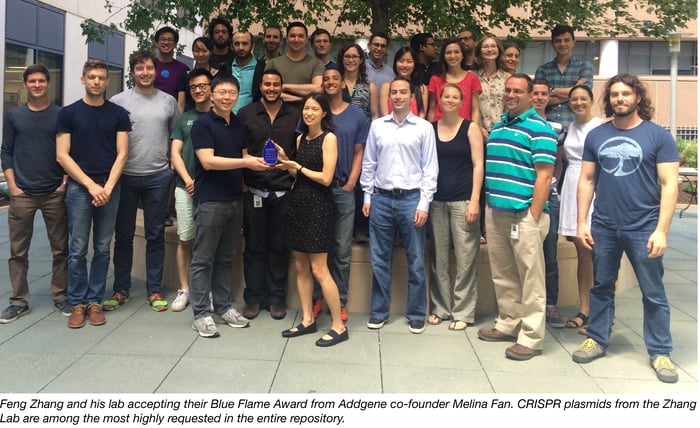 Sharing is caring
We're thrilled that our depositors reap the benefits of sharing plasmids with us. One way we can gauge if people are happy depositors is if they deposit plasmids more than once. People get hooked on sharing because, as UNC's Bryan Roth says, Addgene has "literally enabled sharing with 100's of investigators worldwide. Now everything from every paper is routinely deposited in Addgene!"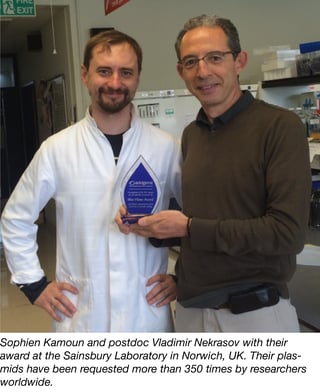 As you can imagine, answering plasmid requests can be a time-consuming chore for labs that have popular plasmids but lack the resources or personnel to constantly prepare them for distribution. One of the major advantages to depositing materials at Addgene is that we cover all of the shipping logistics and facilitate all material transfer agreements, thereby freeing up time for our depositors to continue conducting research.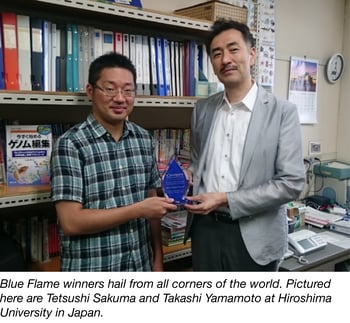 Said Blue Flame awardee Sophien Kamoun of the Sainsbury Laboratory in Norwich, UK: "We're very pleased to distribute our plasmids via Addgene. Given the increasing popularity of CRISPR in the plant community, this has saved us hours of work responding to requests from colleagues."
In addition to helping labs save time, we're also proud to help connect scientific researchers from far corners of the world. "It's easy to imagine how hard it is to distribute thousands of plasmids across the world from the far-eastern islands," said Tetsushi Sakuma, a lecturer at Hiroshima University who works with Takashi Yamamoto. "Addgene has made it possible to eliminate geographical restrictions in life science research."
Claim Your Award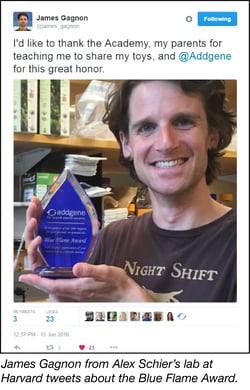 If you have one or more blue flame plasmids and have not yet received your award, please contact awards@addgene.org to claim your Blue Flame. Once you receive your award, we'd love to see you show it off! To share your photo, tag @Addgene and #happydepositor on Twitter.
All Blue Flames started with a deposit. Begin yours here.
It has been my genuine pleasure to send these small tokens of thanks for the incredible impact our depositors have had on Addgene and the scientific community as a whole. To all of our depositors- and in particular our Blue Flame Award winners- we'd like to thank you for sharing your plasmids at Addgene. You are the reason we're able to do what we do!
---
Special Thanks
Additional Resources on the Addgene Blog
Resources on Addgene.org
Topics: Addgene News, Awards