To LinkedIn or not to LinkedIn. That is the question.
When presenting on building relationships (also known as "networking"), one of the most common questions I receive is "Do I have to be on LinkedIn?" For anyone who is planning or might need to plan for a career outside academia (that would be pretty much all scientists), a LinkedIn profile is absolutely necessary. If people can't find you on LinkedIn, you will lose opportunities and hiring managers will think it is odd. For those planning a career in academia, it may not be required, but many academic scientists are starting to see the advantages of using social networking to start, build, and track professional relationships. Here are my seven best tips beyond the basics to get you started.
1) Be visible and open to connections
This is a site for meeting people. Use the settings to let people see who you are when you look at their profile. Make your professional contact information available. When I am speaking at a new institution, for example, I will often see a whole bunch of notifications "a postdoc from this Uni viewed your profile" instead of "Joanne Kamens, PhD viewed your profile." The latter is much less creepy. If we've met before, I'd be much more likely to say "Hey, thanks for looking me up on LinkedIn!" resulting in just a little more relationship.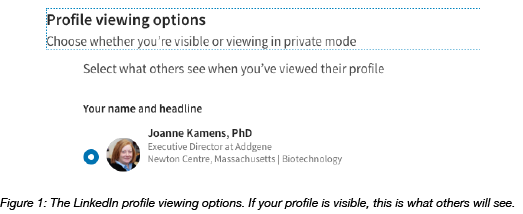 Pro tip: Once you are connected with someone, their email address is usually visible to you (unless they've chosen to hide it). While most people use LinkedIn messaging, not everyone likes to. A direct email can be the best way to get in touch if you have business or follow up. Use the "Contact info" link right below their photo.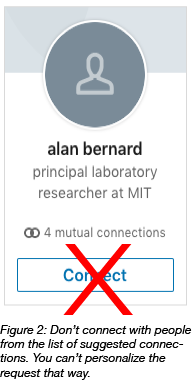 2) Personalize all connection requests
LinkedIn is a place to build relationships. If you don't add a personal note, you waste an opportunity to start things out right. Also, many people on LinkedIn don't appreciate random requests without a personal message and they may report you as spam or "I Don't Know This Person." If that happens a few times, LinkedIn may revoke your ability to send invitations. Finally, if you don't know clearly why you are inviting someone to connect, perhaps you should be asking yourself if it's really a good idea.
Pro tip: Don't hit the connect button unless you're on a profile page. You might be looking at a list of suggested connections and you'll see the boxes that say "Connect." If you click this box, it will send an unpersonalized, generic invitation. Don't try to connect from the LinkedIn phone app either as this also results in a generic invitation.
3) Connect with people you have really talked to
The best time is within a few days after you've met. Always include a note about where you met IRL (in real life) and perhaps what you talked about (or how good the beer was at that place, for example). This is also a great way to keep track of how you met the connection, as these notes are saved in the messaging stream. Unfortunately, LinkedIn has spam profiles and trolls. People don't like to connect with complete strangers as it borders on my first rule of networking--"If it feels creepy, don't do it." It's just not a useful way to build or use a network. Total strangers can't really help or refer you. Do not ask people you don't know for favors (there are a few exceptions to this rule, but not that many).
I'm asked a lot about requesting connections to complete strangers for informational interviews. Many have had success with this and as long as you personalize the invitation with your intention for connecting, this is probably acceptable. In my opinion, however, it's much better to use your network to request introductions to people of interest for such discussions.
Pro tip: Instead of connecting with someone you don't really know, follow instead of connecting. You can see what they post and occasionally comment on their posts as appropriate, possibly giving you a way to connect with them in the future. Some profiles have a blue Follow button. For less famous people, this option is in the "More…" menu. You can also follow companies and organizations to see their news and job postings.
4) Use LinkedIn to pay it forward
The best way to network is to be always thinking "How can I help?" and not "What can you do for me?" One of the easiest ways to help is to connect people that want to meet or that you think might be helpful to each other. This is a quick way to do an easy favor for people in your network. If someone has connected with me, I consider them fair game for connecting to others.
Pro tip: You can change the option for sending LinkedIn messages to Click Send instead of Press Enter to Send. That way you can type a full note with good format without accidentally sending before you've had a chance to proof read. This might not be important for a good friend, but if you are making a professional inquiry, you always want to read before sending.
5) You can use LinkedIn before an interview, but be careful
If you are lucky enough to have a schedule before your interview, it is acceptable to look up the people you will be speaking with. You can even say things like, "Hey, I went to UPenn also, go Quakers!" but do not send a connection request to any of these people, including and especially the hiring manager. This is considered intrusive and it's still connecting with a stranger so is highly discouraged. You should be using your network to see if any of your connections can connect you to people at that organization. This type of connection can help you gather information, make introductions, and give advice for your interviews.
Pro tip: You can learn a lot from the company LinkedIn page. This can include news, inclusion, culture and connections. Start your interview research there!
6) Your LinkedIn profile should be as good or better than your resume
Don't make the mistake of having a shoddy profile and not updating it. LinkedIn may actually replace the resume some day (I've already abandoned my paper resume). It's also a great way to keep track of past accomplishments. Follow all the rules of good resume writing. Include examples of concrete accomplishments in both the technical and "plus skills" areas. Include a professional picture. It doesn't have to be a headshot in a suit, but this is not Facebook so no pets or kids. Try looking a bit over your shoulder for the picture. It tends to look like a police photo if you look straight at the camera.
Pro tip: Turn off notifications to your network of profile changes. If you are working, and all of a sudden you start updating your profile, everyone will think you are looking for a new job! I have been able to tell when some start-ups were about to be bought by seeing certain groups of people start to update their profiles.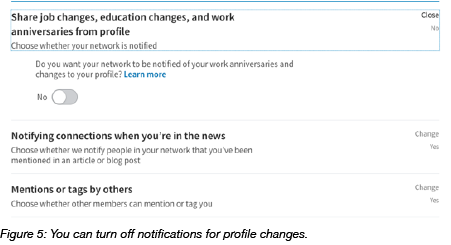 7) Keep it professional at all times
Do not post or comment on anything that is not relevant to business or volunteer organizational work. LinkedIn is not the platform for politics, family updates, or click bait of any kind. For more on inappropriate content see this article. However, do comment on other people's news and updates. Share your own good ideas, events and favorite resources. Respect the network and it will reward you.
---
Resources on the Addgene Blog
Topics: Science Careers, Networking