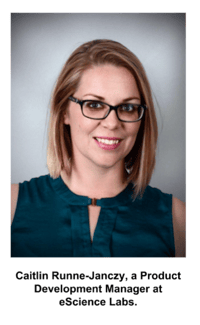 In this post of the Careers in Science Communication blog series, you'll hear more about Caitlin Runne-Janczy and her job as a Subject Matter Expert/ Product Development Manager at eScience Labs. To learn how Caitlin got into scicomm and landed her first post-grad school job, head over to part I of the interview.
Caitlin Runne-Janczy's first day at eScience Labs was not your typical first day. "I walked in and they asked me, 'How do you feel about dissecting a cat?' And I'm like, 'Well, I'm here so let's do it!'"
Working as a subject matter expert
Caitlin started out as a subject matter expert (SME) at eScience Labs, an educational company that creates hands-on science lab kits and digital curricula to support them. Caitlin's take on her job as an SME: "I write curriculum for students taking science courses online, which is a blast. I have so much fun doing that." Being an SME is often like being a jack-of-all-trades. "As a subject matter expert in the educational sphere, it can range from researching an area, to writing an introduction that gives a basic overview of kinematics in physics, to developing a lab about mitosis and meiosis in biology. Lots of it is researching the different aspects of the subject you're writing and then condensing that and making it accessible to students." Making science approachable is often the most challenging part of the job, but Caitlin doesn't work in isolation. "A lot of what we do is work with students who don't have a science background. [We ask them,] 'Can you read this lab. Can you test this experiment? Can you follow and understand the protocol from start to finish?'" says Caitlin.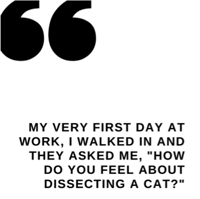 SME's at eScience Labs also write test question banks, case studies, and experiments for labs, in addition to testing those experiments. "We also do videos demonstrating an experiment or a technique to students, like how to pour a gel [for] electrophoresis or doing a dissection video. I did that in January. This involves going in front of a camera and kind of walking them through the steps of, for example, cutting open a heart to look at the inside. We do a lot of interactives and videos, as well, to supplement the hands-on [aspect of the labs]," says Caitlin.
Caitlin also works to meet the individual needs of schools interested in using eScience Labs as part of their curriculum by either taking existing curriculum and customizing it for schools or developing new online courses about unique topics that aren't already offered by eScience Labs. "We work with faculty members to make sure the courses encompass what they want to teach."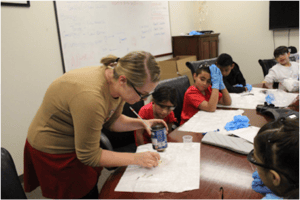 Besides working with students and faculty, Caitlin also collaborates with the sales and operations departments at eScience Labs. This can involve traveling with the sales team to meet faculty and introducing the kits to clients who might initially be doubtful of online science lab classes. However, their opinions are often changed after seeing a kit for themselves. "You open up the box and there's a gel electrophoresis tray in there. Or the dissection specimens." And since the eScience warehouse is onsite, Caitlin can visit the operations team to make sure "that everything that's going into the kit is going to work and give the student the best possible experience."
Managing curriculum development
About a year after Caitlin was hired, she was promoted to Product Development Manager and now manages the entire curriculum development team at eScience Labs. She still gets to write curriculum, but has taken on other new and exciting responsibilities."I'd say maybe 25% of my day is still what I did as an SME, and then 75% of the time I'm kind of the go-to person for my department." Caitlin does this by acting as a facilitator between her team, the sales department, and operations department with the ultimate goal of determining if projects are feasible. This involves thinking about kit cost and safety.
Being a manager also requires Caitlin to look at the big picture: "It's been really cool to take a step back and look at new technologies in education and ask 'Can we implement that?' [And think about] where we [eScience] are going to be in two, three, or four years down the road to keep being at the very top of the business."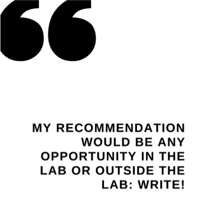 Caitlin's advice for budding science communicators: "My recommendation would be to take any opportunity in the lab or outside the lab: write!" Caitlin did this by editing 15+ comprehensive exam proposals, a few PhD theses, and occasionally posting something science-related on Facebook. "I think this helped me say with confidence when I interviewed, 'I write science. I edit science. And I do it well.'"
Stay tuned for the next feature in this series. We'll be interviewing Susan Keown, a staff writer at the non-profit Fred Hutchinson Cancer Research Center. And make sure to subscribe to the Career Channel of the blog so you don't miss the future posts in this series!
---
Additional Resources on the Addgene Blog
Learn more about

alternative

science careers

here

Interested in creative science education tools? Check out

this Addgene podcast

with educator and science rap mastermind Tom McFadden

Get tips about management for scientists

here
Resources on Addgene.org
Topics: Science Careers, Science Career Options