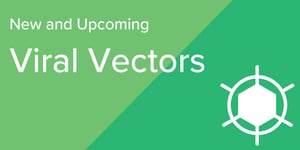 Since the beginning of our viral service in 2016, we've added many new tools to our inventory of ready-to-use viral vectors. Here are some of the AAV we have released in the last few months. You can also browse our entire AAV inventory.
Our new AAVs include:
EGFP-expressing AAV for serotype testing
Calcium sensors and GABA sensors
Optogenetics
Recombinases
And more!
---
Control AAV
For many AAV experiments, we recommend validating the serotype in your target cells before conducting the experiment. Likewise, a lot of scientists have requested samples of AAV for testing purposes. To address this, we recently released our serotype testing AAV, which are small (20 ul) samples of EGFP-expressing AAV packaged in various serotypes. This collection is now complete! pAAV-CAG-GFP (plasmid 37825) and pAAV-hSyn-EGFP (plasmid 50465) are now available as 20 ul aliquots in AAV1, AAV2, AAV5, AAV8, AAV9, and AAV Retrograde. You can also request the specific serotypes you need instead of receiving a kit with all the serotypes, since these 20 ul samples are distributed individually.
See our Serotype Testing AAV inventory for the entire collection!
We are expanding our entire control AAV inventory to give scientists access to a wide array of promoters and fluorophores for validating and testing purposes. We will continue to add more controls, and have recently released these controls:
Biosensor AAV (calcium sensors and GABA sensors)
Calcium sensors
The latest calcium sensors from Janelia (jGCaMP7) continue to be useful for monitoring neuronal activity in the form of calcium dynamics. (For more details on this technology, see our blog post Overview of AAV Encoded Calcium Sensors). We are expanding the inventory of these vectors to more serotypes. We currently package four variants of these biosensors, which are optimized for specific parameters:
See all our biosensors inventory, and check out our latest vectors below:
GABA sensors
Sensing levels of g-Amino butyric acid (GABA) - the primary inhibitory neurotransmitter - is a powerful method for understanding how this molecule impacts neuronal circuits. We recently packaged a constitutive GABA sensor (see below), in addition to our inventory of Cre-dependent GABA sensors. See all our GABA sensor AAV inventory here.
Optogenetics
Optogenetics continues to be a useful method for manipulating specific neurons. We recently packaged a soma-targeted opsin from Christopher Harvey's lab. According to their publication (Chettih & Harvey, 2019), "this localization should improve the specificity of influence measurements by reducing photostimulation of the axons and dendrites of non-targeted neurons near the target site."
Recombinase AAV
Targeting and manipulating specific, genetically-defined neuronal populations with intersectional approaches is a growing field that we aim to support by growing our inventory of recombinases and recombinase-dependent vectors. We recently released several recombinases in various serotypes, and will continue to grow this collection. Of note, we are excited to release a Flp-dependent Cre AAV in AAV9 and AAVrg. See our new additions here:
Cre vectors
Dre vector
Flp vectors
Viral vectors coming soon!
These vectors should be packaged and available as AAV in the next few months. Email us or check our website to access them!
Controls
pAAV-hSyn-hChR2(H134R)-EYFP (26973-AAVrg)
pAAV-hSyn-hChR2(H134R)-mCherry (26976-AAV5)
pOTTC1032 - pAAV EF1a Nuc-flox(mCherry)-EGFP (112677-AAV5)
Calcium Sensors
pGP-AAV-syn-jGCaMP7b-WPRE (104489-AAVrg)
pGP-AAV-syn-FLEX-jGCaMP7b-WPRE (104493-AAVrg)
pGP-AAV-CAG-FLEX-jGCaMP7s-WPRE (104495-AAVrg)
pGP-AAV-CAG-FLEX-jGCaMP7f-WPRE (104496-AAVrg)
Optogenetics
pAAV-hSyn Con/Fon hChR2(H134R)-EYFP (55645-AAV5)
---
Additional resources on the Addgene blog
Resources on Addgene.org
Topics: Viral Vectors, Addgene's Viral Service