This post was contributed by guest blogger Gairik Sachdeva.
Healthcare consulting is a fast-paced field, requiring people who are willing to quickly learn, and apply their knowledge to a variety of problems. In this post, I'll share what I've learned as a healthcare consultant and give you an idea of what a career in this field involves, and why you might enjoy doing it. I'll also talk about the skills you'll need to do well as a healthcare consultant and what you could do to break into the field.
What is healthcare consulting?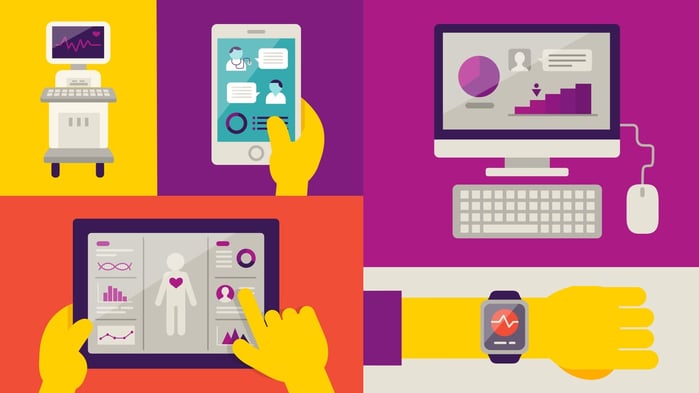 Healthcare consultants advise pharmaceutical companies, biotech start-ups, health insurance companies, and governments on the most effective and efficient ways of delivering healthcare. Clients typically engage consultants as short-term experts to work on "cases". Cases present specific operational or commercial challenges or questions that clients face imminently. Consulting firms deploy case teams, usually with 3-6 consultants, who work on analyzing the situation that presented the challenge at hand and help resolve it through well-informed recommendations.
Healthcare consulting firms that specialize in business strategy tend to be mostly engaged by pharma and biotech clients. In this realm, there are a few different kinds of challenges that consultants get called upon to tackle, depending on the part of the company involved:
Research & Development (R&D) teams at pharma companies carry out preclinical and clinical research to discover and test the best new therapeutics. Consultants often work with such teams to help make decisions about R&D investments in either new internal efforts, or through acquisitions of or collaborations with other companies.
Medical Affairs groups work on building awareness among physicians and scientists about clinical research, drugs, the diseases they can treat, and diagnostic advancements. Consultants can help these teams develop communication strategies, or understand, and publish on the health and economic benefits of novel drugs.
Commercial Affairs teams make up a large and diverse group of professionals running the marketing, commercialization, collaborative, and financial functions associated with the business. Commercial teams routinely work with consulting firms on projects such as marketing drugs to physicians and patients, shaping discussions with insurance companies about the pricing and coverage of drugs, and developing internal operational capabilities.
In just two years as a healthcare consultant, I have worked on most of these kinds of projects. Almost all of my projects, have involved enriching conversations with R&D, Medical Affairs, and Commercial teams, reflecting the need for all parts of a company to collaborate whenever it faces an important challenge. The types of projects mentioned above are just examples, and healthcare consulting firms can be involved in many similar activities depending on the expertise of the senior leadership and members of their consulting staff.
Who would enjoy healthcare consulting?
One of the most rewarding parts of the job is being confronted with challenges that are crucial for the success of a drug's clinical and commercial future, and yet are incredibly difficult to find solutions to.
There are many reasons why client situations might be especially challenging. For instance, the client might need to get a large amount of market research done to inform a go/no-go decision in a very short amount of time. Such a decision determines whether the client invests substantial monetary and human resources towards the development of a new therapy based on its market need and anticipated commercial success. Or the client might need help with the intricate task of designing a strategic vision for a portfolio of candidate drugs. A decision like that would allow the client to prioritize investments over the next 3, 5, or 10 years. Complicating these challenges is the fact that they occur in the context of significant clinical uncertainties and a rapidly evolving healthcare space.
The consultants who enjoy their jobs most, get pleasure from taking up such complex challenges, quickly breaking them up into smaller achievable tasks, and then executing on them in a timely fashion while allowing for creative solutions to emerge. They enjoy the fact that each new challenge will require knowledge of new topics and that they will switch to other newer topics every 4-8 weeks. These topics are typically cutting edge; a consultant might outline the impacts of combining targeted molecular therapies for cancer with chemotherapies, or developing innovative mobile phone applications and services that help diabetic patients manage doses and timings of their drug treatments.
The process of rising to such challenges involves using knowledge from previous consulting experiences, educational training, and conferences, and synthesizing this knowledge into a coherent narrative that gives the client a defined path forward. Communication is key as ideas must be relayed quickly both internally and externally to clients and experts. Hence, active honing of communication skills is a must to be successful in this field. Personally, I have greatly benefited from and appreciated the training I've received in concisely and accurately communicating ideas in a content-rich, easy-to-understand set of PowerPoint slides.
What are some of the more challenging parts of the job?
With fast turnover of projects, pressure to maintain consistently high levels of performance, and occasionally being faced with "shifting goal posts" as a part of a case, consulting can sometimes be challenging.
The fast paced nature of projects often means working long hours both at home and at the office. Consulting firms are increasingly aware of the toll that long working hours and the unpredictability of schedules can take on employee morale and productivity, and many have mechanisms in place to prevent the burden from getting overwhelming. These mechanisms include efforts like flexible staffing on case teams, where case managers are encouraged to use the wider firm's resources when their teams are facing a crunch, and using lessons from previous cases to better staff future teams.
As with any highly collaborative work place, challenges can arise due to conflicting work styles, team situations, and personalities. Teams striving to achieve a lot of great output in a short amount of time can sometimes become cauldrons on the verge of boiling. On other occasions, clients can be excessively demanding. For instance, a client may offer a lot of pointed feedback or abruptly change needs and expectations. Such situations can get stressful and to help manage that, most consulting firms coach and counsel employees on the different personality and work styles (e.g., Myers-Briggs). Staff are trained on how to work best with diverse teams, to leverage the preferences of different personality types, and to devise strategies to be prepared for addressing unexpected situations.
At the end of the day, the consultants who enjoy their jobs most are those who understand that these challenges are an inevitable part of the profession, and that they can be ameliorated by thoughtful planning and engagement, leaving mental energy to enjoy the more rewarding and educational parts of the job.
Is consulting meant for PhDs?
Healthcare consultants are usually trained in the life sciences, in business, in healthcare economics, or in some combination of these fields. I got my PhD a couple of years ago in Bioengineering, and one of the things that pleasantly surprised me in my first few months as a healthcare consultant was how much my scientific background, training in reviewing literature, and critical analyses skills were applicable to my cases. I can directly use my understanding of the molecular behaviors of chemicals and proteins to learn how a particular drug or medical device works. This understanding sits right at the core of the suite of benefits a given therapeutic approach brings to patients, doctors, and insurance providers, and is crucial to how our clients' products will end up performing in the market.
Hence, as a PhD, an MD, or someone trained in any aspect of research in biology or medicine you will bring an essential set of tools to a consulting team. Your case team will rely on you to bridge the gap between the science and the commercial applications of a particular therapy. With your scientific knowledge behind you, you'll have the opportunity to learn the business side of consulting cases, while feeling like you are pulling your weight with your scientific expertise.
Do I have to stick with consulting in the long-term?
A few years as a healthcare consultant can prepare you for a successful career in several different fields. While some people continue to enjoy the challenges of healthcare consulting for decades, others go on to work with commercial teams at pharmaceutical companies, nonprofit or global health organizations, investment and equity research firms, biotech start-ups, venture capital firms, and more.
Essentially any role in the broad healthcare space that can benefit from the blend of business and scientific understanding of successful therapeutics can be a great fit for former healthcare consultants. I have even seen consultants go back to research and bench science, with a newfound appreciation for how technologies get developed and commercialized after they leave the academic lab.
How to get your foot in the door
When I was first considering preparing for and transitioning to a career in healthcare consulting, I found that talking to alumni, friends, and friends of friends who had worked in the field was one of the best ways of both learning about the nature of the job and the ways to prepare for it. Besides those conversations, reading online healthcare industry publications like FiercePharma, FierceBiotech, and BioCentury can be an engaging way to learn about the trends and workings of the healthcare industry. Finally, on-campus resources like career offices, classes at business schools, and consulting clubs are especially helpful since they both provide up-to-date information about the industry, recruiting processes, and can connect you to a community of colleagues who are pursuing similar jobs and non-academic careers.
Now, more than ever, there are many non-traditional career paths available to MDs and PhDs, and an increasing recognition of the value graduates bring to these roles. Healthcare consulting is a demanding but attractive choice for anyone who wants a fulfilling career solving hard problems or who needs a stepping-stone to many other opportunities.
---
Many thanks for our guest blogger, Gairik Sachdeva!

Gairik Sachdeva is a Ph.D. in Bioengineering and works as a healthcare consultant in Boston. He is interested in the business of life sciences and it's impact on human health.
Resources on the Addgene Blog
Resources on Addgene.org
Topics: Science Careers, Science Career Options