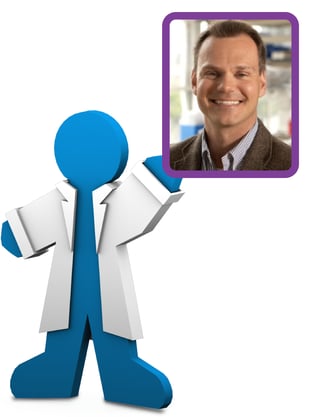 In the third installment in our podcast series, we chat with new Addgene Board Member, Michael Koeris. Dr. Koeris did his graduate work in Professor Jim Collins' lab (then at Boston University, now at MIT) where he worked on understanding bacterial antibiotic resistance. During this time, Dr. Koeris and Professor Timothy Lu (a graduate student in the Collins' lab at the time) got the idea to engineer bacteriophage (viruses that infect bacteria) for use as antibiotics. To develop this idea, Drs. Koeris and Lu founded the biotech startup company, Novophage. As you'll hear Dr. Koeris explain however, the time was not right for the development of phage-based therapeutics. After a brief stint at the venture capital firm, Flagship Ventures, Koeris helped change Novophage's focus. The company went from developing therapeutics to developing phage-based tools for detecting pathogens in food products. Along the way, the company changed its name from Novophage to Sample 6.
To learn more about Novophage's successful transformation into Sample 6 and Dr. Koeris' own transition from graduate student to entrepreneur, listen to our full interview with Dr. Koeris below.
Check out the breakdown below the audio player to jump to specific subjects in the interview and happy listening!
Podcast breakdown
(Time : Topic)
0:00 - 1:25 : Introduction
1:25 - 6:19 : Dr. Koeris' graduate work in the Collins' lab
6:19 - 8:26 : Dr. Koeris' reasons for wanting to develop bacteriophage for use as antibiotics
8:26 - 10:30 : How Dr. Koeris' decided to develop phage for use in a biotech startup
12:16 - 15:15 : Why Sample 6 began to develop tests for food products as opposed to therapeutics
15:15 - 16:26 : Means for testing for pathogens in food products prior to Sample 6
16:27 - 18:02 : Benefits of the Sample 6 technology and how It works
18:02 - 19:56 : Why Sample 6's first test was for Lysteria
19:56 - 24:41 : Who is using Sample 6 and why?
24:41 - 29:00 : Dr. Koeris compares and contrasts being a graduate student with being an entrepreneur
29:00 - 32:20 : What did It mean for Dr. Koeris to personally take on the risk of founding a startup company?
32:20 - 34:37 : Whose responsibility is it to take on the risk of developing products that are needed but that are high risk?
34:37-36:53 : Was It difficult for Dr. Koeris to transition from developing therapeutics to developing a diagnostic?
36:53 - 38:00 : As an entrepreneur, is it more important to develop something that could succeed in the market or to focus on a technology that one is passionate about developing?
38:00 - End : Dr. Koeris' role on the Addgene Advisory Board and how he hopes to help young biotech entrepreneurs.
---
We'd like to thank Dr. Koeris for taking the time to talk to us and taking up a position on the Addgene Board of Directors. We're excited to watch both Addgene and Sample 6 grow with his help!
Special thanks to our sound engineer/producer, Eddy Page!

Edward B. Page is a Digital Media Production Specialist at Addgene. He is the audio engineer and producer for the Addgene Podcast.

Additional Resources
Additional Resources on the Addgene Blog
Resources on the Addgene Website
Topics: Science Careers, Podcast, Science Career Options