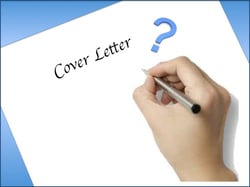 Scientists, like many other professionals, change jobs at some point in their careers. Sometimes this is a change from one academic institution to another, while other times it is a total turn in career path. Career paths for scientists are very broad and diverse. A Scientist's education, background, and training make his/her professional profile very appealing not only for academia, but also for biotech companies, consulting and editorial firms, legal and communication offices, and many other industries. The cover letter, the first piece of an applicant's writing read by any hiring manager or recruiter, is often the first way a scientist gets a foot in the door for any one of these positions. Read on for tips on writing a great cover letter so that you'll always make a good first impression.
A good cover letter is a winning ticket to a new job
The first step in any job application is to pass the organization's cover letter/resume screening process. As several career experts and advisors point out, cover letters are getting more and more important in the job recruiting process. Lauren Nelson, a communications specialist and VP at Aesthetic Cogency says:
"A well-written cover letter is more important than an impressive résumé because it reveals your work ethic and attention to detail. It provides glimpses into your personality that a list of achievements can't".
John Little, Managing Director of Successful Resumes Australia states:
"A cover letter is as important as the resume."
David G. Jensen, a writer and speaker on career issues worldwide and founder of CareerTrax Inc says:
"Let's face it, cover letters are read and resumes are skimmed."
So if you really want to be the best candidate for a position, it is extremely important not only to prepare a good resume/CV (listing all your professional experience and achievements), but also to tailor and make your cover letter grab the recruiter's attention. In terms of recruiting, first impressions matter. The mission of a cover letter is to highlight your personality features and communication abilities that cannot be measured in the resume/CV. Unlike resumes, that differ in structure, format, and content depending if they are targeting academic or non academic positions, cover letters always follow the same principle: they have to be original and show that your skills, experience, and personality really fit what the organization is looking for in the candidate; their form is generally the same, but their content must be tailored to the specific position.
Before you start writing...
Be sure that you are not applying to random job positions. If you are looking to start a career or work in a place that will help you grow professionally, it is very, very important to take some time and mentally reflect on what you really want to do next. Knowing your desired professional trajectory will help you be more successful and keep you from getting frustrated with the process. Clearcut conditions will help to narrow the search and focus your efforts on positions that really suit you, and that are able to engage you and inspire you.
Once you have decided you want to apply for a certain job, the next important step is to do extensive research about the company (or the lab). In the case of non academic positions, this research should be directed toward learning more about the company´s mission and goals, the culture, the management structure, and the organization. In the case of an academic appointment, when applying for PhD or postdoctoral positions, it is important to learn about the PI (if he/she is a good mentor, if he/she tends to micromanage or, on the contrary, is very relaxed and likes when people work independently), the lab projects, the lab size and environment, the type, frequency and quality of publications, the techniques, and the lab's willingness to collaborate. When applying for a tenure track position in academia, it is also important to learn about the needs of the department and the institution, the particular skills required, and the expectations for teaching and other university obligations.
If you really, really want the position, you should spend hours reviewing the company or lab web page, reading papers, learning about the company or university policies, etc... Luckily, you can find most of this information on the web. However, you will only have access to insider information if you talk directly with somebody that works or worked at the organization. To do so, you should set up "informational interviews" with employees at the organization. These informal meetings are extremely useful, and and can give you the key to writing an impressive cover letter.
Once all the research is done, you are ready to start crafting the cover letter. At this point you will have a good picture of the organization or lab and, consequently, a better sense of what they want in a candidate.
Parts of a cover letter
As with any other letter, a cover letter has an opening, a body, and a closing.
The opening paragraph has to catch the reader's interest. Here you must introduce yourself and your background, in a way that will make the recruiter, the PI, or the faculty committee want to keep reading about you. Here are some examples of good and bad opening paragraphs when applying for academic and non academic positions (these are only ideas, remember to start tailoring the cover letter from the beginning!!):

Dear Dr./Professor [last name],
My name is [full name]. I am a [neurobiologist, microbiologist, geneticist,…] and recently earned my PhD from the Department of [name of the department] at [name of the university]. I am contacting you because, during my thesis work on [phenomenon X], I referred to your publications several times and I deeply admire your work. I am extremely interested in your field of research and in the possibility of joining your team as a postdoctoral researcher.
Dear Sir or Madam,
I recently got my PhD in [field of study]. I am currently looking for a postdoctoral position so I thought it might be good to reach out to you.

Dear [recruiter name],
I would like you to consider my application for the [title of the position] at [name of the company/organization]. I am a [adjective that describes you] scientist with over [number] years of experience in [field of research], and have excellent [list the most important skills for the position]. I am enthusiastic about [something that you love and is important for the job]. I believe that, with my experience and skills, I will make a great addition to your company and I am excited at the possibility to join your team.
Dear Sir or Madam,
I am about to transition from academia to industry, and would like to start working in a company like [name of the company]. I consider myself a good candidate for the position.
In both of the good (thumbs up) intros above and in later parts of the cover later, it is key to be both concise and specific; you should be highlighting what precise skills and qualities make you a good candidate for the job.
The body of the cover letter can include 1 to 3 paragraphs. Here is where you convince the reader that your professional experience and skills, together with your personal features, make you the best candidate for the position. It's a good idea to match your past experience to the specified job requirements as closely as possible. Always support skills or achievements with measurable facts and do not forget to explicitly mention how you can contribute to the growth/success of the company, lab, or department. If you are looking for a graduate or postdoctoral position, the body of the cover letter should also include your skills and accomplishments in your research field. If you are applying for a tenure track position, you should include your past research contributions, your future research plan and new ideas, plus your teaching experience. In the case of non academic positions, you should focus less on your research and more on your professional expertise, professional skills, relevant extracurricular activities, transferable skills,

and accomplishments that fit the job.
The closing paragraph should again show your enthusiasm for getting the position and should point out that your expertise and specific traits make you the best candidate. You can always close the cover letter expressing your total interest and availability to have an in person interview, as well as mention you have references available upon request.
Before you send the cover letter, do not forget to review the grammar, spelling, and style. It is also highly recommended that you send your cover letter to your mentors for review. It is always helpful to have an external, objective, and sincere opinion with constructive feedback in order to improve your applications.
Quick tips for writing a good cover letter
Always be original and personalize your cover letter. Do not copy standard or generic text or formulas. Tailor a totally different cover letter for each position.

Everything you want to say should fit in one page, so you should be selective with your words. Avoid repeating information that is already in your resume or CV.

If possible, identify the name of the person that is going to read the letter. This is often a recruiter or human resources head (use LinkedIn to find her/him). Avoid using generic statements like "to whom it may concern".

Highlight your achievements but do not sound arrogant. For example, Instead of saying "I have excellent communication skills" (a common requirement for many positions), it is better to support your skills or achievements with examples and metrics. For instance, you might say "I have extensive communication experience having given more than 20 talks at conferences and taught for 5 years at [name of the university]"

Include keywords from the job description. This is especially important to avoid being rejected by robots that screen your application looking for specific words releated to the position.

Make it clear that you are enthusiastic about the position.

Highlight your strengths to the point that the recruiter/committee doesn't care about your weakness.

Be clean and professional. Always review grammar and spelling several times and remember to have someone else read your cover letter (as well as your resume and CV) before sending it.
... and now... you're ready to go! Good Luck!
---

Maria Soriano-Carot is an Outreach Scientist at Addgene and is particularly interested in Mentoring and Career Development in Science. You can follow her on Twitter @SorianoCarotM.
Additional Resources on the Addgene Blog
Additional Resources
Topics: Science Careers, Applying for Jobs