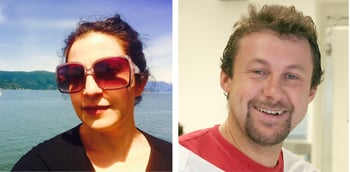 We often hear about breakthroughs in diabetes and lymphoma research or the many different ways you can improve your heart health. These are amazing advances that will surely save thousands if not millions of lives, but many throughout the world are affected by devastating diseases that affect far fewer people and therefore fail to garner much international attention. Their small numbers do not, however, make these patients suffer any less acutely.
The Rare Genomics Institute works to help those who suffer from rare diseases by connecting patients to important resources and promoting research for rare disease cures. Through their BeHEARD Award, the Rare Genomics Institute partners with companies to provide technological resources for those studying rare disease.
This year, Addgene will be providing plasmid grants worth $2,000 each to two labs through the BeHEARD Award. Read on to learn how plasmids from Addgene will be used to accelerate rare disease research and provide hope to patients suffering from these devastating afflictions.
Elia Di Schiavi - Spinal muscular atrophy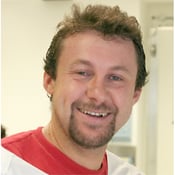 Dr. Elia Di Schiavi is a Research Scientist at the Institute of Biosciences and Bioresources in Naples, Italy. His group works on spinal muscular atrophy, a disease in which disruption of the smn1 gene results in the degeneration of spinal cord motor neurons. This disease is estimated to affect anywhere from 1 in 6,000 to 1 in 19,000 live births (1).
While disruption of the smn1 gene is known to cause spinal muscular atrophy, the molecular mechanisms behind the disease are unclear. Dr. Di Schiavi plans on using C. elegans as a model to identify SMN1 interacting partners and perform whole animal screens for small molecules that block the neurodegenerative effects of smn1 disruption.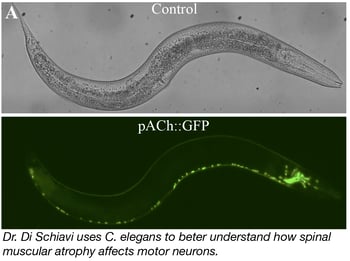 As part of his work in C. elegans, Dr. Di Schiavi will use Addgene plasmids to characterize smn1 interactions with other genes. He will use fluorescent proteins to monitor the localization of these genes, CRISPR to disrupt their function, and C. elegans overexpression plasmids to upregulate their expression in specific cells.
With a more concrete understanding of the molecular biology behind SMN1 and its interaction partners, Dr. Di Schiavi will be able to better choose which genes and pathways to target in future small molecule screens. He plans to work with a partner at IRCCS Besta in Milan to test small molecules targeting SMN1 and its partners in mouse cell lines. Dr. Di Schiavi hopes that these studies will accelerate the development of small molecules for use in the clinic and thereby restore motor neuron function in spinal muscular atrophy patients.
Noushin Nabavi - Peritoneal Mesothelioma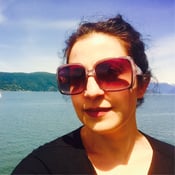 Noushin Nabavi is a Postdoctoral Fellow at the Vancouver Prostate Center and is affiliated with the University of British Columbia Department of Urological Sciences. Dr. Nabavi studies peritoneal mesothelioma with an international team of physicians and scientists.
Although the form of malignant mesothelioma that affects the lining of the lungs is relatively well known, there are a variety of lesser known mesothelioma subsets. Peritoneal mesothelioma in particular takes root in the tissues surrounding the abdomen and affects roughly 20% of mesothelioma sufferers. This disease is less widely understood and often misdiagnosed. Like other forms of mesothelioma, there are currently no targeted treatments for peritoneal mesothelioma.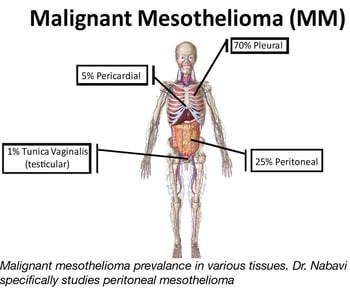 Dr. Nabavi and colleagues have compiled data from primary peritoneal mesothelioma tumor samples that they have used to identify candidate genes as drivers of peritoneal mesothelioma tumorigenesis. They plan to use CRISPR and lentiviral plasmids from Addgene to knockout, knockdown, or overexpress these candidates in a panel of ~30 patient derived peritoneal mesothelioma cells lines and assess their tumorigenesis. These experiments will serve to validate these candidate genes and allow Nabavi and colleagues to prioritize which genes they will use to develop diagnostic tools and animals models of the disease in partnership with Taconic Biosciences.
The study of peritoneal mesothelioma through these various model systems should allow Nabavi and coworkers to test inhibitors of a variety of signaling pathways for their effects on the disease. This work will hopefully accelerate the development of targeted therapy for peritoneal mesothelioma and thereby relieve suffering from this little-known disease. You can find more information about the disease on the Meothelioma Cancer Alliance Website.
We are proud to provide support to Drs Di Schiavi and Nabavi and will continue to work to help those suffering from rare diseases. These underrepresented individuals deserve a voice. Check back with Addgene often to learn of future rare disease research funding opportunities.
---
References
1. Jones, C., et al. "PP09. 1–2352: Systematic review of incidence and prevalence of spinal muscular atrophy (SMA)." European Journal of Paediatric Neurology 19 (2015): S64-S65.
Additional Resources on the Addgene Blog
Resources on Addgene.org
Topics: Addgene News, Awards