This post was contributed by Nikolai Braun and Keira Havens, co-founders of Revolution Bioengineering.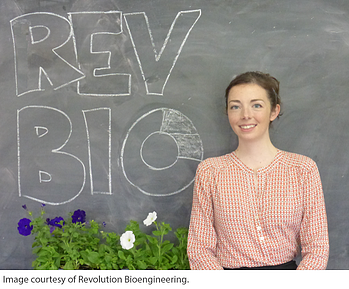 Last year we started a company. Revolution Bioengineering is two responsible adults in their 30s who have quit their academic science careers in order to head to Ireland and take a chance as entrepreneurs. To make things more interesting, we are working in a new technical discipline that nobody understands (synthetic biology), building a product no one has ever seen before (flowers that change color throughout the day) and doing this with very little money. So when did inspiration strike us so hard that we upended our lives and took this daring risk? What moment changed our whole outlook on the possibilities in life for employment?
It never happened – there was never a "moment". But there were a lot of very small steps.

Life in a cutting-edge synthetic biology lab
Keira and I worked in the same lab for four years. It was a cutting-edge synthetic biology lab focused on product development: building a plant that could sense and respond to novel substances. We both had an applied science bent, so the engineering aspect of this job appealed to us. However, since the lab was highly focused on protecting intellectual property, it worked away in isolation. It published a paper a year (or less) and limited the exchange of information to the public and to other academic labs.
Being unable to publish or attend conferences makes it very challenging to compete in today's tough academic or industry job market for biology PhD's. I was facing the prospect of having to do a third postdoc in order to rebuild my resume, so I had started to entertain other options. Keira had it a little better. As a Master's student, she had less pressure to publish and more freedom to attend conferences, but after receiving her degree she was faced with a similar conundrum – she had the skills, training, and motivation, but there very few jobs available. So, we spent a lot of time talking about what we could do to make ourselves marketable to the wider world and occasionally thinking about how we could bypass the establishment hiring system altogether.
We had a lot of ideas about things we could do for work, and they weren't restricted to science jobs. Keira's an optimist, I'm a realist, and together we make a pretty good team. We have confidence that we can take on any challenge and quickly become experts in something, even if that thing is opening a pizza joint. Silly ideas (mining local salt deposits to sell at farmers markets), and serious ideas (how to stop rhino horn poaching using biotechnology) were thrown on the table and dissected with equal enthusiasm. It may have started as idle conversation to pass the time in a job that wasn't going anywhere, but it became a legitimate brain exercise in developing a plan for the future.
From good ideas to a SynBio startup
At some point, our ideas got pretty good. We started doing extracurricular research on some of them to see how feasible they were, conducting literature reviews and having weekly journal clubs outside of work. Our scientific training was put to use as we explored ideas, planned out potential strategies for pursuing them, and molded the whole thing into a marketable product.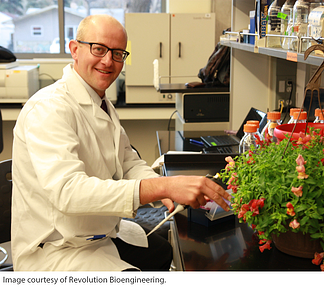 During this process, we had an idea that survived the literature review, survived technical feasibility analysis, and was a marketable product. It was a small project, not a full-blown career, but it was enough to start us down the entrepreneurial path. We threw some of our own money at this business and started things up for real: bank account, business cards, incorporation, laboratory lease, etc. I still flip to that page in my lab notebook from time to time. I wrote in large letters "Going for it!"
We kept our day jobs and worked weekends and evenings on the project, but still continued to generate new ideas as they popped into our heads. Anything was fair game for speculation - in fact, our color changing flower project was inspired by a Facebook comment.
In our day job, we worked on plants engineered to detect explosives and rapidly indicate their presence. They are genetically modified organisms, and GMOs have a bad reputation. The public is can be fearful of this technology and angry at the agriculture companies that produce GMO food plants. When a press piece ran on the detector plants, we expected to see that same anger. Instead, social media comments were more often along the lines of "I hate GMOs, but what you are doing makes sense. I can support that."
That was interesting.
If people could be against GMOs as food but support GMOs that result in a new utility, was there a business opportunity out there for us? After about a month of discussion and research and lots of conversation, we hit upon the idea of building a flower that changed color throughout the day. It would be a beautiful GMO, one that people would actually want to have. Once we had the idea, we knew it was a winner – although we didn't figure out how we would accomplish the color change until a few months later.
RevBio accelerates with help from SynBio Axlr8r
We limped along with very little traction for quite a while, and even had some serious self-confidence issues about continuing with the business. We ended up applying to a business accelerator freely stating that we had an idea, knew how to build it, but had no clue how to run a business. SynBio Axlr8r thought color-changing flowers was a great business idea as well, and they thought we could be taught. They invested in us this summer – $30,000 for research and another $30,000 in mentorship and business training.
The money is a drop in the bucket against the funds needed to build a flower that changes color, but the experience is invaluable. This opportunity has given us the chance to develop the technology we will need, and the business training to make the most of it. It has also allowed us to really analyze what we want out of our careers: to build something new and beautiful, to engage with the public in a meaningful way about science, and to have a job that we enjoy and see a future in. And we decided to make education and outreach a cornerstone of our business, because we are building this company, and that's what we want it to do.
It's exhilarating to have that sort of freedom. It can also be overwhelming – there is so much knowledge and experience that goes into executing a successful business that the learning curve is pretty steep. But we can rely on one another to celebrate good news or share a bottle of wine after a rough day, and we have great partners in this accelerator program who want us to succeed. We're excited to see what the next few months have in store for us.


If you're thinking about making the switch from academia to entrepreneurship, share your thoughts with us in the comments below. We're happy to answer questions about this transition (so far) and what we've learned.


---
Thank you to our guest bloggers!

Nikolai Braun grew up outside of Washington D.C. and has always enjoyed exploring the outdoors and experiencing nature first-hand. He studied biology at Virginia Tech, and earned a Ph.D. in Biophysics from UC Davis in 2007. Nikolai trained as a post-doc at the Biochemistry Department at the University of Manchester as well as the Biology Department at CSU. When not pursuing scientific or business enterprises, he can be found climbing mountains or playing with his two cats.

Keira Havens grew up in Hawaii where she was fascinated by flowers, bugs, and the ocean. After receiving her bachelors in Molecular Biophysics and Biochemistry from the Illinois Institute of Technology in 2004, she accepted a commission in the United States Air Force. She left active duty to pursue a degree in a synthetic biology laboratory and received her M.S. from CSU in 2014. Outside of the lab, Keira enjoys spending time with her husband and two Jack Russell Terriers.


More SynBio Reading
---
Topics: Science Careers, Synthetic Biology, Science Career Options