---
My name is Lauren Flynn and I am currently wrapping up my co-op with Addgene as a DNA Sequencing Analyst intern. As a member of the Quality Control team, I help make sure the plasmids that go out our doors are correct.
Now that I am heading into my third year of college as a biochemistry major and a Spanish minor, it's time for me to start considering my future path. Talking to Addgenies has helped me get a much better idea of what lies ahead. Thus the "Meet an Addgenie" Instagram interview series was born. Over the six months of my co-op, I have conducted informational interviews with nine Addgenies.
There are a few patterns throughout the project where it solidified some concepts that are heard often during undergrad.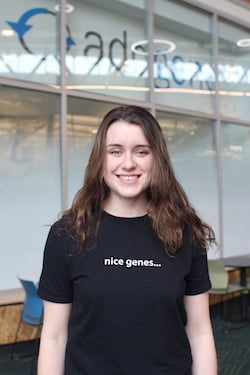 Lauren Flynn is the Addgenie behind our "Meet an Addgenie" series. Before heading off to her third year at Northeastern University, she interviewed Addgenies about their career path.
Graduate school: Do I or don't I?
I asked the nine Addgenies about why they did or did not go to grad school. QC Scientist Alyssa Cecchetelli knew she wanted to get her PhD. "Going back to school was a pretty easy choice for me," she said. "I had always been a student and I truly enjoyed learning." Addgene's Director of Product Management Eric Perkins, who has been in many roles in Addgene since he started, said, "the thing I wanted more of [after undergrad] was to learn and speak the language of science. I didn't come out of [undergrad] feeling like I could read a scientific paper from beginning to end and really get it."
On the other hand, there are reasons why grad school might not be the right choice. I spoke with our Financial Operations Specialist, Lucy Hammer, about why she did not go. She told me, "I think that my experience is more valuable at this point. I don't know where a master's would really get me where I haven't gotten myself." Perkins noted that there is a more emphasis today about non-academia and industry jobs. Since there are a variety of different career paths that don't all need another degree, he advised me, "a master's degree may open doors for you, but depending on where you want to go in your career you may not need those doors to be opened."
You also don't have to go back to school right away. Shannon Rinaldi, Addgene's Lab Manager, was taking classes at her local community college when she took her first job at Addgene as an Order Processing Assistant. After a few months, she left school when she was hired full time as a Lab Technician. "I was so tired of being in school so I just wanted to work," she said. "School will always be there."
Changing your path! It's okay!
Our blog writer, Beth Kenkel, once had dreams of getting her PhD, but after two years in graduate school, she realized that this was not her path. She told me, "it made more sense to get my master's and leave. I was really devastated when that happened. I didn't know if I should even stay in science."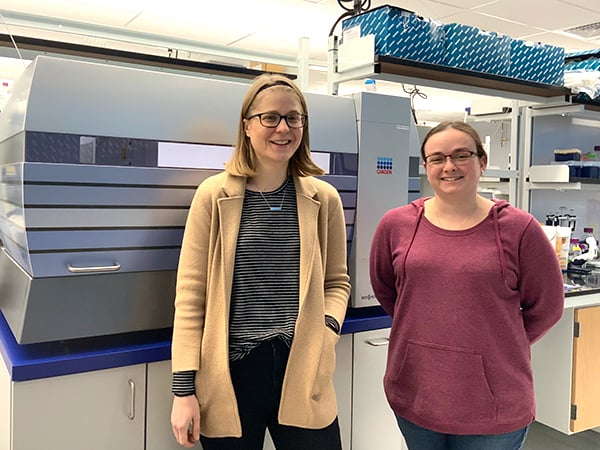 Addgenies Beth Kenkel and Shannon Rinaldi in the Addgene lab! Read their Instagram profiles here (Kenkel, Rinaldi)!
But leaving a PhD program doesn't mean you've failed. "I got a job as a research assistant in a lab at the university that I went to. Making that switch from being a grad student to an employee, and being treated like an actual employee, was really reaffirming." Now, she's an Associate Scientist at Bristol Myers Squibb and also writes for the Addgene blog. A few of my friends in the Biochemistry major seem to have the idea that if you don't get your PhD you're set up for failure. Listening to Kenkel's story has helped me realize that is not true at all.
Racheal Komuhendo, a Lab Technician, dreamed of becoming a doctor. After taking a year break in between undergraduate school and studying for the MCAT, she decided that she didn't want to take it. "I realized if I don't make it to med school it's not the end of my life, even though that's what I thought," she said. "I'm so excited to see where my life will take me. I'm also just learning. I have a huge interest in data science," which she's taking some classes on and hoping to pursue. The choice to not go to medical school was devastating. At the same time, she has an entirely new path to discover and gives her time to give back to her church community which is really important to her.
One of our QC Scientists, Shreya Vedantam, left the bench not by choice, but by circumstance. She was working as a research and technical assistant, when her life changed––she had a daughter. Needing a career switch because of the demanding hours in the lab, she told me, "I was really interested to learn more when I was introduced to bioinformatics in the previous programs. I thought, 'Let me pursue this, let me make a slight change so I can have flexibility and be up to date with the current world. Bioinformatics it is.'" Though she misses the bench, the change gave her the balance she needed. It is incredibly helpful to me to know that you can make big changes in your career path and still find comfort and happiness there.
Read all of the Meet an Addgenies features on Instagram!
Staying true to your values
While going through the co-op application process, my advisor encouraged me to keep my values in mind as I applied. Thinking about this made me curious. I wondered what my coworkers value and if that is a big part of why they work at Addgene. I posed this question to all nine of my interviewees.
Fabienne Furt, Addgene's Associate Director of Business Development, got her PhD in Plant Biochemistry in France. When she moved to the U.S., she discovered that science here is more stressful and competitive than back home. Scientists are often under a lot of pressure to publish their research and are not so keen on sharing their results in fear of getting scooped, she said. Reflecting on her values, she decided that this "is not [her] view of science. It should be really open and collaborative." She knew she wanted to leave academia, and once she joined an investment club and discovered the business side of science, she stuck with it.
Lab Manager Shannon Rinaldi values loving what she does. Her parents told her that if she found something she loves to do, she would never work a day in her life. She said, "it now makes sense because I love working in the lab and being around the scientists. I have never dreaded coming to work because I truly enjoy the field I am in, the atmosphere, and the people."
My absolute favorite response to this question came from Lucy Hammer, our Financial Operations Specialist. She said, "I've found the most purpose at Addgene being myself. I like being with the people and for the people, feeding the people, and making them get outside of their comfort zones. I came to Addgene with a goal to learn nonprofit finance, and while I've done that, my big takeaway has been the impact I can have on an organization beyond my job description." Our resident bagel provider, source of energy, and conversation master knows that although her focus is finance, it is just as important to bring love and fun to the office.
Main takeaways from Meet an Addgenie
Overall, the Meet an Addgenie project was one of the biggest takeaways from my co-op. It has been so insightful to learn about different career paths, successes and failures, values, and more. I have developed connections with my coworkers that may not have happened if we hadn't had these conversations. Now, I am much more excited about where my career path will take me and much less fearful of making mistakes, because it is just part of the process.
---
Additional resources on the Addgene blog
Resources on Addgene.org