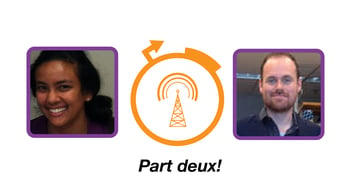 In this second episode of our two-part series, we continue our conversation with Niroshi Senaratne and Ben Vincent from the Biological and Biomedical Sciences program at Harvard University and pick their brains on how they've managed to keep themselves happy during their time in grad school. As you'll learn, grad school has its ups and downs for everyone but you can come out on top if you leverage your community, think hard about picking a good mentor, and begin considering career options early. Tune in for great advice on all of these topics.
Time : Topic
0:00 - 0:50 : Intro
0:51 - 3:08 : The importance of developing a strong graduate student community and the need for belonging in the scientific environment
3:09 - 5:58 : Specific Examples where Niroshi and Ben helped build their grad student communities
5:59 - 8:16 : What has made you unhappy in grad school?
As part of this discussion, we bring up a performance Ben and Niroshi organized for Tyler's (the host's) thesis defense. This wonderful piece of work can be found here: https://www.youtube.com/watch?v=lQGAsgjjBDI&feature=youtu.be.
8:17 - 11:10 : The 3rd year of graduate school and what makes it difficult for many graduate students.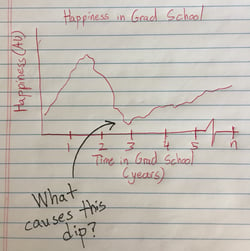 As part of this discussion, we mention graphs such as the one shown to the right that illustrate a grad student's happiness v time throughout graduate school. This is, of course, not real data, but many students discuss the third year dip (see graph). Niroshi and Ben give their insights as to what causes this dip.
11:11 - 15:37 : How have you changed throughout graduate school? - The importance of criticism and feedback

15:38 - 17:06 : Post Grad Plans
17:07 - 18:29 : How did you hear about post grad opportunities and when did you start thinking about them?
18:30 - 19:54 : How to think about picking a post-doc project
19:55 - 22:40 : Improvements that can be made to the grad school process
22:41 - END : Niroshi and Ben's favorite advice to give to younger graduate students
Check Out Angela Depace's Talk on "Precision and Plasticity in Mentoring"
---
We'd like to thank Niroshi and Ben for taking the time to sit down and talk to us and wish them the best of luck in life beyond graduate school.

Ben J. Vincent is a Ph.D candidate in the Program in Genetics and Genomics at Harvard Medical School. He studies developmental gene regulation with Dr. Angela DePace in the Department of Systems Biology, and he tweets @benjvincent.

Niroshi Senaratne is a graduate of the PhD program in Genetics and Genomics at Harvard Medical School, and is currently a fellow in clinical genetics at the University of California, Los Angeles. She enjoys chromosome biology and reading Ben Vincent's tweets.
Special thanks to our sound engineer/producer, Eddy Page!

Edward B. Page is a Digital Media Production Specialist at Addgene. He is the audio engineer and producer for the Addgene Podcast.
Additional Resources on the Addgene Blog
Resources on Addgene.org
Topics: Science Careers, Podcast, Early Career Researcher