The second Boston Symposium on the Future of Research will be held from 22-24 October. This blog has been contributed by guest blogger and Future of Research Symposium organizer, David T. Riglar PhD. Here, Dr. Riglar discusses one of the six panel discussions to be held at the Future of Research Symposium Boston 2015 – Academic Data and the Labor Market. For more information on the symposium as a whole and for registration please go to http://futureofresearch.org/boston/.
The Future of Research Symposium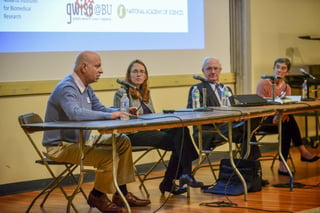 A year ago, trainees from around Boston met to discuss their visions for a successful and sustainable biomedical research sector at our first Future of Research symposium. The talks and workshops held at this event added to a growing dialogue on the state of a system that, despite all of its successes, has many deep-rooted flaws (1).
As we discovered through the four workshops at the Future of Research Symposium 2014, young scientists are acutely aware of these problems that directly affect their daily lives and future prospects.
Among the topics discussed, many related to the structure of the biomedical workforce. Quotes taken directly from participants (summarized in 2) touched upon many problems in this area:
" [The] structure of [the] academic workforce is pyramidal/feudal generating too many trainees per PI"
"Lack of awareness about how the system operates and functions"
"Complete lack of information on number of postdocs"
"Postdocs are really hired to produce results, not scientists"
These comments are well correlated with published data. For example, in 2010, less than 15% of postdocs had achieved tenure-track positions within 5-7 years of earning their PhDs (3), showing that the 'standard' pathway into academia may in fact be just another 'alternative' career.
The news is not all bad, however - there are some signs that the tides may be turning. In 2013, the NIH announced its first round of Broadening Experience in Scientific Training (BEST) awards, which are designed to support new approaches that address the need to train our young scientists for futures both inside and outside of academic research (4).
There are currently 17 sites around the USA undertaking BEST programs, including local schools in Boston: the Boston University School of Medicine and the University of Massachusetts Medical School. Graduate education programs are also beginning to address these issues independently; for example, Harvard's Therapeutics Graduate Program has a compulsory internship to be taken in an industry, regulatory, or clinical environment.
It remains contested, however, whether a better solution would be to reduce the number of entrants into PhD programs to more closely reflect the number of positions available in academia (5, 6).
Academic data and the labor market for PhDs
Later this week, postdocs and students will again gather in Boston - this time with the aim of finding solutions to some of the problems that were identified last year. In particular, at the symposium we will discuss where better data is needed to help shape and inform the overall structure of the biomedical research sector, and what a tenable workforce structure may look like.
The panel discussion on Friday morning will be dedicated to Academic data and the Labor Market. On this topic it is clear that many important questions, areas for informed discussion, debate, and data collection still remain:
What are the current numbers of trainees? Are there too few or too many at different levels?

What does an ideal and productive workforce look like for the sector – how many jobs are there for STEM graduates and postdocs in academia, industry and other areas of employment?

How many graduates and postdocs – and from what fields – are needed to adequately supply these demands? Are there other solutions, such as increasing numbers in Master's level programs?

What would be the effects, positive and negative, of changing the workforce structure?
Helping to answer some of these questions, and posing some of their own are the following panel members:
Jonathan Dinman

, Chair of the Cell Biology and Molecular Genetics Department at University of Maryland College Park, is a strong supporter of increasing the number of postdoctoral scientists at University of Maryland.
Paula Stephan

, professor of economics at the Andrew Young School of Policy Studies at Georgia State University, is an expert on the academic labour market. Her many notable contributions in this area include publishing the book 'How Economics Shapes Science' and contributing to the NIH's Biomedical Research Workforce Working Group. Along with her participation in this panel, Professor Stephan will be delivering the keynote address at the symposium.
Eve Marder,

professor of Biology at Brandeis University, has recently published an article arguing against reducing the number of graduate students accepted in STEM fields (

6

).
Melanie Sinche is a STEM career counselor, Director of Education for the Jackson Laboratory for Genomic Medicine and a Senior Research Associate at the Labor and Worklife Program at Harvard Law School. She recently launched a survey "Identifying Career Pathways for PhDs in Science", through which she collects data on the careers of science PhDs.
Michael Teitelbaum

is a Senior Research Associate at the Labor and Worklife Program at Harvard Law School. He has continually promoted the cause of increasing data collection about the scientific workforce, in particular about postdocs. Among other involvements, he helped to establish grants through the Sloan foundation for postdoc-related data collection and analysis. He is also a strong supporter of science Master's programs.
This will be the one of 6 great panels at the Future of Research Symposium Boston 2015 where we hope to begin developing concrete solutions to the problems looming over the academic research enterprise. Other panels will discuss the nature of the postdoc experience from the perspective of both grassroots organisations that represent postdocs and institutes that employ them, the diversity of trainee backgrounds, publishing from a young scientist's perspective, and the many different paths that biomedical graduates take in their future careers.
To participate in the Future or Research Symposium Boston 2015 you can register here or live stream the event on October 22nd and 23rd here.
---
Many thanks to our guest blogger David T. Riglar!


David T Riglar is a postdoc at Harvard Medical School. In the lab, he uses synthetic biology to create tools to better understand human disease. Outside the lab, he is interested in communicating science and in the intersection between science and public policy. Follow David on Twitter @driglar.
References
1. Alberts, Bruce, et al. "Rescuing US biomedical research from its systemic flaws." Proceedings of the National Academy of Sciences 111.16 (2014): 5773-5777. Pubmed PMID: 24733905. Pubmed Central PMCID: PMC4000813.
2. McDowell, Gary S., et al. "Shaping the Future of Research: a perspective from junior scientists." F1000Research 3 (2014). Pubmed PMID: 25653845. Pubmed Central PMCID: PMC4304227.
3. Sauermann, Henry, and Michael Roach. "Science PhD career preferences: levels, changes, and advisor encouragement." PloS one 7.5 (2012): e36307. Pubmed PMID: 22567149. Pubmed Central PMCID: PMC3342243.
4. Mathur, Ambika, et al. "Transforming training to reflect the workforce." Science Translational Medicine (2015): 285ED4. Pubmed PMID: 25925677. Pubmed Central PMCID: PMC4484856.
5. Bourne, Henry R. "A fair deal for PhD students and postdocs." Elife 2 (2013): e01139. Pubmed PMID: 24137543. Pubmed Central PMCID: PMC3787295.
6. Marder, Eve. "Looking out for future scientists." eLife 3 (2014): e04901. Pubmed PMID: 25291257. Pubmed Central PMCID: PMC4185419.
7. NIH 2012. Biomedical research workforce working group report. http://acd.od.nih.gov/biomedical_research_wgreport.pdf
Resources at Addgene
Topics: Science Careers, Early Career Researcher