Science is a global endeavor, and that can often mean that scientists who live across the country or around the world from each other are collaborating on projects. When I was a graduate student, I led a collaborative project between my lab in Pennsylvania and a team in Paris, France. While efforts like these accelerate the progress of research, they can also present hurdles for the team of researchers involved. Communication is a major challenge when researchers are communicating across disciplines or doing different tasks. But these challenges can be exaggerated when communicating across time zones, digitally, and asynchronously. The best way to keep everyone on the same page is to make communication a non-negotiable part of your collaboration. Luckily, there are techniques and tools that helped make my experience run smoothly and can help other teams successfully overcome these challenges, too.
Schedule regular meetings
Scheduling a recurring meeting every two weeks or every month is long enough that some experiments can get done and data analyzed between each meeting, but short enough that everyone stays on the same page. Ideally, these meetings include all collaborators, from the lab members who are conducting the experiments to the PIs. Remote meetings can be tricky, and it takes extra effort to make sure everyone in the meeting has an equal opportunity to contribute. Using video conferencing tools like Zoom or Google Hangouts is a great way to include researchers from different locations. Having virtual face-to-face meetings as opposed to phone calls most closely replicates how you'd interact with team members in person, and improves overall communication.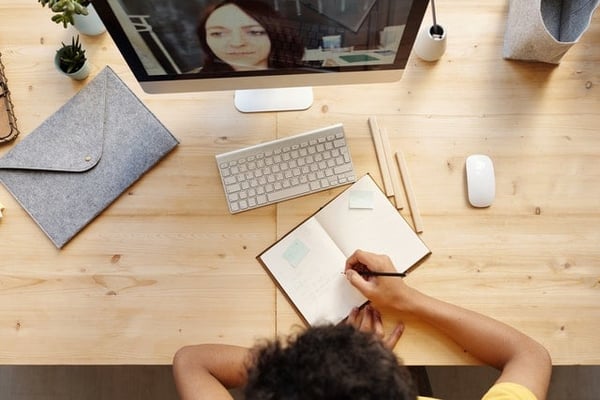 Maintain informal communication
In between recurring meetings, you should share interesting results or ask questions to your collaborators. This helps everyone feel included in the project and accelerates the pace at which problems can be addressed and new ideas generated. Furthermore, this casual communication reflects the type of informal communication you'd likely have with members of your lab that you see in person, and helps improve your interpersonal relationships with people you're collaborating with remotely. Depending on the willingness of the team to adopt various tools, this may happen over email or using rapid communication tools such as Slack.
Share data and documents
While having multiple scientists edit the same document may sound like something out of your nightmares, shared ownership of materials produced from your collaboration is a key factor in maintaining the group buy-in and morale. Especially when your collaboration includes scientists working in different time zones, it's important that everyone can access data and drafts of manuscripts and grant applications in real-time so they can provide input at the times that work best for them. This also accelerates the pace of research by circumventing the slower, sequential communication of emailing documents to one person at a time. Just be sure there is a point person responsible for incorporating everyone's suggestions into a final version of the document.
Set and manage expectations
When the researchers involved in a project are scattered across the globe, it can be easy to get preoccupied with other work or prioritize other experiments. Therefore, it's crucial that everyone meets early on to set expectations for the output that will come from the collaboration. Some things to figure out are timelines for experiments and manuscripts, who is responsible for which parts of the project, and, as mentioned earlier, how frequently the entire group will meet. You and your collaborators should then hold each other accountable to these expectations once they're set by checking in about them at your recurring meetings and reaching out if any milestones are missed.
Spend time in person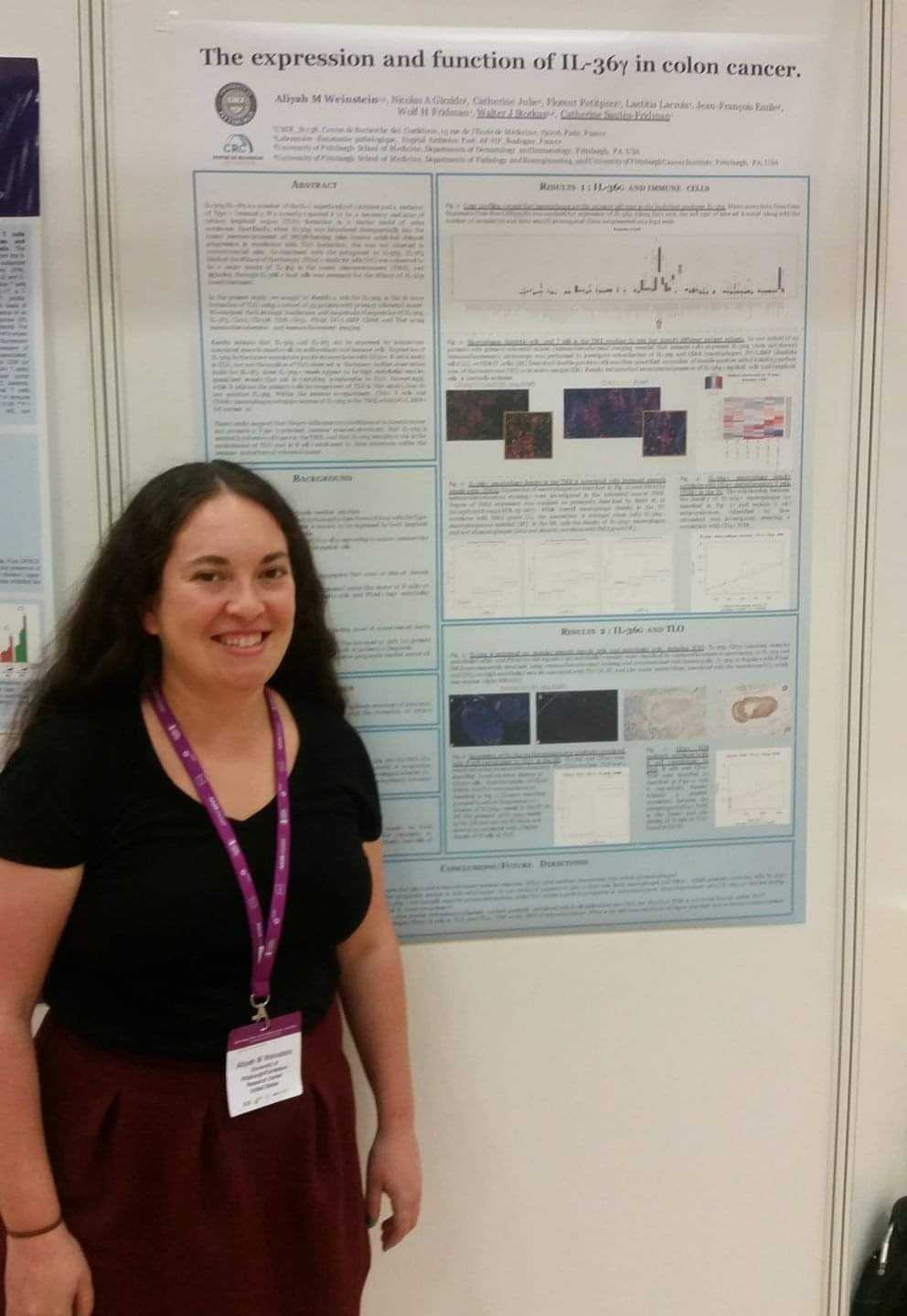 Presenting the results from my lab exchange project at the International Cancer Immunotherapy Conference in Frankfurt, Germany
When funding and circumstances permit, think about having collaborators spend time with each other in person. One possibility is to do a lab exchange, where researchers spent time in each other's labs. This is an opportunity for the researchers involved to learn techniques from each other, access specialized equipment, or ensure that techniques are being performed the same way at different sites. I did a lab exchange as part of the collaboration I led. This gave me access to specialized microscopes and allowed me to investigate my protein of interest in a French clinical cohort, neither of which I would have been able to do from my home lab.
Scientific conferences and workshops are another great place to meet up with collaborators. Being able to present data from multiple aspects of a collaboration and immediately discuss the feedback with everyone involved can speed up the future directions of the project.
The state of research is constantly shifting, and long-distance collaborations are becoming more and more common. I hope these tips are useful whether you're looking to improve communication within an existing collaboration, or start something new!
---
Additional resources on the Addgene blog
Topics: Science Careers, Professional Development