In 2016, I was put in charge of the biggest project I'd seen in my already long tenure at Addgene. I would work with our research team and software engineers to update our Lab Inventory Management System (LIMS) to accommodate our new viral services. After a month or so of meetings, I began to notice something: even though our scientists and engineers were attending the same meetings and hearing the same words, they were leaving these meetings with different interpretations of what we discussed and decided. I needed to a) figure out the sources of miscommunication and b) find practical solutions.
My PhD prepared me remarkably well for this task. Good scientists learn how to communicate their work differently based on their audience. How you talk about your experiments to your PI, your colleagues, or your non-scientist friends and family is going to vary widely. The way you communicate your science at a poster is going to vary depending on the conference you're attending and who approaches you. You might also have cross-team projects within your own lab, collaborations with other scientists within and outside your field, and any number of interactions with professionals from other backgrounds at conferences or networking events. And if you're a wet lab scientist who works frequently with dry lab scientists (or vice versa), then you have almost certainly experienced some of the hurdles I needed to overcome.
I eventually pinpointed and (mostly) solved two main problems with Addgene's cross team communication. Although these real world examples did not happen in the lab, they have parallels to collaborative lab work.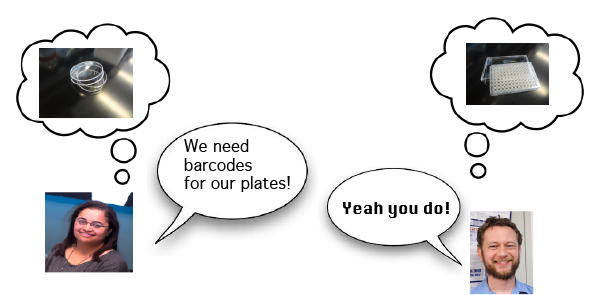 Corralling context and junking jargon
I suspected I knew at least one source of the confusion in our meetings. A lot of our LIMS planning involved "plates," and our scientists and lab technicians always knew from context what a "plate" was. Our engineers thought they knew.
As long as you have context, it's fine to say "I'm going to pour these plates now" to a fellow team member. But, at Addgene, we use seven different types of "plates" (Fig. 1). When you have to tell an engineer that you want the LIMS software to create a barcode for your plate, you will get in trouble if you don't qualify what kind of "plate" you mean. Without context, it's difficult to know what kind of plate they were talking about during the meetings. And "plate" certainly wasn't the only problematic word. How many different things do you simply refer to as a "tube"?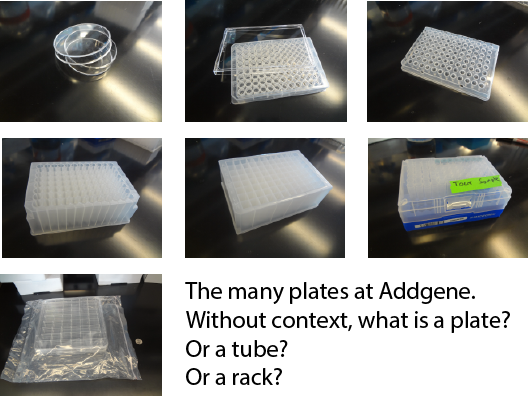 We took steps towards solving this problem by 1) making sure we qualified these words when we discussed them in meetings and 2) creating a pictorial guide for our engineers (Fig. 2). Creating this guide was relatively easy. I took a picture of virtually every container we used, then for each listed:
An "official" name for the container to be used in cross-team communication
A list of "AKA" names, or jargon terms, for the given container
Whether or not the container was barcoded (this is pretty Addgene specific)
The types or purposes of each given container, when applicable
Any other relevant information
Prescribing an official name to all of our plates, tubes, and racks meant we had fewer errors in our LIMS tracking system. Though you might not have to communicate with a team of software engineers in your lab, you likely will need to write protocols, SOPs, and methods sections. The next time you write or read one of these, keep an eye out for potential jargon words, or words that depend a lot on context. New people in the lab or collaborators will not have the context you do, which means you'll need to provide that context yourself.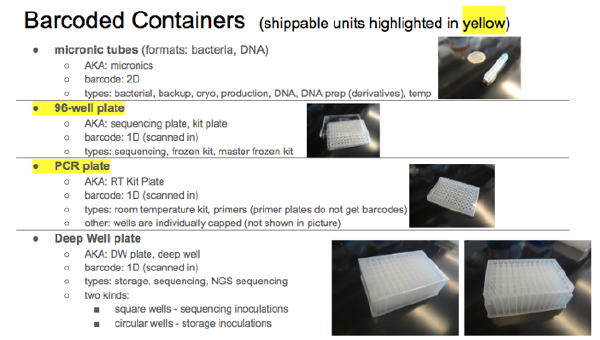 Simple words are not so simple
Just as our lab used jargon that required context to understand, I came to realize that there were a lot of words that nearly all Addgene teams used that seemed simple, but they could in fact be interpreted in several different ways depending on the team. When Tony, our corporate counsel, used the word "service," did he mean it the same way as Bryan, our customer support manager? When Gizela, the aforementioned lab manager, said the word "sample," did the word convey the same concept to Morgan, our senior engineer?
The answer to these questions--which were real, not hypothetical--was clearly "no." When there was room for misinterpretation, that misinterpretation was definitely happening. Our solution for this problem was the creation of an Addgene lexicon. The base lexicon was and continues to be a list of commonly used (and misused) words that clearly needed an Addgene-specific definition. Words such as "sample," "material," "item," and "format" all received formal definitions in our lexicon. We created documents and presentations, gave real life examples of when and how to use the different words, and sought buy-in from all of Addgene's teams. This solution can easily be implemented in an academic lab setting, where student and postdoc turnover happens regularly and it behooves everyone in the lab to be using words for their field or technology in a consistent way.
Just creating a lexicon was not enough. We also had to enforce and maintain it. Teaching people to use words in a new way is not necessarily easy, so we came up with a 3-part strategy:
Train: Nearly every new Addgene employee gets "Lexicon Training." Since the lexicon is a "living" document, I update the training frequently. In hindsight, getting a list of frequently used words like this when starting rotations or my postdoc would have simplified the first weeks or months when I was learning the terminology of a new field.
Annotate: When creating important documentation, including SOPs or project-related documents, we define new and potentially ambiguous terms. Defining words and applying annotation can be particularly useful in academic labs when creating shared experimental protocols.
Clarify: Asking for clarification during a meeting can help get everyone on the same page. Others in the meeting might also have the same question and asking can help the team identify possible points of confusion in the future.
Improving cross team communication, be it in your academic lab or your workplace, is an ongoing process. It is never really done. But if you implement it well, here's what can happen:
More effective meetings. When everyone at a meeting is using the same words with the same meanings consistently, meetings will be shorter and more productive.
Higher Productivity. Taking active measures in improving cross team communication has helped Addgene move from completing 2-3 large projects a year, on average, to completing 8-10 projects per year.
Happier colleagues. Feeling like people aren't listening to you or understanding you can be incredibly frustrating. Clarifying the words —> decreasing frustration —> increasing the happiness.

My unofficial motto in my Product Manager role at Addgene is "Words are important!"
If you try any of these approaches in your lab or workplace, let me know. If you have come upon any other effective approaches for clearing up communications lines in your professional life, let me know that, too. And remember, if you discover during grad school or during your postdoc that you enjoy and have a propensity for cross team communication, that's an important soft skill to carry into the next phase of your career. Happy defining!
---
Additional resources on the Addgene blog
Resources on Addgene.org
Topics: Science Careers, Professional Development