By Susanna Bachle and Matt Takvorian
When COVID-19 researchers started working with us to help them share their reagents, we knew our role in fighting the pandemic could be even more impactful by reaching more scientists. Many members of the scientific community support open sharing. But, one critical part was missing when the COVID-19 plasmids first became available: distribution was limited to academic scientists.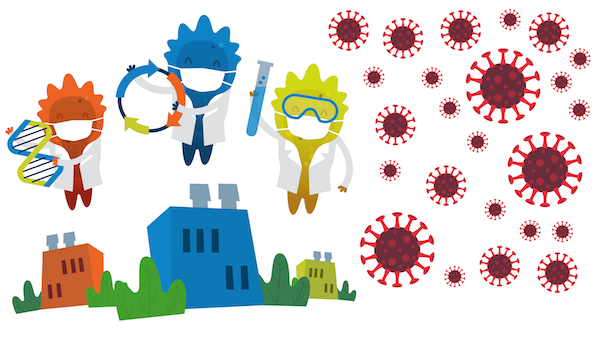 Expanding plasmid sharing during COVID-19
Realizing this limitation, we worked closely with the legal partners and Tech Transfer Offices at universities to make COVID-19 research-related plasmids available more broadly: to scientists in academia and industry. As a result over 90% of Addgene's COVID-19 resources are now available to scientists working in a for-profit setting.
In light of the need for basic research during the current pandemic, universities are showing an unprecedented amount of support about allowing use of plasmids for research by anyone. As infection rates were increasing in the United States, and many universities and Technology Transfer Offices were, at least, temporarily closing, these groups were willing and able to listen to Addgene's new approach of working with the industry-based scientific community. Conversations with children playing in the background became a normal occurrence as Addgene and our university partners quickly assessed how to more readily enable research. Often "normal" timelines that could be weeks to months were reduced to days and weeks. As of June 2020, we are happy to have the support of the following organizations to share materials more broadly to accelerate COVID-19 research:
Sinai Health System
Universitaetsklinikum Essen
University of North Carolina at Chapel Hill
University of Illinois Chicago
Boston Children's Hospital
California Institute of Technology
Johns Hopkins University
National Institute for Physiological Sciences
Broad Institute
Chinese Academy of Medical Sciences
University of Texas at Austin
University of California, San Francisco
University of Pennsylvania
Stanford University
University of Iowa
University of Minnesota
See highlights from the COVID-19 collection
Partnership with Ginkgo Bioworks
While one way to help the scientific community speed research is to offer plasmids created as part of research projects, another way is to systematically offer thousands of constructs for tagged and untagged expression of SARS-CoV-2 proteins in bacteria, yeast, and mammalian cells. We teamed up with Ginkgo Bioworks to quickly bring these plasmids to the scientific community - both academic and industry scientists. This partnership complemented each other's strengths: Ginkgo Bioworks' infrastructure allowed them to synthesize new plasmids quickly and Addgene's quality control and archiving system allowed us to handle and distribute such a large deposit. Once the project is complete, Ginkgo will have synthesized approximately 3,000 constructs to support SARS-CoV-2 research.
Browse the entire Ginkgo Bioworks COVID-19 plasmid collection
Beyond COVID-19: Addgene's plasmid collections available to industry scientists
While we've focused on expanding COVID-19 plasmids to industry scientists in the short term, did you know we have other plasmid collections available to industry? Over the past 8 years, several organizations have made their plasmids available beyond academia. For example:
Find plasmids available to industry scientists
To make plasmid sharing more open for academic and industry scientists, we've worked with many scientists, tech transfer offices, research foundations, and funding initiatives such as Fast Grants that support us in our mission.
While rapidly expanding our COVID-19 resources has been our focus for the past months, we're excited to see our open sharing impact grow beyond COVID-19. But, we can't do this alone. If you have deposited plasmids at Addgene and would like to make them available to industry, please reach out at techtransfer@addgene.org and we will initiate a conversation with you and your technology transfer office to discuss the possibilities for expanded sharing.
Is there a plasmid you're hoping will be come available to industry scientists? Let us know below!
---
Additional resources on the Addgene blog
Resources on Addgene.org
Topics: Addgene News, COVID-19