This post was contributed by guest bloggers Lauren Celano of Propel Careers and Rachel Casseus, Esq. Founder of Casseus Law.
Disclaimer: The contents of this post are intended to convey general information only and not to provide legal advice or opinions. The contents of this post should not be relied upon for legal advice in any particular circumstance or fact situation. The information presented may not reflect the most current legal developments. Further, this post may contain technical inaccuracies or typographical errors. No action should be taken in reliance on the information contained in this post and we disclaim all liability in respect to actions taken or not taken based on any or all the contents of this post. An attorney should be contacted for advice on specific legal issues.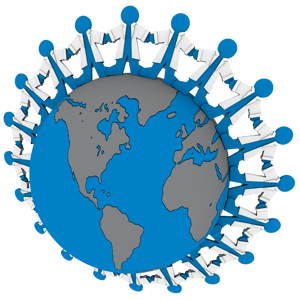 The permanent residence "green card" process is a necessary and often overlooked part of career development for foreign national researchers and entrepreneurs who are looking to continue their careers in the United States. There has been a growing shift away from employers sponsoring individuals for green cards because of the cost, long timeline and uncertainty associated with filing a permanent residence case with United States Citizenship and Immigration Services (USCIS). If it were up to us, we would give everyone with a Ph.D. a green card, but until we get elected to Congress, we are tasked with working with US immigration in its current state. As of September 2017, USCIS received 116,224 employment based green card applications and approved 91,023 during the first 3 quarters of 2017. As an international researcher and aspiring entrepreneur, you have many career options available to you including careers in academia, industry, non-profit, and government sectors. Within these sectors, you could start your own company, work in a bench research career or a non-bench research career such as law, medical/technical writing, clinical, regulatory, product development, business development, consulting, policy, big data and the list goes on and on.
As you think about your career (and your future in general), keep in mind that you may have years to work (up to 40 years for recent Ph.D. graduates). Therefore, it is imperative to plan for and develop your career into a series of stages to refine and build skills overtime for success. Many people will have different roles, titles, and responsibilities during their careers - being aware of this can help take the pressure off having to find the perfect job immediately after you complete your Ph.D. or postdoc. Foreign national researchers who require visas, permanent residence or citizenship to continue their work in the US have the added burden of needing sponsorship. If you are in this position, you should start planning for your visa and or green card process well before addressing your career alternatives in order to put you in the best position to land your dream job. All of the immigration options discussed in this post benefit from the applicant thinking about the process early, keeping good records, and planning for the route to a rewarding career. It is more likely that an international candidate will be hired for a role that is closely aligned with their education/experience, i.e. a research role, for a Ph.D. trained scientist. If the candidate is ultimately looking for a role in a different functional area, then the research role could be the point of entry into that field.
In this post, we discuss the following paths to maintaining a status in the United States including green cards that are well-tailored to meet the needs of researchers. The categories are as follows:
Cap Subject Industry H1B
Academic H1B
National Interest Waiver
EB-1A
EB-1B
Cap subject industry H-1B
There is a numerical quota of 85,000 total H-1B visas approved each fiscal year: 65,000 visas plus 20,000 reserved for individuals with a US Master's degree or higher degree. These numerically limited visas are referred to as "cap" subject H-1Bs. The H-1B allows U.S. employers to employ foreign workers in specialty occupations. US regulations define a "specialty occupation" as requiring theoretical and practical application of a body of highly specialized knowledge in a field of human endeavor including but not limited to biotechnology, chemistry, architecture, engineering, mathematics, physical sciences, social sciences, medicine and health, education, law, accounting, business specialties, theology, and the arts, and requiring the attainment of a bachelor's degree or its equivalent as a minimum (8 U.S. Code § 1184 - Admission of nonimmigrants). The foreign worker must possess at least a bachelor's degree or its equivalent and state licensure, if required to practice in that field. H-1B work-authorization is strictly limited to employment by the sponsoring employer. On April 18, 2017, President Trump signed a "Buy American, Hire American" Executive Order which sets broad policy intentions directing federal agencies to propose reforms to the H-1B visa system.
Large firms and firms that work on projects with an international scope (i.e. strategy/management consulting firms), sponsor more H-1Bs than small startups and firms with a non-international focus. Candidates in need of an industry H-1B need to be aware of the April 1 deadline for companies to submit an application on their behalf. If an individual obtains a cap subject H-1B (last year less than 30% of applicants received sponsorship) then he or she can start working in October of the same year. The Industry H-1B visa is not the same as an academic H-1B visa and therefore the academic H-1B visa cannot be transferred to an industry position.
If you cannot get an Industry H-1B, remember that industry career paths are not the only place to develop "industry related skills". Many career paths in academia as well as the non-profit sector are transferrable to industry such as technology transfer, communications, medical writing, compliance, core facility management, collaboration management, grant administration, clinical operations, and so on. Candidates should look broadly at opportunities to develop skills related to their areas of interest. Additionally, since most universities and non-profit organizations do not have the April 1 H-1B queue process or quota like industry, these organizations can be a good choice for individuals needing sponsorship.
Academic H1B
The academic H-1B allows employers to avoid the 85,000-visa numerical quota. Four types of employers are not subject to the H-1B cap:
institutions of higher education
nonprofit entities related to or affiliated with institutions of higher education
nonprofit or U.S. governmental research organizations, and
organizations that require the H-1B employee to work at one of the first three categories of employers.
H-1B petitioners are exempt from the cap if the applicant works at institutions of higher education, a related or affiliated nonprofit entity, or nonprofit research organizations or governmental research organizations. Since there is no numerical limit, employers may file petitions regardless of H-1B visa number availability.
In this section we will discuss a few permanent residence options that may be available to you as a researcher.
National interest waiver
The National Interest Waiver (NIW) allows for self-sponsorship of the I-140 application meaning that the category does not require a foreign national to have an employer or a job offer in order to obtain permanent residence.
The recently established case Matter of Dhanasar provides the three-prong test that US Immigration officers use to determine if an applicant qualifies for the National Interest Waiver. The three prongs are:
(1) The foreign national's proposed work endeavor must have both substantial merit and national importance;
(2) The foreign national must be well positioned to advance the proposed endeavor;
(3) The foreign national's proposed endeavor will be beneficial to the United States
For the purposes of evaluating an NIW, USCIS will also focus on the importance of the individual's work in their field and the impact of the individual's past work on the field. NIW requirements stress "educational background, expertise, publications, and plan for future activities; including the interest of the greater scientific field, potential customers, investors, or other relevant entities or individuals. A successful NIW case should include evidence such as proof of US government grants that the researcher is working under in the lab or has won, awards, media reports, and membership in groups related to the foreign national's field." (Matter of Dhanasar)
In your application you must be able to show that you serve the national interest to a substantially greater degree than the majority of your peers in the field. This criterion is best proven through letters of support from experts in the field. You must also be able show the impact of your influence on your field of employment. This fact is best proved through objective criteria including awards, media attention, citations to your work, downloads, commercialization of patents and letters of recommendation.
EB-1A extraordinary ability category
The EB-1A - is similar to national interest waiver criteria however the EB-1A requires a higher standard of proving that you are one of the top people in your field. No employer is necessary and no job offer is needed for this category. To qualify, you need to satisfy 3 out of the 10 criteria listed below.
An international or national award for excellence in your field.


Membership in a professional organization – this is not referring to one that you can pay for, but one that you are invited to join (selected due to expertise in field).


Publicity in major media and/or trade journals: You the individual must be named in the media report (NPR, New York Times, respected online sources) and the media should discuss your work.


Participating as a judge (including as a peer reviewer for journals, acting as a journal editor) of the work of those in your field.


Original contributions to the field that have had a major impact. For example, you were the first person to identify a novel protein found in skin cancer and your continued work is necessary to create therapeutics to cure the cancer.


Authorship: Publishing books, journals online and/or in print.


Having a lead role or critical role at a prestigious institution: This criterion is consistently under scrutiny. USCIS wants you to prove that without your critical role the work would not have been possible.


Display of work in artistic exhibitions or showcases (not usually applicable to scientists).


High Salary –not relevant to most postdocs.


Commercial successes in the performing arts- not relevant at all. Please do not include the fact that you are a classically trained ballerina who has performed at Lincoln Center. Your case should only focus on your current scientific achievements.
Participating in the scientific review process as a reviewer as proof of your judging the work of others in the field criteria is becoming the norm for EB-1A and EB-1B applications.
Performing peer review at the request of your supervisor is not considered peer review. The peer review request must be directed to you specifically. You must also complete the peer review for it to be counted as proof of judging. Merely being asked to perform is not enough. Casseus Law suggests that if you are not already reviewing papers that you should start contacting journal editors to request to be a reviewer. Proactivity is very important in this case. You can still assist your PI in the peer review process, but remember you cannot use it as documentary evidence for your case – the invitation to be a peer reviewer needs to be addressed to your own personal email directly.
EB-1B outstanding researcher or professor category
The EB-1B does not allow for individuals to self-petition. You need the support of your institute to do this one. Universities will usually only support tenure track professors. Casseus Law has seen that research institutions are willing to sponsor postdoctoral researchers for the EB-1B using the concept of indefinite employment to fulfill the requirement that an EB-1B application is reserved for long term employees of the institute. For the EB-1B, you need to prove 3 threshold requirements: (1) that you have international recognition for your outstanding achievements in your specific academic field, (2) that you have three 3 years of research experience in the field, (3) that you have an offer of permanent, tenured or indefinite (no fixed termination date) employment at a university or institution. As an additional requirement if you work for a private company you must show that your company employs at least 3 full-time people engaged in researcher activities.
The EB-1B requires that you provide two out of six forms of documentary evidence:
Evidence of receipt of major prizes or awards for outstanding achievement


Evidence of membership in associations that require their members to demonstrate outstanding achievement


Evidence of published material in professional publications written by others about the alien's work in the academic field


Evidence of participation, either on a panel or individually, as a judge of the work of others in the same or allied academic field


Evidence of original scientific or scholarly research contributions in the field


Evidence of authorship of scholarly books or articles (in scholarly journals with international circulation) in the field
EB-1Bs historically have a high rate of approvals with USCIS due to the fact that the requirements are not as demanding as the National Interest of the EB-1A. Furthermore, the ability to leverage the prestige of the employer makes EB-1Bs a very attractive option.
Your Expert Letters of support can mean that your case gets approved, denied or a Request for Further Evidence (RFE).
Letters of support are the only opportunity that you are given to present your expertise and impact on your field from the point of view of experts in your field. Please remember, this is not a job reference letter. This letter should cover topics such as - what fundamental principles have you discovered and what your current research goal is and why your work has impacted your field (i.e. finding vaccines for deadly disease, building algorithms to program self-driving cars, tissue engineering for organ replacement). In addition to presenting your expert skills your letter should include technical information followed by a plain language explanation of that work.

For NIW, EB-1A and EB-1B cases, Casseus Law recommends 6-8 letters. For these recommendations, Casseus Law suggests a mix of experts including 2 dependents –people who have worked with you i.e. your current PI and Ph.D. or Masters PI. The remaining letters should be from independent people – i.e. people who have not worked with you directly or collaborated on a project where they provided you with feedback or mentorship. The platinum standard for an expert is someone who has cited your work.
Immediate steps that you can take to prepare for the green card process
Update your CV and bio sketch whenever you have new accomplishments to add.


Obtain copies and translations of documents that are not in English.


Create a Google Scholar account


Sanitize your LinkedIn, Facebook profile, online presence (if you need to). Immigration does not want people to be affiliated with groups they deem not in line with democracy.


Save copies of papers, awards, presentations, in .pdf format.

Last but not least, NETWORK! Networking is extremely important for candidates during a job search and it is even more critical for international candidates. Being able to "put a face to a name" will help a candidate get looked at and should help facilitate the interview process. I often suggest to international candidates that they should join their relevant associations/groups. These candidates should also join professional organizations and attend the annual conferences – i.e. Society for Neuroscience for Neuroscientists to network with other members during the poster sessions, panels, exhibit floor, etc. These are wonderful opportunities to build relationships and connect with people who could be beneficial during a career search.
Doing these simple things will make it easier for you to find and organize all of the information required for the green card application process. To answer specific questions, we recommend that you reach out to experienced legal counsel.
---
Many thanks to our guest bloggers Lauren Celano of Propel Careers and Rachel Casseus, Esq. Founder of Casseus Law.

Rachel Casseus Esq., Founder Casseus Law. Driven by her own love of science and technology, Rachel is proud to assist companies and foreign nationals working in the life sciences community obtain their working visas, permanent resident green cards and citizenship.

Lauren Celano, CEO Propel Careers. Lauren is passionate about working with scientific individuals to find exciting growth opportunities in life sciences
Propel Careers:
Propel Careers is a life science search and career development firm focused on connecting innovative, entrepreneurial companies with like-minded professionals. We work with organizations in the biotech, medical device, and diagnostics, healthcare IT, boutique consulting, investment banking and venture capital areas. We place individuals into roles in areas including: research, clinical, regulatory, project management, alliance management, business development, finance, and operations.
To learn more, visit www.propelcareers.com.
Casseus Law:
Casseus Law is dedicated to the practice of US immigration law and assists individuals, researchers, entrepreneurs, companies, universities and non-profits with their specific immigration needs.
As Immigration is a federal law, Casseus Law provides legal services to people located in all 50 states and globally. Casseus Law performs in-depth vetting of a candidate's background to ensure that each candidate meets the requirements set forth by USCIS before engaging with clients.
To learn more, visit www.casseuslaw.com.
Additional Resources on the Addgene Blog
Resources on Addgene.org
Topics: Science Careers, Applying for Jobs