Updated Apr 6, 2021.
This post was contributed by Laura Desrochers, a postdoctoral scientist at AstraZeneca.
Why I chose an industry postdoc
I'm currently doing an industry postdoc in neuroscience at AstraZeneca's Waltham site after doing a brief academic postdoc. Why did I switch? Well, my long-term goal was to enter industry since I was drawn to the idea of working as a team to develop therapies that could directly impact patients. And, to be honest, I've never enjoyed grant-writing. The more I talked to people with industry experience, the more I heard that getting into industry early would only help.
Like any major life decision, the transition felt scary. While I knew two people from graduate school who were at AstraZeneca and could assure me that they were having a positive experience, I was still incredibly nervous about leaving academia. A lot of academics tend to view industry as "the dark side," that you've sold out. You've given up your intellectual freedom and integrity. (Not the case, as I've discovered.)
As someone who has now seen both sides of the postdoc experience, I'm going to share what I've learned and hopefully make your decision a little easier if an industry postdoc is something that you're considering. Like anything, there are pros and cons to postdocs in both industry and academia.
Pros and cons: The academic vs. industry postdoc
Time:
Academic postdocs can be long—5 years or more, especially in the biological sciences—whereas industry postdocs have a set time limit. At AstraZeneca, this is three years. This time limit can feel like a lot of pressure. However, it means that your manager (and you) will be motivated to get your project in a workable direction quickly. Of course, you might have less time to explore scientifically since you can't afford to spend too much time working on something extremely risky or exploratory.
Getting a job afterwards:
Fairly or unfairly, many believe that industry postdocs, having already been immersed in an industry environment, have a better understanding of the fast, deadline-driven pace of biotech. In other words, industry postdocs already have the prerequisite "industry experience" that I've seen listed as a requirement on some industry job postings. Also, if you work in industry for any length of time, you'll know more people in industry, which means you're more likely to have the right contacts and get your resume pulled to the top of the pile when you apply for such positions. Of course, if your goal is to enter academia, it is easier to make that transition from an academic setting—especially if job applications require teaching experience or high numbers of publications, which may take a longer time to acquire.
Learning about drug discovery:
Unless your academic lab is closely involved with clinical trials or has ties to industry, the drug discovery process can be a bit of a mystery to graduate students in academia. Getting a drug to the market usually takes over a billion dollars and at least a decade of work. The number of steps, decisions and people involved is staggering. The process is complicated. If you're interested in the drug discovery process, or you want to end up in an industry job, being immersed in that environment sooner rather than later can be helpful.
Publishing:
As a postdoc at AstraZeneca, you are expected to publish, but this can vary depending on which company you choose. If publishing is important to you, make sure that your project will not involve proprietary compounds or information. Where publication is expected, the process is similar to academia. The only difference is that your paper will be reviewed by an internal committee before submission to ensure that it does not divulge any propriety information.
Working as a team:
Industry is all about teamwork. A single individual could not bring a drug to the market, so people in industry have to work together. Even as a postdoc, you'll have to work with other people in your group, and they are unlikely to hire you if they think that you won't be a good fit. As an academic postdoc, while it may benefit you to work as a team with other members of your lab, a lot of the "soft skills" required for teamwork may not be a requirement.
Your manager:
Unlike academia, promotions in industry are based on people's ability to manage others and work as a team as well as their scientific abilities. At AstraZeneca, scientists who get postdocs and do not support or manage them well are simply no longer allowed to have postdocs. In academia, as many of us know, this is not always the case. There are "difficult personalities" in every work setting and no manager will ever be perfect, but the chances of getting a good manager do tend to be higher in an industry setting.
Scientific community and mentorship:
As an industry postdoc, you might find yourself feeling scientifically isolated if no other postdocs are in your department, and the scientists around you are busy with their pipeline projects. In this scenario, finding someone with whom you can have an in-depth discussion about your project might be challenging. In an academic environment, surrounded by lab members who are all working on related topics, scientific discussion is often part of your daily life. Also, while you're unlikely to be laid off as an industry postdoc since your funding is usually separate from a project's or a team's, it is possible that your mentor (and even their department) could be laid off while you're there. Of course, similarly, an academic advisor could also lose their funding.
Communication:
In both industry and academia, you will have to communicate your science to others and advocate for the importance of your work. In my experience in industry, you're more likely to give an oral presentation to highlight any new data or ask for additional resources, and any written proposals are limited to a handful of pages. In academia, however, writing papers and grants is an inescapable and essential part of being able to continue your research. As an academic postdoc, you're often required to at least attempt to write grants. If you don't enjoy or excel at writing, an industry postdoc will free you of the never-ending cycle of grant-writing that is academic life. Of course, because you will be part of a team in industry with most team members giving oral presentations, you will also have to attend many more meetings.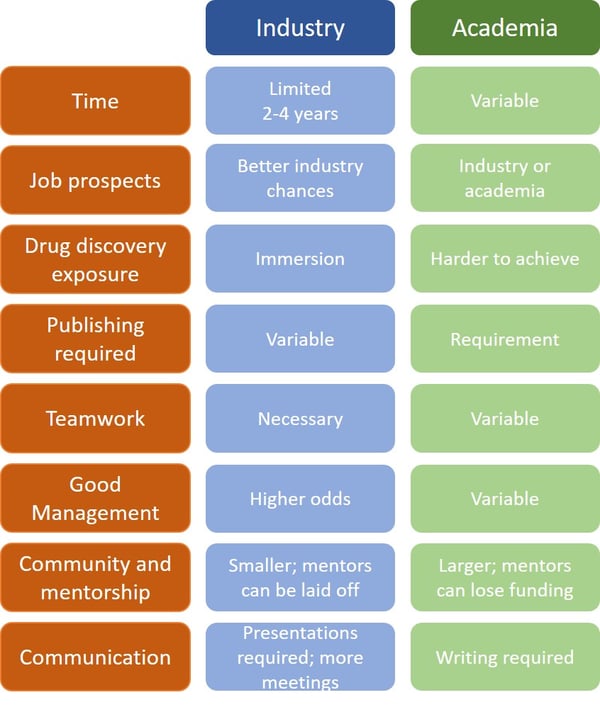 How do I get an industry postdoc?
Many companies have industry postdoc positions, including AstraZeneca, Pfizer, Novartis, Biogen, Amgen, New England Biolabs, Regeneron, and Genentech, among others, and the list is growing. Some post positions as they come up, whereas others post their positions all at once. Many companies will hire a postdoc to perform a specific project, while others will hire a group of postdocs and then let them decide what they'd like to work on later. For instance, AstraZeneca posts most of its positions all at once at the end of February or beginning of March, and the jobs are mixed into the general careers section of their web site. Each position is for a specific, pre-approved project. Other companies, such as Novartis, have specific web sites for postdoc listings, so the method of posting varies between companies.
Like most jobs, it does help if you know someone who's already in industry to land you that position. Work your LinkedIn connections and other contacts to get that referral and find out more about the company's program.
Once you've found a few positions to apply for, compare and contrast industry postdocs at those companies. Do you want a postdoc that's shorter? Longer? Would you like to eventually work at the company at which you're doing your postdoc? Some companies, such as AstraZeneca, will hire their postdocs for full-time positions should a position open up. Other companies, such as Genentech, will not. The point is that each company has a unique approach, and some might suit your needs better than others.
Whether you decide to do an industry or an academic postdoc, you'll hopefully have the opportunity to do some great science in a supportive environment. Both paths will give you myriad opportunities to help you with the next step in your career.
---
Many thanks to our guest blogger, Laura Desrochers!

Laura Desrochers is currently a Postdoctoral Scientist at AstraZeneca. She has a background in cell and developmental biology and is applying this towards researching neurodegenerative diseases.
Additional resources on the Addgene blog
Resources on Addgene.org
Topics: Science Careers, Science Career Options, Early Career Researcher