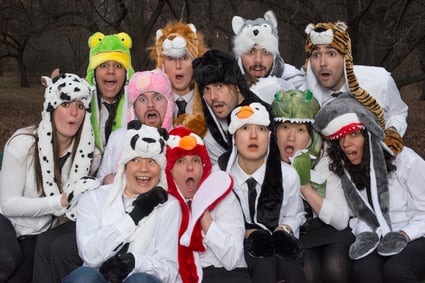 As we get closer to the start of another academic year, graduate students and post-docs alike are wondering where the time has gone. Are we any closer to graduating, publishing that key paper, or figuring out a career path? Many trainees are developing Individual Development Plans (IDP's) through Science Careers' myIDP tool. Using myIDP, you can identify suitable careers based on your current interests and skillset. With this information in hand, you can then formulate a plan to further develop your transferable skills and reach your career goals.
Although myIDP is great for career planning, it shouldn't be used in isolation. Without clear dialogue between trainee and PI, it's easy to miss out on beneficial opportunities or to find oneself unsure of the next steps. Harvard PI Angela DePace has put personal development at the center of her lab (pictured above). DePace holds yearly planning meetings with each trainee to create a supportive, growth-oriented lab culture. The aim of these meetings is to give honest, constructive feedback, set tangible research and career goals, and celebrate accomplishments. These techniques are laid out in Vincent et al., and are easily adaptable for use in your lab!

Promoting personal development through thoughtful planning and honest feedback
DePace's yearly planning meetings revolve around two simple worksheets, each of which is filled out separately by the trainee and PI before the meeting. These worksheets, summarized briefly below (and available of in the supplement of this paper), help each person organize his or her thoughts to facilitate honest conversation.
Goals and Planning Worksheet:
Lists accomplishments, research/professional goals and feedback.
Calendar:
Month-by-month look at the next year, including major project goals and effort needed to complete them.
These documents dictate the subject matter discussed at the meeting, but the overall tone of the meeting is almost more important. As DePace says, science is full of "terrible perfectionists," and we don't often give ourselves credit for what we have accomplished. Starting with a recap of accomplishments, from learning new techniques to finally figuring out a tough experiment, sets a positive and encouraging tone for the meeting.
Another key aspect of the yearly planning meeting is that the trainee leads the conversation. As the conversation proceeds through the various sections, the trainee speaks first for each section, preventing the meeting from feeling like an assessment or critique. When trainees ask for help with various issues, the PI is responsible for determining meaningful solutions.
PI-trainee communication builds a positive lab culture
Although they may take some getting used to, yearly planning meetings have tangible benefits for both PI and trainee. DePace and her lab members have noticed that the meetings make the lab run more smoothly. With a concrete plan in hand, trainees are motivated to complete their work rather than overwhelmed or confused about what's coming next. Goal setting and career planning help alleviate the anxiety of graduate and postdoc training. On the other side, the PI has an opportunity to check in with lab members, determine how to work through obstacles, and take steps to resolve interpersonal conflicts in the lab.
Yearly planning meetings may not look the same in every lab, but the principles behind this technique are beneficial for researchers at all stages. Rather than succumbing to academic inertia, it's time to develop systems that give trainees a plan, both for their time in the lab and their next steps. Addgene would love to hear about the steps taken in your lab to promote personal development - let us know your strategies in the comments section!
---
References
1. Yearly Planning Meetings: Individualized Development Plans Aren't Just More Paperwork. Vincent BJ, Scholes C, Staller MV, Wunderlich Z, Estrada J, Park J, Bragdon MD, Lopez Rivera F, Biette KM, DePace AH. Mol Cell. 2015 Jun 4;58(5):718-21. doi: 10.1016/j.molcel.2015.04.025. PubMed PMID: 26046646.
Related blog posts:
Topics: Science Careers, Mentoring for Scientists, Early Career Researcher