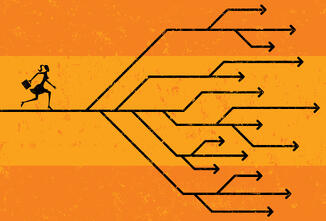 Which graduate student hasn't been asked the question: "Academia or industry?" Once academia was the clear answer with a well-defined path to professorship. But recently a downward trend in funding and space in academic research labs has more students looking for other options. While graduate programs provide support for academic career development, it's often left to students to identify and build the necessary skills for alternative careers. Science Careers has developed a web-based, career-planning platform called the Individual Development Plan (IDP) and uses it to match qualified scientists to jobs in industry, academia, and government. This great resource allows the undecided to learn about a variety of science professions based on their skills and interests. Once scientists identify potential career pathways, education and mastering new skill sets must occur by doing work outside of the lab.
Extracurricular activities don't have to be 'extra'
Today's graduate and postdoc training focuses on using multidisciplinary, collaborative, and translational approaches for scientific tool and technique development. However, careers outside of the lab highlight "transferable" skills such as leadership, management, and communication. A great approach to fully understand and acquire competitive skill sets in a myriad of professions is to engage in extracurricular activities (EA). EAs can:
Introduce new perspectives in science and engineering
Looking at your research from a broader viewpoint may expose which experiments are crucial in demonstrating the true innovation, impact and, in turn, the big picture of the project. For example, how can future regulations impact your work? What design variables need consideration?
Enrich your knowledge and skills outside of the lab
Effective verbal and written communication skills are key to publication and acquisition of funding. If a grant committee is not convinced that your project is an innovative solution with a strong impact, or a journalist does not understand the high-level science discussed in an interview, your project may not advance beyond its initial stages.
Help you build a network outside of the academic world
Participating in activities outside of the lab expands your professional network. No brainer! Engaging audiences from across the hall, fields, and other professions increases your chances of finding a well-suited job.
EAs shouldn't be viewed as an unproductive time spent away from the bench, but as an opportunity to expand associations outside of the traditional academic setting and to shape and strengthen interests and skills. Although the word "extracurricular" may be taboo in the lab, multiple research studies highlight the importance of taking a break and incorporating EAs into your routine.
Getting started: Planning your career path and identifying needed skills
First, evaluate your skills, values, and interests. Are you particularly good at writing and editing manuscripts? Are you interested in scientific policy? Next, use the resources below to identify potential careers that suit these skills and interests:
Taking the time to identify and research 2 – 3 potential professions will highlight which skills you should focus on improving and will help reveal potential opportunities beyond academia. Once a profession sounds interesting, TAKE ACTION!

Taking action: Examples of extracurricular activities
The table below lists potential EAs and which professional skill sets are strengthened. This short list highlights the ubiquity of skills across professions within and beyond academia.
Extracurricular Activities
Professional Skills

Open source classes (e.g.

edX, MIT OpenCourseWare)

Access to knowledge outside your particular field of study

Assess your interest in a different field

Outreach activities (e.g. Volunteer at a local high school science class: Science Club for Girls)

Communication to diverse audiences

Organization

Mentorship

Leadership

Science writing competitions (e.g. Access to Understanding)

Writing

Communication

Publicity

Consulting internships

Communication

Teamwork

Management

Leadership

Networking

University technology transfer office positions

Market analyses

Patent process

Business Models

Communication

Regulatory knowledge

Networking

Blogging

Writing

Communication

Networking

Publicity

Business competitions

Leadership

Management

Marketing

Communication

Business models

Conference or club organizer

Management

Leadership

Communication

Networking
As the number of qualified scientists entering the workforce increases, EAs allow graduate students and postdocs an opportunity to tailor their career paths for competitive positions both within and outside academia. Use EAs to network and learn new skills, while also getting a much-needed break from your lab bench.
Want further information about shaping your career to your values, interests, and skills? Curious to know where graduate students and postdocs are currently getting hired? Let us know what topic you'd like to learn more about next. Leave your suggestions in the comments section.
Topics: Science Careers, Early Career Researcher