Winter is upon us and we're getting into the holiday spirit here at Addgene. We've adorned our walls with snowflakes, put out some hot chocolate, and added some winter cheer to the lab.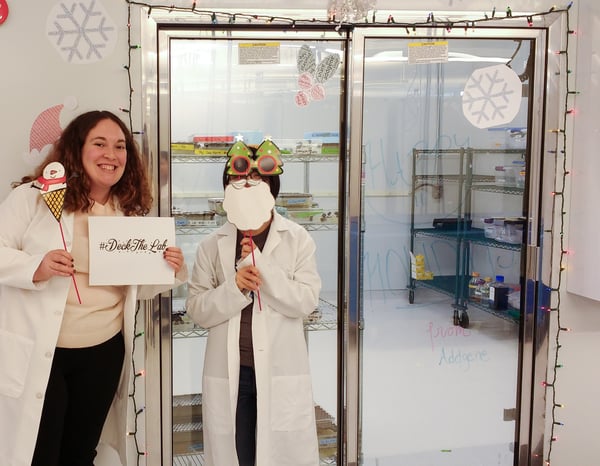 Now it's your turn! Show us your lab holiday decorations by participating in our annual #DeckTheLab contest. Get creative and build a pipette tip tree or go all out and create a massive wall mural. Snap a photo of your lab holiday decor and tag it with #DeckTheLab and @Addgene. This year, we're opening up the contest to Twitter and Instagram.
In the new year, we'll ask the Addgenies to pick their favorites for a total of four winners to receive an Addgene winter care package.
To get your minds churning, here are a few of our favorites from years past.
I spent a year hoarding used tip boxes for a lab supply tree and set a challenge to my lab mates. They did not disappoint. #deckthelab pic.twitter.com/X4eKUGnQMe

— Alex Dainis, PhD 🧬 (@AlexDainis) December 18, 2017
Feeling the holiday spirit. White Christmas qPCR plate tree. @Addgene #DeckTheLab pic.twitter.com/loga7CxcDE

— Mary Kay Lobo (@marykaylobo) December 16, 2015
Happy holidays from all of us at Addgene! We're excited to see your #DeckTheLab creations!
Topics: Fun at Addgene, Addgene News