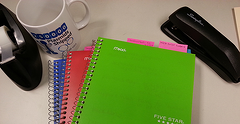 Welcome to 2014! Get excited, it's a new year. A time for resolutions: to wake up and get to the lab earlier, to read that stack of papers on your desk, and to tackle some new experiments before the next R01 is due. But what about organizing yourself and your lab? Organizing your lab notebooks, protocols, and to do lists can be easier than you think! Here are three tips to help you get organized and boost your productivity in 2014.
Tip 1: U
se color coding, labels, and post-its to make finding your most used protocols & references easy to find
It's happened to all of us. It's your first day back in the lab after a holiday break filled with family, food, and travel, and you can't remember where you put your flow cytometry protocol. Or maybe you can't find the molecular cloning guide you were sure was in one of those four white binders. Thirty minutes later you're frustrated and no closer to starting your experiments.
Get organized now! Start by gathering that pile of lab notebooks and binder on your desk. Arrange them in chronological order (or by project, if that works better for you) and place them on an easy to reach shelf. Make sure all notebooks are visibly labeled on the spine. For binders of protocols and data, consider using color coded binders and tabs (for different experiments or projects) to make it easier to know where to start your search.
Then identify the most frequently used pages in your notebooks and go wild with sticky notes and labels. Color code your Post-its and write brief descriptions on each. Place the notes sticking up out of the top of the notebooks, so that you can easily spot the colors and text.
Tip 2: Use electronic to-do lists to access your tasks on the go
Never miss a deadline again. Organize you experiments, keep track of upcoming grant deadlines, and sync everything to your calendar. Ditch the paper To Do List and move to one that moves with you. Use software such as Evernote, Springpad, or Google Tasks to create lists of your upcoming tasks, set deadlines, and arrange automatic email reminders. These programs can be synced to your online calendar and can be accessed from your computer or smartphone.
Evernote and Springpad also allow you to create notes directly from webpage clippings, photographs, and file attachments. Organize your notes into notebooks, create checklists that link to other notes, and use the search bar to quickly find what you're looking for.
Tip 3: Share protocols and spreadsheets with lab members
Now that you've organized your protocols, wouldn't it be great if you could easily lend one to another labmate? Though electronic lab notebooks (ELNs) have gained traction with pharmaceutical companies, academic labs have been slower to adapt, likely due to the necessary time and resource investment required to change the status quo. But with recent improvements to ELN and online lab management software, there are many free and easy ways to share your documents with your colleagues.
Start small by identifying the protocols, guides, or references that your labmates ask to borrow most frequently. Copy these into an electronic file sharing tool, such as Google Drive or Dropbox, and file them into a folder that you plan to share. The programs will allow you to choose who should have access to this folder and email them links to easily access the documents.
These tools not only allow users to access documents from anywhere, but also allow you to control who can edit the documents and track the revision history. Now you'll be able to make updates to protocols in real time. You may also want to consider moving your paper spreadsheets for reagent storage locations, such as the list used to organize your cryo freezer. No more issues deciphering handwriting or trying to find to where the binder was moved. You'll have peace of mind knowing the information is backed up and edit tracking will help you identify when others have added or removed samples.
Once you've taken some time to get organized, stop back and let us know what worked for you. Share your best tips, tricks, and ideas below.
Topics: Science Careers, Early Career Researcher