This post was contributed by the Open Repository of CRISPR Screens.
Imagine you've just discovered that your favorite gene was described in a CRISPR screen publication. You see this mentioned in the results section, but you had to dig through the supplemental files to see the actual data. Now you're wondering if your favorite gene is included in other CRISPR screens and whether that data is useful for your research. Fortunately, there's a growing open repository of CRISPR screen data that might be able to help you out.
What is the Open Repository of CRISPR Screens?
The Open Repository of CRISPR Screens (ORCS) database is a new freely available resource developed by the Biological General Repository for Interaction Datasets (BioGRID) in order to increase the accessibility of CRISPR-based phenotypic screen datasets. Original published CRISPR screen data is curated and deposited in BioGRID ORCS to allow facile queries of published data by biomedical researchers and ready access to stably archived large-scale datasets by computational biologists.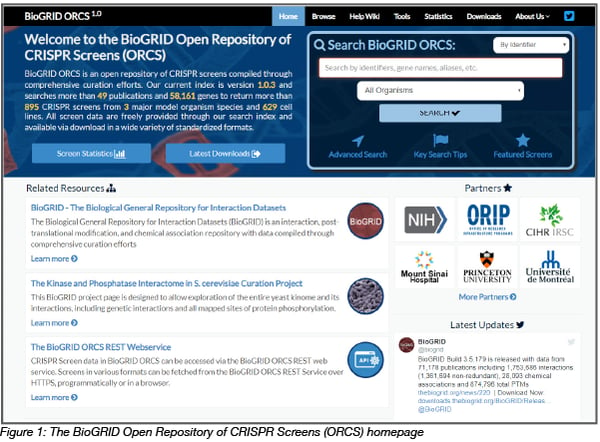 Using the Open Repository of CRISPR Screens
BioGRID ORCS currently houses over 890 CRISPR screens in 629 cell lines, each manually curated and annotated from more than 45 publications, beginning with the seminal research articles that demonstrated the feasibility and power of CRISPR-based library screens in cell lines from humans and other species. By accurately compiling genome-wide datasets, which are often obscured in large supplementary data files, BioGRID ORCS makes it possible for researchers to query all public CRISPR results for any gene of interest. In addition, users interested in a particular disease, cell type or drug treatment can browse through screens performed in relevant cell lines or conditions. This increased ease of access not only makes CRISPR screen results available to the entire biomedical research community, but also allows cross-interrogation of different datasets that might otherwise be hard to identify.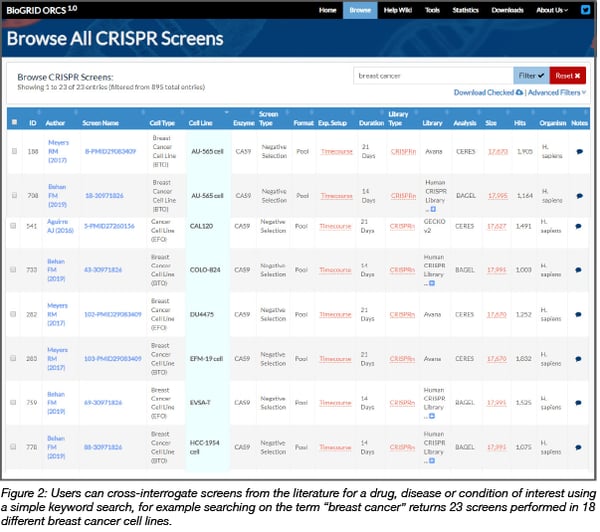 Each screen curated in ORCS is linked to the original publication via its PubMed identifier, which can also be used to search the entire CRISPR database for particular screens of interest.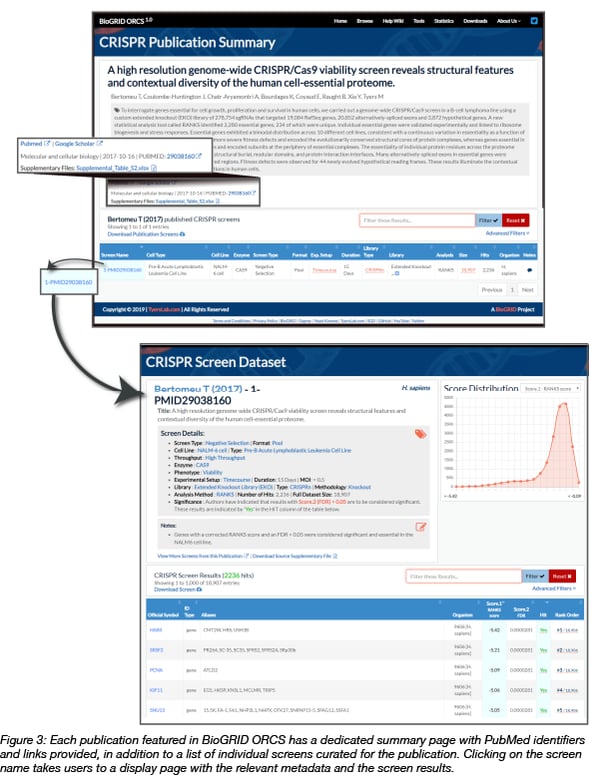 Importantly, metadata for each screen is captured by BioGRID curators, including the cell line/tissue type, enzyme system, sgRNA library and other details relevant to screen result interpretation. The analytical method for score assignment and significance thresholds used by the authors to determine the gene hits for each screen are also captured as metadata.
Screen results are reported as the original quantitative gene-level scores provided by authors rather than sgRNA-level sequence read scores. The original supplemental data tables available with the publication are also provided for the user. This approach serves to maintain consistency with published screen interpretations and allows users to query screen data without the need to analyze raw sequence data. This format is inherently flexible and allows the broadest possible scope of screens to be curated, for example phenotype screens with read-outs other than cell viability.
The following video provides an in-depth walk through of how to use ORCS:
Include your CRISPR screen data in ORCS
Researchers who wish to have their CRISPR screen data included in the BioGRID ORCS CRISPR database are encouraged to contact BioGRID curators at biogridadmin@gmail.com to submit their published data for rapid curation review and upload. In addition to our main website, all curated CRISPR screen data are also available via comprehensive pre-compiled downloads and via a full-featured REST Web Service API. Both options are fully open access and available without any licensing restrictions.
As CRISPR technology continues to develop and diversify, the BioGRID ORCS resource will be adaptable to a wide variety of screen formats and contexts and continue to improve the accessibility of CRISPR screen data to a variety of users.
---
Many thanks to our guest bloggers from the BioGRIDS ORCS team.

This post is a joint effort by the BioGRID ORCS team. For more information and updates follow BioGRID and BioGRID ORCS on Twitter at @biogrid.
Additional resources on the Addgene blog
Resources on Addgene.org
Topics: CRISPR, Other CRISPR Tools