Dear scientists using AAV,
We hear your questions! How much virus should I inject? How long do I need to wait? What serotype and promoter should I use to target my favorite neurons?
We don't know all of the answers, but we're betting that your colleagues do. That's why we're launching the AAV Data Hub. The Data Hub is an open platform for scientists using AAV to share practical information about their experiences. It will contain all of the juicy and important details that you won't find in the final publication and we have already collected over 100 entries spanning six different species and dozens of different expression sites.
The Data Hub and how to use it
From the landing page of the AAV Data Hub, you will be able to search for your favorite features, such as serotype, promoter, or tool type. Drilling into any entry will reveal additional data including the subject's age at the time of injection and how long the scientist waited after injection before performing the experiment. Every entry has an accompanying image so that you can see for yourself how the AAV performed in that experimental setup. For example, this is an experiment using the chemogenetic tool hM4D(Gi) driven by a GFAP promoter in rat.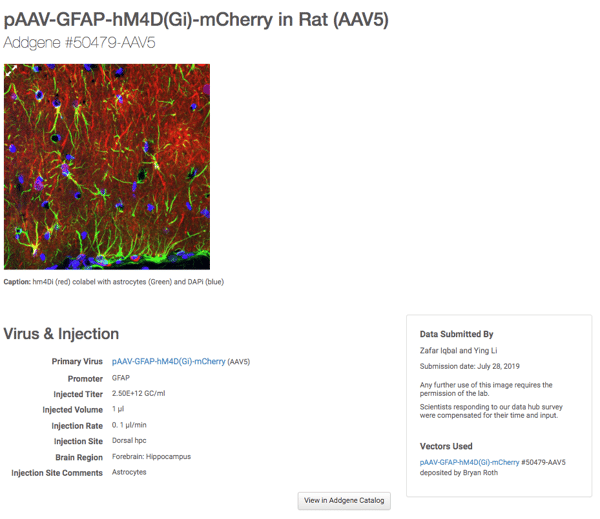 Contribute your AAV data
Just like Addgene's plasmid repository, the AAV Data Hub is a community-driven project. We are grateful to the scientists who have contributed data so far and we encourage you to submit data from your experiments. You will be acknowledged on the data hub website as a thank you for your contribution to open science.
Please note that the AAV Data Hub is a beta project, and we are currently only accepting data for materials distributed by Addgene.
Future directions
As the AAV Data Hub grows, we hope to mine the data to find patterns that we can share with you about promoters, serotypes, expression patterns, and more. If you have feedback or suggestions about the AAV Data Hub, we welcome you to share your thoughts through our Feedback Form.
Thank you for your participation in this resource! We hope it helps you accelerate your research.
Sincerely,
Melina & The Addgene Team
Topics: Viral Vectors, Viral Vector Protocols and Tips, Addgene's Viral Service