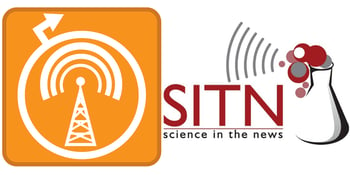 This is the second half of a two-part interview with Vini Mani and Amy Gilson from Science in the News (SITN) at Harvard University.
There are tons of ways you can get involved in science communication. In this second half of our conversation with Vini Mani and Amy Gilson from SITN, we discuss some of the many things you can do start your own science communication student group and get more involved with your local community. What do Vini and Amy say is the quickest way to get things started? Set up your own Science by the Pint series and organize evens where scientists can grab a beer and chat about their work at a local bar. It doesn't have to be crazy complicated! Listen to the full podcast for more great science communication tips or listen to the chapters we've broken down below for specific topics discussed during the interview. Happy listening!
Listen to the interview with Science in the News
Chapter 1: Introduction - Vini and Amy tell us a little about themselves.
Chapter 2: What is Science in the News (SITN)? - SITN is a graduate student group with the goal of communicating science to the general public and training the next generation of science communicators. In this chapter we learn about some of their events - science seminars, science cafes, and the SITN Blog (other programs are discussed below).
Chpater 3: SITN Popularity and Events - Amy discusses some of the programs SITN runs and describes some of the more popular topics from the Science by the Pint series.
Chapter 4: The SITN Podcast, Sit'N Listen - In their podcast, the SITN team brings in scientists from a variety of fields as well as students from the ed school, design school, and Kennedy school to discuss the impacts of science in a social context. Episodes are driven by narrative and story telling.
Chapter 5: The SITN Blog - Vini and Amy describe how the SITN blog is a source of scientific information for the general public as well as a platform for scientists to be viewed as people (#ActualLivingScientists). We also discuss the importance of actionability on the Addgene blog and how SITN short-form blog posts help readers think through current events.
Chapter 6: The SITN Editorial Process -Vini discusses the importance of the editorial process and peer-to-peer feedback in effective science communication.
Chapter 7: The Goal of the SITN Podcast - Vini and Amy would like to develop the SITN podcast as a means for listeners to understand the dynamics of information flow. Some of the topics they've recently covered inlcude CRISPR, mosquitoes, allergies, & more! We briefly answer the question, will the effects of climate change make put Cambridge underwater?
Chapter 8: Work-Life Balance - Vini describes how she balances working in the lab and working with SITN. She points to collaboration and delegating as keys achieving success.
Chapter 9: Science by the Pint - We learn why a "Science by the Pint" event is the best way to get a Science Communication group started. It's as simple as getting people together at a bar.
Chapter 10: Maintaining Institutional Knolwedge and Continuity - SITN's key technique for retaining institutional knowledge and continuity - two lead organizers on each program, one junior and one senior.
For more info about starting your own SciComm organization and to learn about some of SITN's other initiatives, email
sitnboston@gmail.com
.
---
Many thanks to our guests, Vini Mani and Amy Gilson.

Vini Mani is a graduate student at Harvard University, former Co-director of Science in the News, and member of the SITN podcast team. You can follow Vini on twitter @vinidhra.

Amy Gilson recently received her PhD from Harvard University, is a former Co-director of Science in the News, and is a member of the SITN podcast team. You can follow Amy on twitter @aigilson.
Special thanks to our sound engineer/producer, Eddy Page!

Edward B. Page is a Digital Media Production Specialist at Addgene. He is the audio engineer and producer for the Addgene Podcast.
Additional Resources on the Addgene Blog
Topics: Scientific Sharing, Science Communication, Podcast