---
We're excited to welcome Karen Katz, Esq and Carl Paratore, MBA, CPA to the Addgene Board of Directors. Katz is the Director of Intellectual Property Programs at Suffolk University Law School and Paratore is the General Auditor at Tufts Health Plan.
The addition of Katz and Paratore onto the Board of Directors brings complementary experience and insight to the now 10 member board at Addgene. Let's meet the newest board members and get to know them better!

How did you first hear about Addgene? How did you become involved with Addgene?
Katz: Joanne and I first got to know each other through the Healthcare Businesswomen's Association. We were involved in smaller group activities through the HBA and I got to know Joanne better. It is through this connection that got to know more about Addgene and heard that Addgene was looking for new board members.
Paratore: Kristen Darby, who's also a board member, reached out and asked if I would be interested in joining the audit committee about five years ago. I was interested in what she shared about the company and what the goals were and so I decided to join. I've been working with Addgene since 2014 so I've been able to watch the growth since then.
What do you think is the most important resource that Addgene provides the scientific community?

Katz: The most important resource that Addgene provides is an open repository of plasmids and other necessary information that's required to do research.
Paratore: What I've been most impressed with is the level of proficiency that Addgene has developed in terms of the collection, storage, and distribution of the plasmids and their ability to identify and fulfill a need in terms of helping the scientific community manage those plasmids so scientists aren't bogged down with distributing them and spending more time on research.
What do you hope Addgene will accomplish in the near future?
Katz: I'm excited that Addgene is continuing to look at providing other things besides plasmids to the scientific community through Addgene's sharing platform. Expanding further beyond the US and increasing Addgene's international presence would potentially also be very helpful to the scientific community.

Paratore: I've certainly had a front row seat watching the international growth through my work on the audit committee. I'm particularly curious to see how that progresses in 2019 and beyond.
In your perspective, what do you think are important considerations for the future of open science? What about the future of open science are you most excited about?

Katz: What's exciting about the open science movement is that it provides interesting and unique challenges for intellectual property lawyers. While there will always be an interest in sharing, there will always be an interest in protecting intellectual property. Figuring out that balance is, and will continue to be, an interesting legal and professional challenge.

Paratore: The promise there is the ability share the information, making it available to everyone, that creates more breakthrough and innovation. With any kind of open platform, there is the potential for increased speed and efficiency through which knowledge is created and shared.
Can you tell me a bit about your job?
Katz: I'm the Director of Intellectual Property Programs at Suffolk University Law School. Suffolk University graduates on average 20 PhD's a year and we have a very dominant presence in the biotech sector in both patent law and general life science regulatory law. My role at Suffolk is to help create new programmatic content as well as help our students succeed whether that be academically or on the employment front.
Paratore: I work at Tufts Health Plan and my role there is general auditor. I oversee a department of 20 individuals that help the plan manage risk. My job and my team's job is to routinely assess the efficiency and effectiveness of the Plan's operations. We're looking for those "what could go wrong scenarios" and making sure we have adequate process and controls in place to manage those scenarios.
What is the best piece of career advice someone has given you?
Katz: Pick up the phone. I think that there is a tendency to go back and forth on email rather than just picking up the phone and having a discussion. By only relying on email and never picking up the phone you don't get to know a person. These interactions could either help you in your career or help them in their career and enhance the quality of the interaction.

Paratore: Master the fundamentals. Before you can go off and do great things in a particular area or profession, you need to make sure you have learned and mastered the fundamentals.
What are your favorite things to do out of the office?

Katz: I have a puppy and so I am learning how to train a dog with my daughter. It's super fun and we are enjoying that immensely.
Paratore: I have two children active in sports, so I enjoy watching their games. If I'm not at game, I'm either out for a walk with our new dog, Daisy, or out on golf course!
Learn more about Karen Katz, Esq

Ms. Katz is the Director of Intellectual Property Programs at Suffolk University Law School. Karen graduated with highest honors from the University of Michigan, Ann Arbor and obtained her J.D. from Boston University School of Law, where she was on law review. She clerked for Juan R. Torruella, U.S. First Circuit Court of Appeals. She served as in-house counsel at St. Elizabeth's Hospital and was associated with Hale & Dorr and Crowell & Morning. Karen was a founding member of Mass Medical Angels, a venture mentor at MIT and served on the Boards of BioBuilder and Brookline Interactive.
Learn more about Carl Paratore, MBA, CPA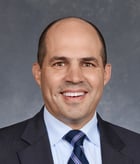 Mr. Paratore serves as the General Auditor at Tufts Health Plan. In that capacity he leads the Internal Audit function and is responsible for bringing a systematic and disciplined approach to evaluating and improving the effectiveness of the Plan's risk management, control, and governance processes. Prior to Tufts Health Plan, Carl worked at both MetLife & Ernst & Young, LLP, auditing insurance, finance and high-tech industries. He has earned both an MBA in finance and a B.S. in accounting from Babson College. He is a certified public accountant (CPA), certified information systems auditor (CISA), and certified health insurance executive (CHIE). He is a member of both the Internal Institute of Auditors and the Information Systems Audit and Control Association. Lastly, Carl also serves on the Board of Advisors and Audit Committee at the Greater Boston Food Bank and participates locally in Read To A Child's "Lunchtime Reading Program" in Cambridge, MA.
---
Additional resources on the Addgene blog
Resources on Addgene.org