We're excited to welcome Julie Cicalese to the Addgene Board of Directors. Cicalese served as the Chief Human Resource Officer for Harvard Medical School.
The addition of Cicalese to the Board of Directors brings human resources experience and insight to the now 13 member board at Addgene. Let's meet the newest board member and get to know her better!
How did you first hear about Addgene?
I heard about Addgene from Joanna Brownstein, an Addgene board member. When I was working in Human Resources at Harvard Medical School, Joanna was my colleague. She mentioned Addgene was looking for someone with HR expertise to join their newly formed compensation committee. The compensation committee creates a compensation philosophy that helps guide employee compensation and also serves as an objective body to oversee some of Addgene's compensation decisions. It was a great time for me to join the committee because I had recently retired from Harvard, and it let me keep my toe in the water of HR work.
What do you think is the most important resource that Addgene provides the scientific community?
Access to plasmids which gives people more time to focus on their research.
How will your prior work experiences help you as an Addgene board member?
It's not like I understand the science but my prior HR experience at Harvard Medical School means I understand the needs of scientists, the needs of employees, and the research environment.
What do you hope Addgene will accomplish in the near future?
Right now it's a matter of maneuvering through the impact of COVID-19. I think Addgene has done a really good job at figuring out how to operate during the pandemic, but it's important to develop a plan for moving forward. Sooner or later enough people will be vaccinated and we'll have some herd immunity, which raises questions like "How do you start to bring people back to on-site work?" and "How do you start to expand operations a little bit?"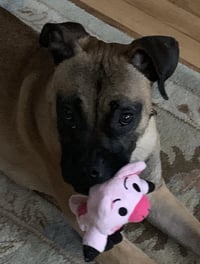 What are you doing to enjoy your retirement?
I'm also on the advisory board for Art in Giving, an organization that raises money for childhood cancer through the sale of art. About two years ago, I had a big role in organizing an Art in Giving think tank event where we brought a multidisciplinary group of scientists together to draft a research proposal, which Art in Giving was able to fund. Organizing that event and seeing the outcome was wonderful!
I also volunteer for a dog rescue organization where I foster dogs and help screen dog adoption applications. My most recent foster dog was with us for two months before she found her forever home. I feel blessed that I'm not working so that I'm available to spend time caring for my mother. For fun, I enjoy pilates, jewelry making, reading, sailing, and gardening.
Learn more about Julie Cicalese
Ms. Cicalese served as the Chief Human Resources Officer for Harvard Medical School where she brought leadership teams together to advance the mission of the school. She was also a member of the Northeast Human Resources Association, Association of American Medical Colleges and the Society for Human Resource Management and SHRM Certified Professional (SHRM-CP). Julie currently serves on the advisory board for Art in Giving, a 501c3 public charity raising funds for childhood cancer through the sale of art. Past volunteer appointments included the Belmont Human Rights Commission and mediator for the Massachusetts small claims court summary process. Julie is dedicated to volunteerism and ran the Mayor's Midnight Sun Marathon in Anchorage, for the Leukemia Society, the Boston Marathon for the MGH Pediatric Oncology and the Chicago Marathon to benefit Neurofibromatosis, New England.
---
Additional resources on the Addgene blog
Resources on addgene.org:
Topics: Addgene News