When Jessica Sacher, a microbiologist from the University of Alberta, saw that scientists were using Twitter to find phages to treat an antibiotic resistant bacterial infection, she shared that tweet with Jan Zheng, a UX designer that she knew. "We had actually met at a lindy hop swing dance event," Zheng says (networking can happen anywhere!). The pair quickly teamed up to create Phage Directory in a whirlwind three days in November 2017.
#Phage researchers! I am working with a team to get Burkholderia cepacia phages to treat a 25 y old woman with CF whose infection has failed all #antibiotics. We need lytic non-lysogenic phage URGENTLY to find suitable phage matches. Email sstrathdee@ucsd.edu if you can help!

— Dr Steffanie Strathdee, 🗡️Superbug Slayer 🗡️ (@chngin_the_wrld) November 8, 2017
Facilitating the search of phages for therapy
Phage Directory started out as a directory of phage researchers and the phages they possess. The goal? To help clinicians and scientists quickly find much-needed phages for patients.
A phage directory is crucial because it's hard to find the right phage for the job. Phages are viruses that can infect and then kill bacteria they enter. But to do so, the phage must recognize a specific part on the bacterium making each phage is very specific. Some infect only one or a few species of bacteria and sometimes, only a subset of strains of the same bacterial species are affected.
As of now, phage therapy is not routinely done in most parts of the world. In the US, phage therapy is used as a last resort, so a request for phages to the directory does not typically come out until nearly the last minute when all other options have been exhausted. Theoretically, phage alerts can be sent out to the directory earlier, but the researchers in the directory are volunteering their time and resources and there is a chance that an early request for phage may not be needed if other antibiotics work. "We don't want to cry wolf to the phage community until we have someone that really needs it, but then it might to be too late," Sacher says.
As the labs in the directory step forward to help, the Phage Directory team must decide which labs should receive the clinical sample to test their phages. Because the sample is limited, only the labs that have the highest potential to possess the correct phages will test. These includes labs with a large number of different phages or with phages targeting organisms closely related to the clinical sample. For treatment, it is best to identify a cocktail of 3-12 phages. Once these phages are identified, they must then be cultured and purified before sending the phages to the clinicians.
Creating a repository of phage data and information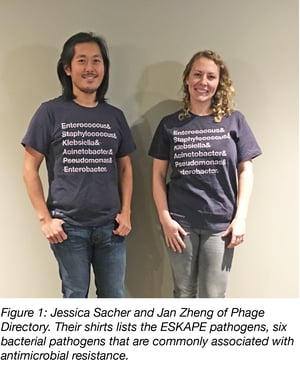 Since the inception of Phage Directory ~1 year ago, Sacher and Zheng found that they could expand their role in the phage community by being a repository of phage data and information. "We want to be the go-to place for phage information because there is so much information out there," Zheng says.
In the past year, they found that phage information was very fragmented. A particular phage researcher may only know how to prepare phage for one application but not another or they may have only used phage in basic research but not therapeutically: not all labs in Phage Directory have the resources or know what it takes to prepare phages for clinical use. There are also different regulations from country to country when it comes to administering phage therapy. The laws behind phage therapy, acceptable endotoxin levels, etc. can vary depending where treatment occurs.
In addition to providing much needed information and potential for successful phage therapy, Sacher and Zheng also saw the need to archive phage reagents. If a phage researcher retires, it's likely that the phages are lost if they are not archived. "It's very sad because it's years of work," Sacher says. Sacher hopes that as Phage Directory expands, it can also fill this role by cataloging and archiving information on individual phages.
Integrating lab protocols, clinical information, phage research job postings, and phage news into the Phage Directory website are all in the works. To keep up to date with the new developments at Phage Directory and in the phage field, subscribe to their newsletter, Capsid and Tail.
---
Additional resources on the Addgene blog
Additional resources on Addgene.org
Topics: Scientific Sharing, Material Sharing